While you can machine STL files, CNC programming takes a lot more manual effort
A 3D printer slicer calculates everything for you- just tell it what you want
With the CNC machine- if you don't know what to tell the machine to do, it will do nothing, or try to disassemble itself. Steep learning curve!
With CNC, you won't be able to build certain objects that a 3D printer will have no trouble making like hollow spheres and interior detail (check out some of our favorite 3D printed projects)
CNC software can be very pricey compared to 3D printer software. And open-source CNC software isn't really sufficient when compared to the software that's available for 3D printers
CNCs are also very noisy compared to the best 3D printers
CNCs can be dangerous to use and take up a lot more space than 3D printers which can fit in cramped spaces or easily in your garage (Source)
3D printing and CNC (computer numerical control) machining are typical options when plans and requirements are still in flux.
In both cases, working prototypes can be created without the requirement for molds, tools, or dies. Each method has its own advantages and disadvantages. It's also possible to make small numbers of parts at a fair price using both technologies.
CNC Machining vs 3D Printing – Which Do You Need?
The video above shows you how to choose between CNC machining and 3D printing for your business. In this video, they cover everything from the pros and cons of both options, what materials you need for each, the time it takes for each option and the costs associated with each option.
Compared to CNC milling, 3D printing is like the other way around. One of the most notable differences between the two is how much time and money they require.
Additionally, the size, shape and configuration of appropriate or perfect items for 3D printing are a reversal from the ideal for CNC milling. Both processes must be thoroughly understood before a decision can be made.
For comparison's sake, let's look at the BCN3D Sigma R19 3D Printer. It's equipped with an Independent Dual Extruder (IDEX) system capable of producing high-resolution multi-material parts.
The BCN3D team uses the IDEX design with duplication and mirror printing modes, as well as other design advancements, to increase productivity and shorten the design and production process. Plastic filaments (FDM), resins (SLA/DLP), and plastic or metal powders (SLS/DMLS/SLM) can all be utilized in the additive 
The BCN3D Sigma R19 is a dependable and simple-to-use demanufacturing process to build objects layer by layer.
Layers of these materials are cemented using an energy source such as a laser or hot extruder to create the finished item.
CNC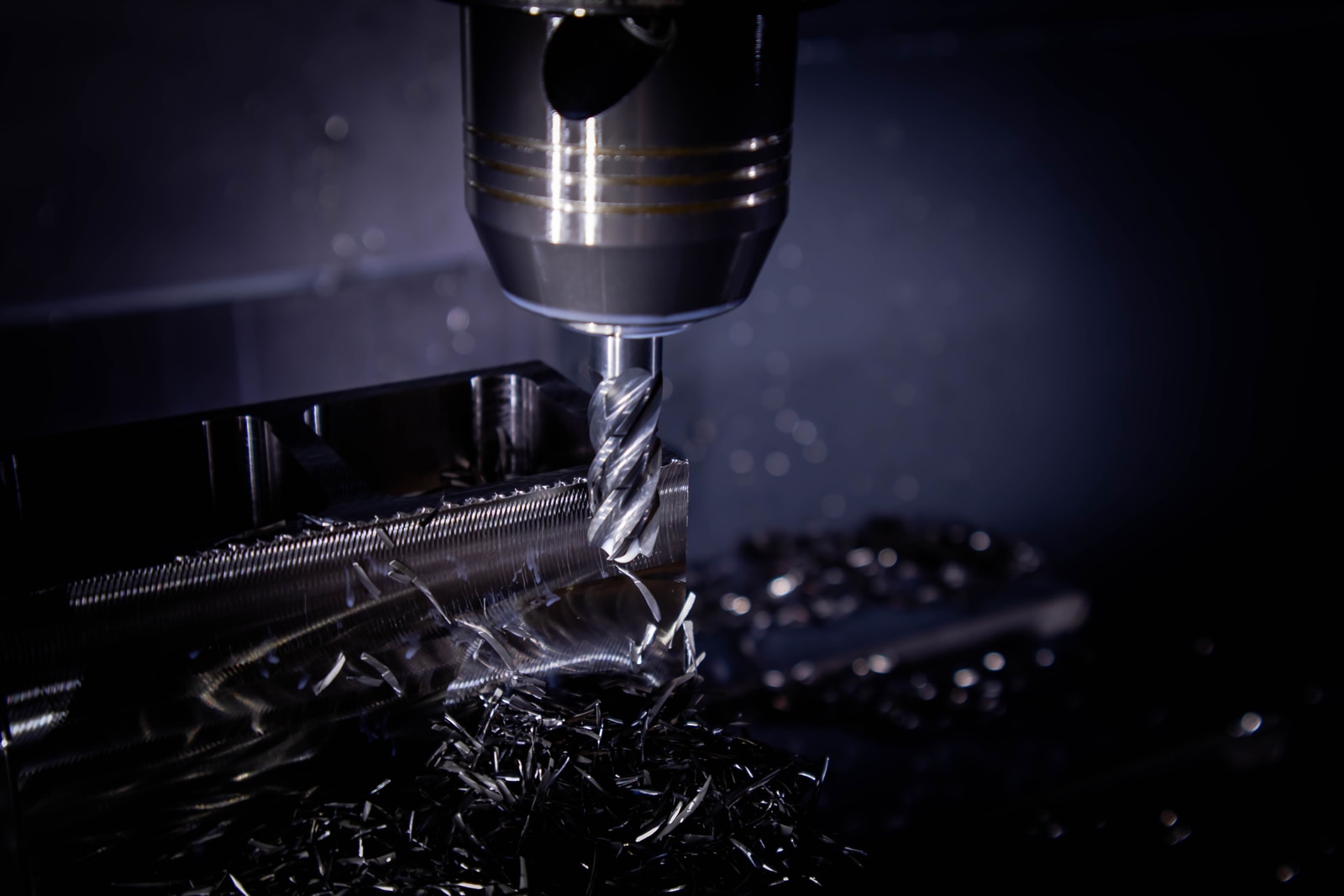 Machines classified as CNC machines can be used for a wide range of applications, and their classification is based on what they can make and what they can perform. As a computer-controlled machine tool, the CNC (Computer Numerical Control) machine tool is able to process and produce a variety of complicated and precise CNC machined parts in a small batch.
CNC vs BCN3Sigma D R19 3D Printer
CNC
BCN3D Sigma R19 3D Printer
Range of applications
CNC machines are commonly used to produce heat-resistant, durable, and precise parts. There is a CNC machine in almost every industry, from small firms to massive manufacturing plants. The technology can be used in a variety of industries, including jewelry, metal molding, casting, and much more.
BCN3D Sigma R19 3D Printer has a wide range of applications that captivates everyone's attention. Mechanical engineering, jewelry, aerospace, healthcare, and even more exotic applications including printing food, bio-printing, and building construction are just a few of the many possible possibilities for this technology.
Various materials

 

CNC machines are commonly used to produce heat-resistant, durable, and precise parts. There is a CNC machine in almost every industry, from small firms to massive manufacturing plants. The technology can be used in a variety of industries, including jewelry, metal molding, casting, and much more.
In contrast to subtractive methods, the 3D printer in the vast majority of cases uses only the quantity of material necessary to build an object and produces minimum waste. It's important to keep in mind the resources required to construct the support structures.
Operating Costs

 

In most cases, the materials and consumables for CNC machines are far less expensive than those for 3D printers. CNC, on the other hand, necessitates the use of experienced experts to set up the settings and tool paths. This indicates that the finished product will have a higher price because of the additional time and resources required. So, despite its relatively quick manufacturing speed, 3D printing is still preferred in some situations.
The 3D printer offers a more affordable and quicker entry point than any other technology. Consumables and materials, on the other hand, can be significantly more expensive than with CNC. Generally speaking, additive manufacturing is more favorable for a small number of unique items, but for more than 20 units, CNC or other processes are more cost-effective.
Various tools

 

CNC is a versatile technology since it can be used with a variety of different tools at the same time. So that the production process doesn't take long breaks, some machines are able to change tools automatically.
The amount of tools accessible for 3D printing is somewhat restricted. While this can be an issue on occasion, 3D printing is typically more efficient than alternative techniques in the vast majority of cases. With the wide range of 3D printing machines, it appears that no problem can't be solved with additive manufacturing.
Precision

 

In terms of both speed and accuracy, CNC procedures are among the best in the business. Because of its unparalleled positioning precision and tolerance (accuracy of CNC machining is approximately 0.01mm – 0.05mm depending on geometry). Furthermore, the level of detail on the surface is pretty amazing. Some CNC machines are capable of performing incredibly difficult tasks and projects with micron-level precision. A tool can be damaged and defective if it is used incorrectly. For this reason, you should only ever collaborate with experts who possess extensive training and experience.
The surface quality and resolution of 3D printer are inferior to CNC's (layer thickness for 3D printing is around 0.1mm – 0.5mm). If you're looking for a specific level of precision, you'll need to adjust the speed of manufacture accordingly. Most 3D printer users, on the other hand, don't require extreme precision. As a result, the benefits of additive manufacturing outweigh the drawbacks.
Models and software

 

Preparation of software for CNC procedures is typically more difficult than for 3D printing. Computer-aided manufacturing (CAM) software is required to generate tool paths. The stock material's dimensions and position, the features of the cutter, the axes' and spindle's speeds must be specified by an expert.
Many people can afford a simple, low-cost 3D printer nowadays. Using a slicer, a digital model may be converted into G-code and sent to a 3D printer for fabrication. It is considerably simpler to slice than to program a CNC machine beforehand.
Conclusion
3D printing and CNC are two different technologies that can be used in tandem to create new products. Both small and large businesses can benefit from this technology. A willingness to take action that was previously unimaginable or overlooked can also help product development teams understand more about their designs faster and sooner in the process.
Is there a "best" answer out there? The use of 3D printing as an alternative to CNC allows for the development of new products and services.
As soon as you enter a well-stocked shop, you'll see CNC mills alongside 3D printers. For individuals who understand how these processes differ, the combination produces a workflow in which the optimal option is always readily available to everyone involved.
Whether you're looking for a 3D printer for your business or the best one to print miniatures, I hope we've helped clarify the distinctions between the two different creation methods.