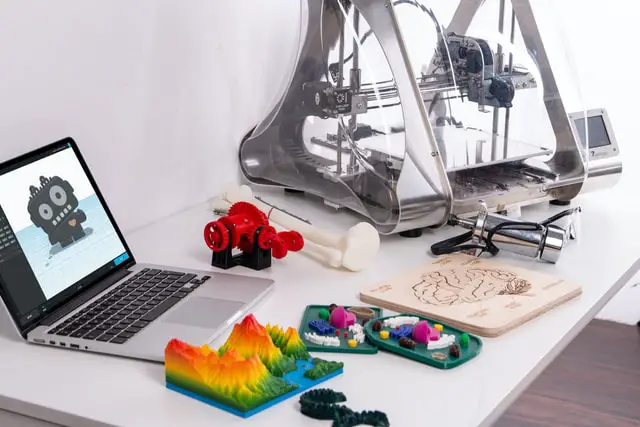 3D printers can be very expensive, but some brands are working on cutting the cost of ownership.
Cheaper 3D printers can still produce high-quality results, and these machines will continue to improve and grow in popularity as the technology improves.
There are a variety of budget 3D printers available on the market today.
The 5 Most Affordable 3D Printers
3D printers can cost many hundreds or thousands of dollars to buy, but among the best 3D printers, there is a variety of quality, budget models available. Some may offer decent performance and reliability for a low price; others may not live up to expectations and can be frustrating rather than fun.
1. Monoprice Select Mini 3D printer
The most popular and the best selling cheapest 3d printer you can buy is this one, Monoprice select mini. A fully assembled, low-cost 3d printer with a full metal frame and a heated bed, it is so simple to set up, we dare say anyone could do it. It is compatible with Mac, Windows, and Linux systems which makes it very versatile.
Features of the Monoprice Select Mini 3D printer
Prints at a maximum resolution of 100 microns
Uses standard 1.75 mm filament. That's about 16 different colors to choose from.
It is compatible with Mac, Windows, and Linux operating systems.
The heated bed heats up to 100-120 degrees Fahrenheit (38-49 Celsius), which reduces the risk of warping when printing with ABS filament.
Example Print
Pros:
Cheap.
Easy to assemble and use.
Compatible with various software.
Plenty of spare parts are available.
Prints in various materials.
Cons:
Not the highest resolution when printing with standard filaments and somewhat loud when printing.
Verdict: The Monoprice Select Mini is by far the most popular budget 3d printer. It has everything you need in a 3d printer, and with a resolution of 100 microns is good enough for most applications.
Video overview
2. XYZprinting da Vinci Mini 3D Printer
If you're looking for something even cheaper than the Monoprice, then take a look at the XYZprinting Da Vinci Mini 3D printer. It offers some fantastic features like self-calibration, auto-leveling, and an easy-to-use interface on your computer screen while printing. It also comes with some free model files to test out your new printer.
Features of the AXZprinting Da Vinci Mini 3D printer
Prints at a resolution of 50 microns which is incredible for the price point.
The XYZprinting slicer software is easy to use and self-calibrating. It also comes with some sample models.
Uses 1.75 mm ABS or PLA standard plastic filaments (plastic spools not included).
Example Print
Pros:
Cheap.
Prints in various materials, including biodegradable filaments.
Easy to use.
Excellent for beginners.
Cons:
Not as reliable as more expensive printers.
Filament feeder can jam during printing if you are unlucky.
The nozzle could be made out of higher-quality metal.
Verdict: Overall, it's an excellent 3d printer for beginners who don't want to spend a lot of money on a 3d printer.
Video overview
3. FlashForge Finder 3D Printer
Another best-seller among budget printers is the FlashForge Finder. It has an impressive build volume of 9.0 x 5.7 x 5.9 inches which is plenty big enough even for more advanced users, and it prints in various materials, including ABS, PLA, sandstone, and wood-like filaments. It's compatible with Mac, Windows, and Linux operating systems which makes it very versatile as well! The LCD touch screen interface also makes it very user friendly, no need to use your computer during print jobs anymore.
Features:
It prints at a resolution of 100 microns (0.1 mm)
Spins the build platform around after each layer is printed for an even higher level of accuracy.
A very accurate print head that can be set to different temperatures for different types of filaments.
Example Print
Pros:
Cheap.
Easy to use.
Prints in various materials, including ABS and PLA (ABS is recommended).
Excellent fixing-base included with the printer.
Compatible with Mac, Windows and Linux operating systems.
Cons:
No support for most wireless connections out-of-box but can be easily added via USB if needed.
Verdict: A impressive budget 3d printer that has an excellent build volume and resolution. It's also compatible with Mac, Windows and Linux operating systems and prints in various materials including ABS and PLA (ABS is recommended).
Video overview
4. Geeetech MeCreator 2 3D Printer
If you want a budget 3D printer with an even bigger build volume than the Flashforge Finder, then look at the Geeetech MeCreator 2 3D Printer. It offers similar features to the FlashForge and has a 300 x 300 x 400 mm (11.8 x 11.8 x 15.7 inches). This is significantly larger than any other printer in this price range and should be enough room even for more advanced users who love creating large scale objects. There's also plenty of spare parts available if anything were to break during print jobs, always handy to have these lying around just in case.
Features:
A heated print bed that can be set to different temperatures for different filaments.
An LCD screen and a simple USB interface.
Spins the build platform around after each layer is printed for an even higher level of accuracy.
Example Print
Pros:
Huge build volume.
Cheap.
Easy to use.
Prints in various materials, including ABS and PLA.
Compatible with Windows and Mac operating systems.
Prints in high-quality resolutions, consistently producing perfect results at 100 microns.
Cons:
No support for most wireless connections out-of-box but can be easily added via USB if needed.
Verdict: A great budget 3d printer that has a huge build volume. It also prints in high-quality resolutions and is compatible with Mac OS, Windows OS and Linux operating systems.
Video overview
5. QIDI TECHNOLOGY X-ONE
One of the more advanced budget printers available is the QIDI TECHNOLOGY X-one which works very well for beginners thanks to its easy-to-use interface. Even though it doesn't come with a heated print bed or LCD screen, it still prints thanks to its adjustable nozzle height very accurately. It can print using various materials, including ABS and PLA plastics, as well as wood filaments.
Features:
A perfect combination between speed and accuracy – prints quickly but also produces excellent results.
Spins the build platform around after each layer is printed for an even higher level of accuracy.
A very small and compact design that makes it perfect to sit on any work desk or shelf – measuring in at just 10 x 15 x 9 inches.
Example Print
Pros:
Cheap.
Accurate results and fast print jobs.
Prints in various materials including ABS and PLA.
Adjustable nozzle height.
Compatible with Mac OS, Linux and Windows operating systems.
Cons:
No support for most wireless connections.
Verdict: An excellent budget 3d printer that offers great value for money while still being reliable and printing in high-quality resolutions.
Video overview
FACTORS TO CONSIDER WHEN BUYING A BUDGET 3D PRINTER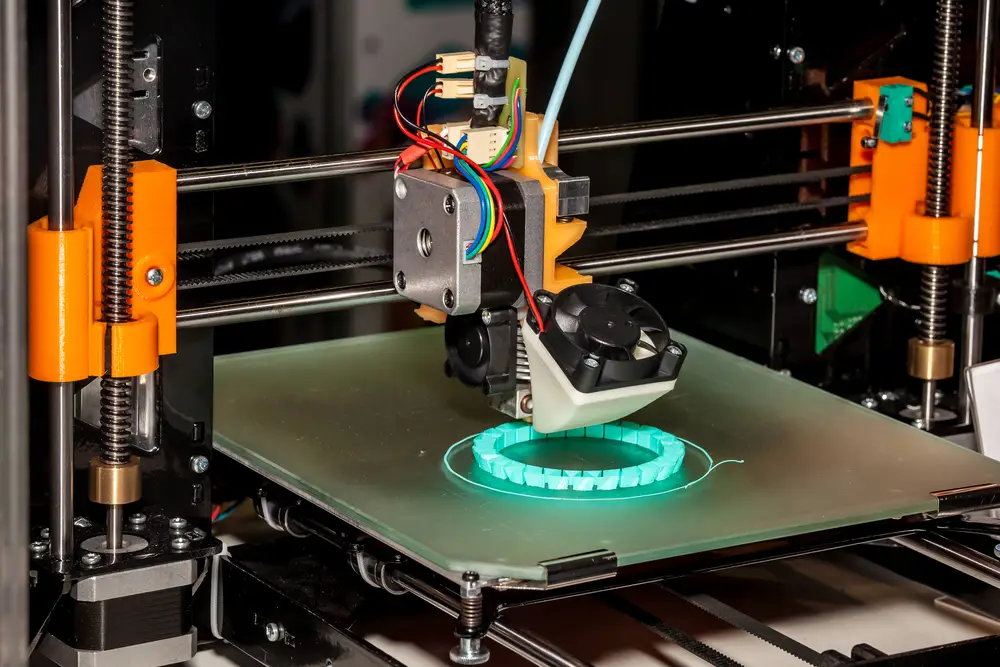 1. Cost of Running
When looking for a cheap 3d printer, it's important to consider how much it will cost to run. The printer may have a low upfront price, but the replacement cartridges or filament could prove more expensive than other models in the long term. Some budget printers require proprietary parts, which are only available from the manufacturer. In contrast, others come with everything needed to get started, including filaments and spare parts for when things go wrong.
2. Purpose
If the 3d printer is primarily intended for home use, then it might be worth paying a little more for one that offers Wi-Fi or Ethernet connectivity to allow printing directly from an SD card without being tied down by USB cables. This can be especially useful if multiple users need access to the machine. However, suppose it's going to be used in a business setting where security and reliability are paramount. In that case, Wi-Fi or Ethernet connectivity could increase the chance of an unauthorized person hacking into it or disrupting its operation.
3. Effectiveness
Larger build volumes can mean less chance of wasting expensive filament. The build volume is defined as the maximum size of an object that the 3d printer is capable of making, not its physical dimensions. A larger build volume means fewer limitations when trying to make different objects, but it's important not to buy a machine with too much extra space if small models are all that will be made.
4. Resolution
The quality of 3d prints is related to the resolution of the printer, defined as the smallest distance the printer can move between steps while building an object. The higher the resolution, the more detailed models can be printed and the smoother their surfaces will be. Suppose it's only ever going to be making models for rapid prototyping. In that case, it's often better to opt for a higher resolution rather than one that can also make more significant objects.
5. Price and Availability of Accessories
Some 3d printers use filament cartridges to feed the material through the machine; others can use spools. The filament will need replacing each time the printer runs out of material, so it will be easier to keep printing if unspooled filament can be purchased. This will need to be stored carefully and protected from damage though because even small amounts of dust or debris can cause problems later on.
6. Design
If the 3d printer is designed to make high-quality prototypes, then it's important to consider how durable and sturdy the components of the printer will be. Scrapes and bumps could cause problems further down the line. As such, steel or aluminum parts should offer more reliable results than plastic components that can warp or break over time.
7. Versatility
It's important to remember that 3d printers aren't just limited to making plastic models. Filament and resin options allow for objects and materials such as wood and ceramics to be printed at a lower cost than if they were bought from a shop. This is likely to expand further over time, allowing people the chance to print out anything from jewelry to shoes, tables and chairs.
If you're struggling to decide which 3d printer is right for you, then it's often worth looking at reviews left by other customers who have bought the product. This should give you an idea of what to expect when you take your new machine out of the box, allowing you to plan for any problems that might occur in advance.
Budget Buyer Considerations
3d printing is becoming more and more popular; however, even cheap 3d printers come with their downsides. Here we present the most common mistakes people tend to do when buying a cheap 3d printer:
The price tag looks great, but it's too good to be true. There is no such thing as "cheap" 3d printers. If the device is too cheap, it might not work well enough for professional use.
You think that because it's called a "3D printer," it should be able to print anything, and the truth is, a cheap 3d printer can only print very simple objects, which requires a lot of trial and error before the printing process works perfectly.
You believe that makers have told you everything there's to know about their product. Nowadays, manufacturers tend to overstate how well their printers work to sell them as soon as possible. Make sure you read reviews from other buyers or find out what people are saying online before buying one of these machines.
You fail to check if the printer has been tested for home use. Many manufacturers tend not to test their budget 3d printers with different types of materials, which results in poor prints and waste of spare parts.
You think that the 3d printer features are all important. The truth is, an expensive high-end 3d printer can have a lot of extra features but this will often mean increased costs and decreased reliability. In most cases, you should aim for an affordable product that gets the job done well enough.
You fail to ask yourself "will I need it?" It's vital to remember that we only use printers to print spare parts so if you don't need one, it would be wise not to buy one.
You forget about warranties and after-sales service, and this combined with the cheap price tag and poor quality, could result in a useless device within just a few months of purchase.
You don't read the full description on the website. Most of these manufacturers have a great deal on their website, but if you look carefully, you will notice some hidden costs involved, such as filament refills.
You fail to check out alternatives first. If you need a 3d printer for home use, it's advised to go ahead and buy one; however, if this is just an idea, maybe you should just put some more thought into it before actually going through with the purchase.
The user manual looks strange or incomplete, and this usually means either they haven't translated it correctly or may be unsure of how well their printers work. Either way, it is not a good sign.
FAQs
An essential part in selecting which budget 3d printer to purchase is the amount of knowledge you have about how they work. The more you know, the better.
Answer 1: What is a budget 3d printer?
A budget 3d printer is a machine that is geared towards affordability and ease of use. All 3d printers are made up of standard parts, which are arranged in different ways to come up with different designs and price points. The more expensive models may have added features or faster print speeds, but that is not the money-saving point of budget 3d printers. This class is focused on simplicity and value for money.
Answer 2: How do mainstream 3d printers work?
Most standard, "ready to print" machines are Cartesian Coordinates style. This means that the model is placed onto a flat surface – usually made up of aluminum extrusions, making it very stable and giving precise prints. The printer then does an X/Y axis movement with its stepper motors to achieve this. Stepper motors move in very small steps, moving their position one step at a time. The more steps your motor can do per rotation, the higher resolution you can achieve on your prints.
Once the machine has moved across both axes by the required amount, it lifts the hot end (the bit that melts filament) away from the print bed and moves it around from left to right (or up and down), onto the next layer of the print. This process is done for every layer until the print is complete.
Answer 3: What should I look for when buying a budget 3d printer?
When deciding which budget 3d printer will be best for you, firstly determine what your needs are and what material you wish to utilize as your filament. Most printers out on the market today will use 1.75mm diameter standard-sized plastic reel filament in some form or another. Some specific brands offer different types such as flexible filaments, glow-in-the-dark filaments and metallic filaments as well as more traditional ABS and PLA plastics that most machines can handle.
You then need to decide what type of machine you are looking for. Cartesian-style machines, delta-style machines, and even some take slightly different forms, such as the popular RepRap Prusa I3 design. This is only a small list of the available options out there so don't be afraid to do your research into other styles or manufacturers. Keep in mind that cheaper clones exist of all major brands, but usually, they won't have replacement parts if they fail due to lower build quality.
Answer 4: What is the difference between FDM and SLA?
Fused deposition modeling (FDM) was the De-facto unbinder when it first came about in 1994 by Stratasys, the company that invented this technology. The filament that you purchase is a spool of thermoplastic string, either ABS or PLA. This is heated to a very high temperature inside the extrusion head and it slowly melts through a tiny hole – just 0.4mm in diameter! It then gets deposited onto a build platform which can vary based on machine design but this makes up the bottom of your print bed (the surface that prints are built upon).
As the melted plastic comes out of the extrusion head under high pressure, it is forced to take on its new shape as per your 3d model's specifications. This process continues until all layers of your model have been completed one at a time and have caused many people to refer to FDM style printers as "Fused Deposition Modeling" (FDM) machines.
The other type of unbinder available is called Stereolithography Apparatus (SLA). This uses a completely different technology that has been in development since the late '80s and also requires meticulous clean-up after every print because supports are used to hold up your model during printing.
A light source, usually an ultra-violet laser or lamp, then cures or hardens the plastic on its surface wherever it is needed inside the tank which contains this liquid polymer. After each layer has been completed, there will be less material covering parts of your model so you need to remove these with tweezers – hence why you need to do some post finishing work.
Answer 5: How do I deal with warping and curling?
This is a very common problem and it occurs because there isn't enough adhesion between your bed and the plastic. There are a few ways to get around this such as designing your 3d models to use less material or printing rafts that go underneath each print. Rafts work by attaching larger areas of plastics onto your build platform so the underside of an object has more surface area to adhere to than just one small point at its base.
Other options include using glue, hair spray, blue tape or even special materials which you can purchase from most major printer brands. These solutions all help in their way and some people may never come across warping issues while others will constantly fight problems with curling.
Budget 3D printers are a new addition to the market, and they offer a cheaper alternative to other, more expensive 3D printers.
They offer a variety of features that allows for printing any object, not just small models. They also print at higher speeds and have larger build volumes than other budget options.