3D printing has come a long way in the past few years, and it's now possible to print clocks with moving parts.
This is a great way to show off your 3D printing skills, and it can also be a fun project for the whole family.
We've compiled some of our favorite 3D printed clock plans- check out the free STL files below
There are a few things that are really cool about printing your own clock using 3D printing.
First, it's a great way to show off your skills and your printer's capabilities. It can also be a fun project for the whole family.
Second, clocks are a really practical use for 3D printing. They can be used in homes, schools, and offices, and they can help keep everyone on track with the time.
Finally, 3D-printed clocks can be customized to fit any style or decor. You can choose a model that matches your personality or your home's style, and you can add your own unique touches to make it even more special.
Free 3D printed clock plans & projects
3D printed gadgets such as 3D printed clocks have many purposes besides showing time. You can use these clocks to maintain cultural ideas, share creativity, and educational purposes. Keep reading to familiarize yourself with 11 exceptional 3D printed clocks.
1. 3D printed mechanical Clock with Anchor Escapement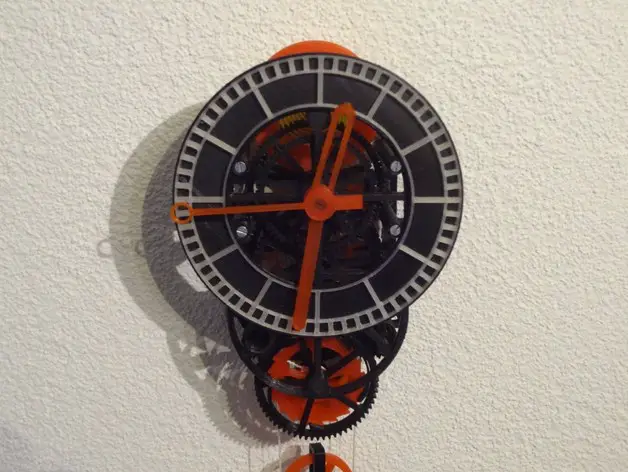 This product showcases that 3D printing is not all about the decoration because its creativity makes it possible to even come up with a living thing. In addition, this clock has significant features such as a balance wheel plus a spiral spring, and an anchor escapement.
Remember, this clock shows hours, minutes, and seconds. Its winding features a nested planetary gear, allowing the clock to run as it winds up.
https://www.thingiverse.com/thing:328569
2. 3D Printed Pendulum Clock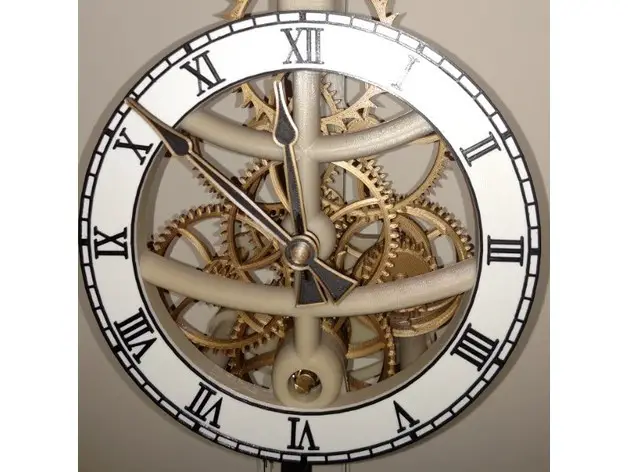 The 3D Printed Pendulum Clock was designed to function as a correct timekeeper. It incorporates deadbeat escapement, which maintains its accuracy with a difference in power train fiction. The designer of this clock was aspiring for a long run time to continue to keep time even when he is absent for several days.
A few internal metal components and a few refinements minimized friction and allowed runtime of eight days.
https://www.thingiverse.com/thing:3524448
3. 3D Printed Numechron Clock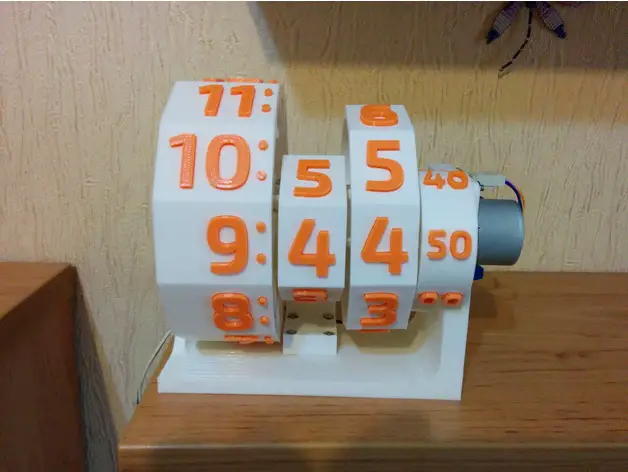 It is the first version of the Numechron 3D printed digital clock. Bear in mind that it functions 100%.
However, its assembling is not convenient, but the assembly instruction will be advanced later. It has a modern firmware version, which has handled a gear ratio issue and boosted accuracy
https://www.thingiverse.com/thing:2381829
4. Gear O'clock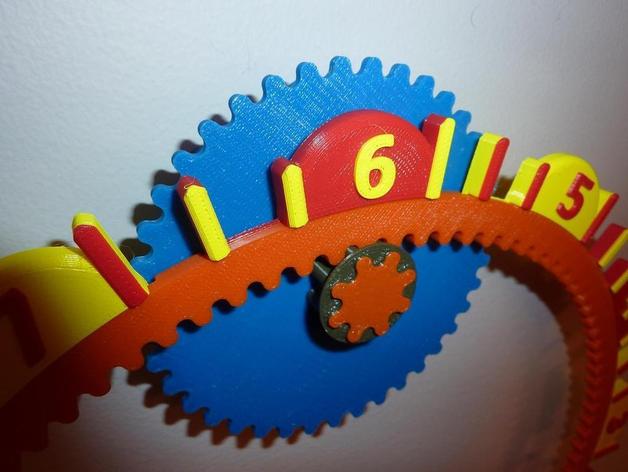 This clock has a single mount, two gears, and 12-number plates. Additionally, its entire units are represented in inches. It has a zip folder containing two versions of the primary clock base and drive gear.
Its gear is divided into four pieces. However, a version of these gears does not require any support. Besides, it fits a 4 by 4 box without needing support.
https://www.thingiverse.com/thing:12173
5. One Plate Mechanical Clock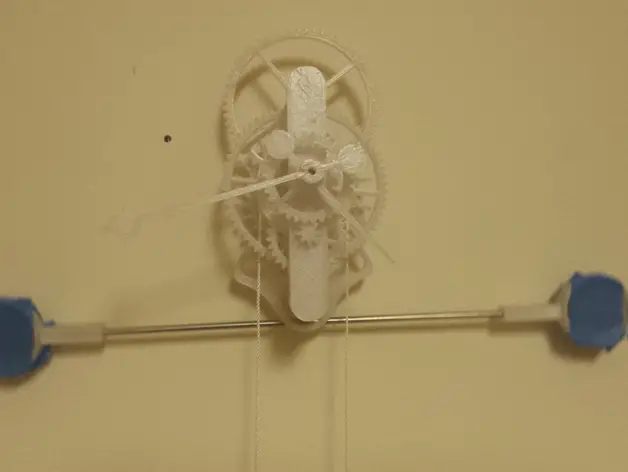 The design of this clock allows all its parts to fit 180 by 180mm square. When you dial a print button in approximately six hours, you would have got all you require for one mechanical plate clock.
https://www.thingiverse.com/thing:1739676
6. Ball Clock 3D printed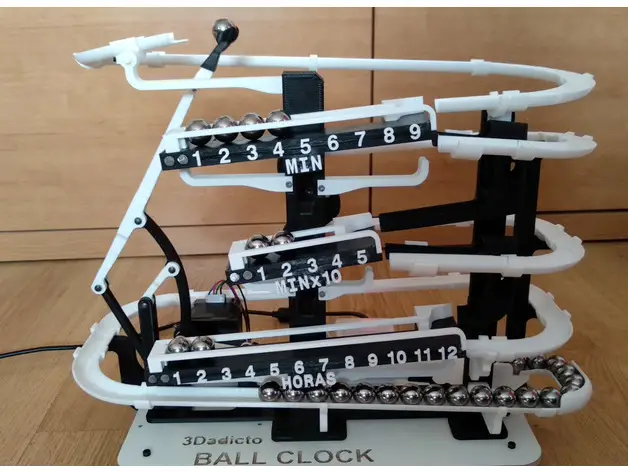 It has a design by Harley Mayenschein from the '70s. Additionally, it uses marbles of three varying rails to track time and provide a readout.
This design is optimized and achieves its original lifting system by utilizing a bar mechanism. Furthermore, it is accurate, and in 24 hours, it has only an error of 6 seconds.
https://www.thingiverse.com/thing:4786491
7. Melting Dali Clock
You must understand that this clock was developed using a DIY quartz clock replacement mechanism, which you can purchase from many places. Bear that you can receive a regular version even after ordering a high torque version. It is Salvador Dali's project.
https://www.printables.com/en/model/69980-melting-dali-clock
8. Antique' Auto-Correcting Analog Clock
The Antique' Auto-Correcting Analog Clock has an analog design. It features a 3D printed case from copper PLA and wood. Its inner workings and details are also made from wood and copper PLA, with the clock hands featuring black PLA for clock hands.
https://cults3d.com/en/3d-model/home/antique-auto-correcting-analog-clock
9. 3d Printed Mantel Style Auto-Correcting Clock With Chimes And Daylight Savings Time
This clock is designed from a mixture of bakelite radio and mantel clock. It is an analog clock featuring battery backup, daylight saving time, and electronic chimes. It also has an Adafruit feather ESP32, which is incredible for time keeping.
https://cults3d.com/en/3d-model/home/3d-printed-mantel-style-auto-correcting-clock-with-chimes-and-daylight-savings-time
10. Animated Rgb Wall Clock
Most people love this clock and find it very crucial in their lives. On the other hand, this product also features varying animation. Therefore, you can also utilize it as an animation clock. Choose it over other clocks and experience the joy that comes with it.
https://cults3d.com/en/3d-model/home/animated-rgb-wall-clock
11. Amiga Clock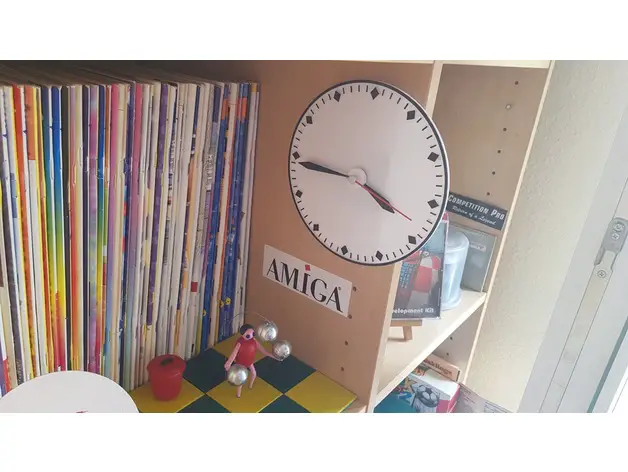 If you want to experience a physical version of the iconic program, attach your 3D print to the clock movement, especially from the digital past. Additionally, the model of this clock is customizable, making it adaptable to any clock size or clockwork.
https://www.thingiverse.com/thing:4877430
How to 3D print your own clock
The first thing you need to do is find a 3D model of a clock. There are many places you can find these online, or you can create your own using 3D modeling software. Once you have a model, you need to load it into your 3D printer's software. This will usually involve slicing the model into smaller pieces so that your printer can handle it.
Once your model is loaded, you can start printing! Depending on the size of your clock, it may take a few hours to print all the parts. Once everything is printed, you can assemble your clock according to the instructions that came with your model.
That's it! You now have a fully functional 3D-printed clock. You can display it proudly in your home or office, or give it as a gift to someone special.
If you want to make your clock look even more realistic, there are a few things you can do. First, you can paint the parts using acrylic paints. This will give your clock a more "finished" look.
You can also add other details, such as numbers or hands, using 3D-printed decals. These are easy to apply and can really make your clock pop.
So there you have it: a guide to printing your own 3D-printed clock. This is a great project for anyone who wants to show off their 3D printing skills, or for anyone who wants to make a unique and personalized gift. Give it a try today!
How I 3D printed my own clock
I have always been fascinated by clocks. They are both beautiful and functional, and they can tell us a lot about the time of day. When I first learned about 3D printing, I knew I wanted to try printing my own clock.
It was a little tricky to get started, but once I got the hang of it, it was a lot of fun. I found a 3D model of a clock online, and I loaded it into my 3D printer's software. Then I started printing the parts!
It took a few hours to print all the parts, but when it was done, I assembled the clock according to the instructions that came with the model. It was really easy to put together, and it worked perfectly.
Now I use my 3D-printed clock on my nightstand. It's a great way to tell the time without having to turn on the light, and it adds a touch of elegance to my room. Thanks, 3D printing!
Final verdict
You are now well familiarized with the 11 3D printed clocks based on the detailed post above. Bear in mind that all these clocks have different designs and features. Therefore, choose a 3D printed clock that best suits your needs and demands.