3D printing can be used to create almost anything- from tiny plastic toys to intricate metal parts.
They're even able to print entire buildings with different colors, materials, and textures. And they are already being used for making buildings in faraway places like China, Germany and Dubai:
3D printing is not just limited to the construction industry- they are also used for surgical implants, dental work, toy production and more!
At this point, everyone has probably heard about 3D printing, but many people have never done it or know what it is. Some people even think additive manufacturers are magic and create extravagant things.
Although that would be cool, they can only do so much. Often they create simple designs or designs with simple details. The most popular model is Prusa. 3D models use materials capable of being melted, selectively deposited, and cooled to create something new.
Parts of the object are made by adding up layer by layer on top of each other. Although more costly and less common, some models can turn metal, wood, or other hard materials into objects during the printing process. Usually, though, they use molten plastic. Because they create single print physical objects, they have many uses. They can make anything you want if you have a digital image and slicing software.
Some simple 3D designs people print are medical supplies, tools, and complicated projects to avoid injury during production. Many beginners want a 3D printer, but have no idea what to buy or what best suits their needs.
There is a wide range of available options since additive manufacturing has become very popular; there are seven great options if you're a novice: the Monoprice Select Mini, Anycubic Vyper, ANYCUBIC Photon Mono, Elegoo Mars 2, Comgrow Creality Ender 3, XYXPrinting da Vinci Jr. 1.0 A Pro, and Flashforge Inventor 3.
As it is with all products, each one has pros and cons that can aid in the decision of which manufacturer better suits your needs.
The Best 3D Printers For Beginners
Our Top Pick: The Monoprice Select Mini
Sale
Bestseller No. 1
The Monoprice Select Mini is #37 in bestselling 3D printers across the world. This printer is 11.3in x 7.5in x 13.5 inches in size, the filament diameter is 1.75 mm, and the nozzle is 0.4mm. The print speed is up to 55mm/sec, which is faster than many models. The max extruder temperature is 482 degrees Fahrenheit (250 degrees Celsius). It also comes with the type of filament PLA and a microSD card already containing models. ABS, PLA, Wood, Copper Fill, Steel Fill, Bronze are other filament types able to be used with this.
Example Print
Video Overview
Pros
The biggest pro of the Monoprice mini is the ability to use many types of filaments.
Many printers only allow one printing material: molten plastic. However, the Monoprice select mini allows you to use a better printer type that may range from wood or metal, which many people prefer depending on what they want to create. Wi-Fi connectivity is also a bonus.
The heated build plate on the model can change to various temperatures allowing this to happen.
The Monoprice select mini is small in comparison to many 3D models as it has a compact design. It is light and small, making it perfect for desks or smaller tables, and it will not take up much space. It has an open-frame design and a small footprint called a compact desktop design. Another pro to the Monoprice select mini is that it comes fully assembled and has already been calibrated, so it is ready for controls when received.
Cons
Although there are not very many cons for this printer, there is one that may be a deal-breaker for some people. The con is that this printer can only print things the size (or smaller) than a soda can. Many people want much larger items.
Anycubic Vyper
The Anycubic Vyper is 405mm x 410mm x 453 mm and weighs 14kg.
The manufacturer has a speed of 2-100 mm/sec. This model is a multi-purpose printer as it does print and has high precision engraving. The Anycubic Vyper is much quieter than other printers because of the silent drive. This printer is ranked #3 in bestselling 3D printers. The assembly of this printer can be done in just a few minutes.
Example Print
Video Overview
Pros
There are many pros for this as there are parts designed especially for beginners. Smart auxiliary leveling consequently finds the leveling spot of the print stage and blare and alarm to inform the user of the exact print head stature that is causing the problem during assisted leveling. Multicolored print is available to print on one nozzle.
Changing the color of the object being made is done by pausing through different layers to change a color during the printing process; this can be done six times. The laser engraver is a pro as well.
Cons
A significant con of this printer is the size, and it is enormous. Though for some people, this is not a problem. Compared to other 3D printers for beginners, Anycubic Vyper is loud. There is a 3D printer review claiming this product does not work correctly with the z-axis because of the switches; however, the printer review is not as extreme as the positive reviews. A complete beginner may take these seriously.
ANYCUBIC Photon Mono
The ANYCUBIC Photon Mono is a liquid resin printer. This printer is ranked #13 in 3D printers. This printer is 227mm(L)*222mm(W)*383.6mm(H) and weighs 9.37 pounds. The speed of this printer is a max of 55mm/sec. This printer is also quiet and accurate. Since it is equipped with a z-axis dual linear slide, this printer is much more stable than most 3D printers for beginners. This printer is also compatible with the latest Anycubic slicing software, which leads to higher-quality printing.
Example Print
Video Overview
Pros
The most significant features of ANYCUB Photon Mono are the printing speed and lighting. The light source and exposure time are upgraded to give the fastest printing speed possible. The immense size of the printer allows us to print larger objects which can also mean a better print quality.
The most excellent plus for beginners is the one-piece release film which makes replacing it quick and easy. The screen has a life span of up to two thousand hours and a high light transmittance.
Cons
A large con to ANYCUBIC Photon Mono is the diversity of products. Resin is the only material, and there are no special extras (like engraving). The size of the printer may also be a nuisance. The screen on this product is small and only black and white.
Elegoo Mars 2
Elegoo Mars 2 is #27 is the bestselling printer. This printer is 7.87 x 7.87 x 16.14 inches and 16.2 pounds. This speedy printer can do each layer of a product in two seconds or 30-50 mm/h. The touch screen on this printer is 3.65 inches. Built by CNC, machining aluminum alloy body makes Elegoo Mars 2 strong. Based on online reviews, people seem to enjoy this printer.
Example Print
Video Overview
Pros
A top pro is that this printer is fast, which may be great as a printer for beginners. It has a 2k resolution to make the printed objects clear and concise throughout the printing process. Elegoo uses software that promises that consumers can be ready to print within four minutes after assembly, whereas most printers take around ten minutes. Elegoo Mars 2 is provided with the newest version of CHITUBOX slicing software. It is small and still produces larger objects.
Cons
A con for this printer is that it only allows for liquid resin material layers. This printer has a USB, not Wi-Fi. Overall, the cons list seems much smaller than most. If a large, slow, or undetailed printer is available, this one is not recommended.
Comgrow Creality Ender 3
Comgrow Creality Ender 3 3D printer for beginners is rated #1 in 3D printers across the world. It is 18.5 x 18.7 x 24.41 inches and 17.2 Pounds. This printer has a rotary knob on the extruder and a brand-new operation UI system to make operating as smooth as possible. It also has a 4.3-inch bright color screen for users to make their experience better.
Example Print
Video Overview
Pros
There is a wide range of pros to Comgrow Creality Ender 3. There is a self-developed silent motherboard created to make this printer one of the quietest around. The printing is high precision with attention to detail, and it is easy to operate. Comgrow Creality Ender 3 resumes printing from the position after unexpected power outages, which is much more efficient.
Cons
A great con of Comgrow Creality Ender 3 is the size, and it is one of the most oversized printer types for beginners. Another con is that it is only compatible with PLA or molten plastic layers. A lot of online reviews stated that many parts of this 3D printer kit needed to be replaced within the first 30 days, though they also stated it was a great product after that.
XYXPrinting da Vinci Jr. 1.0 A Pro
Da Vinci Jr. is 16.93 x 16.54 x 14.96 inches and 36.3 pounds. The speed is a max of 120 mm/sec. It is an open filament system that translates to multiple materials that are compatible, which is excellent for people who want to use materials that are not as common if they fit. There is also engraving available with an upgrade.
Example Print
Video Overview
Pros
There are many features to this 3D printer for beginners. There are two ways to use this printer: printing and engraving. It prints large objects, which is a pro because most only print small things. It also auto-collaborates. XYZPrinting da Vinci Jr supports a slicer where you can print directly from a sim card.
Cons
This printer is much heavier than most at 36.3 pounds, which is very inconvenient. Another con is that there are many online reviews of this product claiming that it is not very good. This is only compatible with one color and is not wireless like similar manufacturers.
Flashforge Inventor 3
Flashforge Inventor 3 is rated #77 in 3D printers. It is 20.2 x 18.9 x 16.7 inches and 27.25 Pounds. The maximum print bed temperature is 212 degrees Fahrenheit or 100 degrees Celsius. Filament Compatibility for this model is PLA, metal, and wood. The features are small and light, so the printer is minimal and easy to use.
Example Print
Video Overview
Pros
A great pro to this printer is its size; it is smaller than most but big enough to print some more oversized items. It is also quiet and has a full-colored touch screen. Unlike most printers, the build plate does not need to be leveled.
Cons
A major con is that the filament weight must be less than many other 3D printers for beginners. It must be 50g while many others are 250g. A lot of information is missing about this product online. It also has a lot of things not included that consumers would have to buy separately.
Extra Pick: Snapmaker 2.0
The Snapmaker 2.0 is a great option. It does everything and the instructions make it easy to build. This is a great option for beginners, especially if you are interested in 3D printing, laser engraving and CNC. Once you have mastered the basics, you can do advanced things with it. Its modular design means that there are many add-ons available. The upgraded head units are my favorite.
What else do you need to get started printing?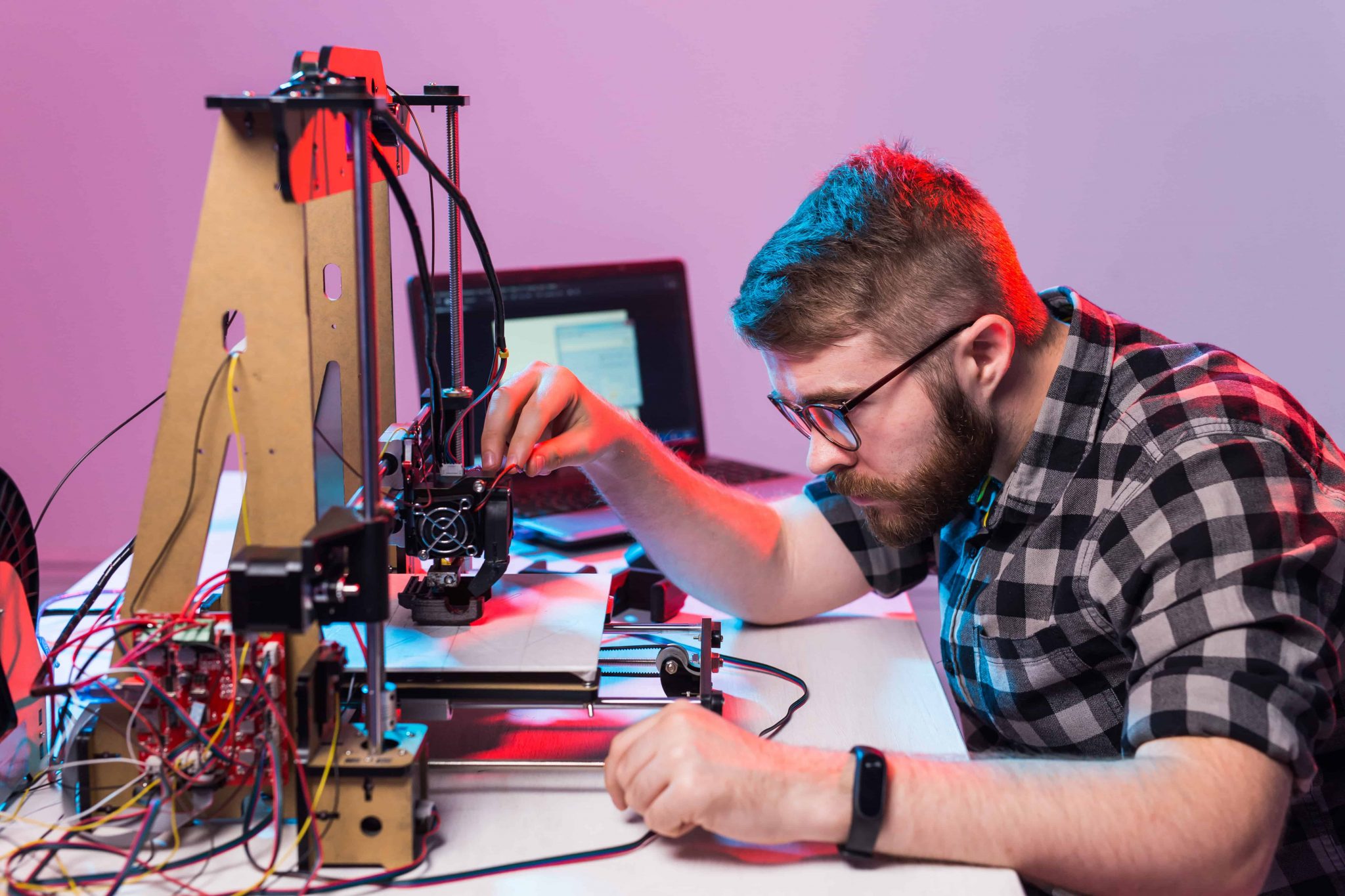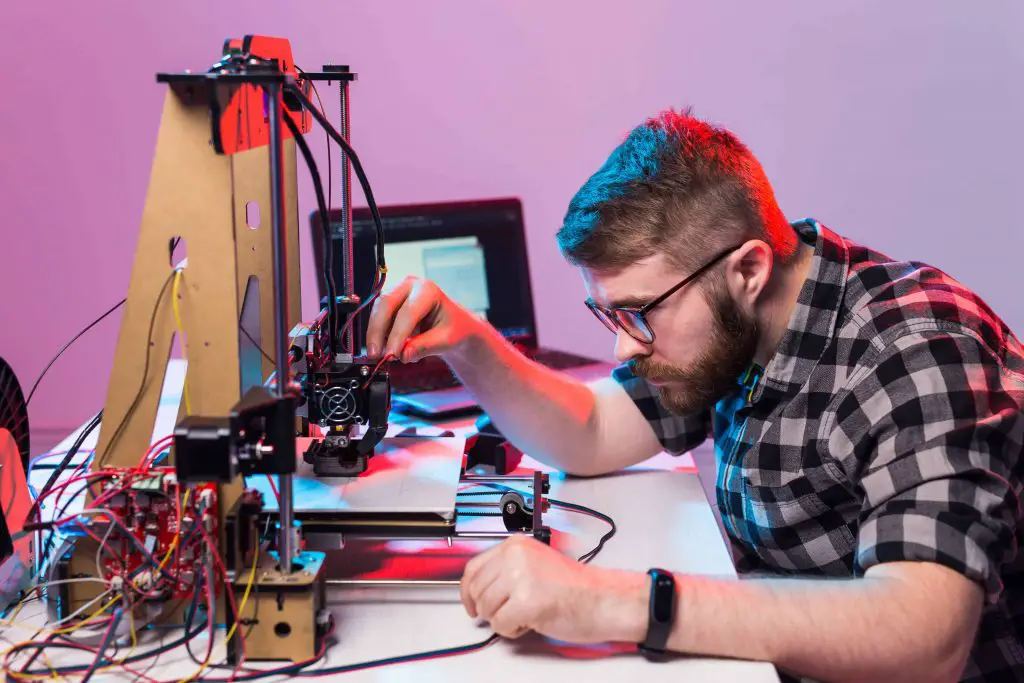 The main thing you need to start printing is a printer, but there is plenty of other things needed.
An important aspect of 3D printing is that you have a model of the product you want. There are many sites where you can find downloadable designs to download. You then need a slicing software to turn these models into instructions for your additive manufacturer. The slicer turns the model into a "g-code," which the printer will follow. Some of the 3D printers for beginners have pre-installed software.
Materials are also needed for manufacturing, and the filament entirely depends on what you want your object made of and what is compatible with the printer. Supplies will then be needed to finish the product, such as paint, glue, polish, etc., to finish the product. Many people prefer the option with built-in Wi-Fi.
Where can you find 3D printer files for beginners?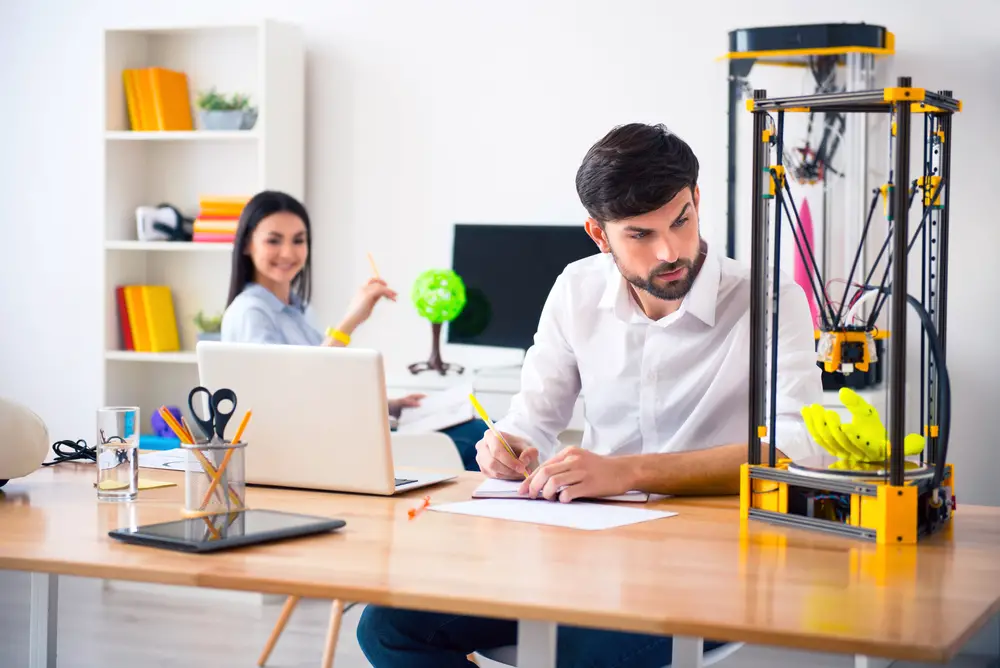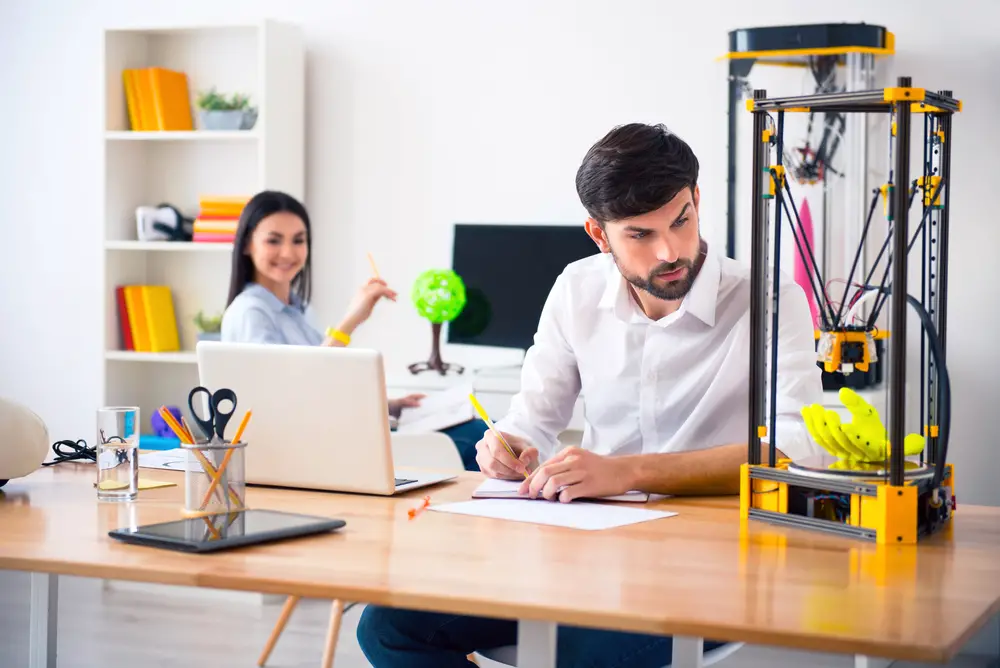 Since the 3D printer has become much more popular, it should be easy to find manufacturers for beginners. The most common place to find low-cost manufacturers is significant online marketplaces.
Millions of people go online to find everything they need. If shopping in person is preferred, 3D printers for beginners can also be found in major retail stores, electronic stores, and sometimes small stores that have a variety of products, though the price range varies. There are many expensive models.
Researching what printer best suits the consumer's needs should be the first step in the buying process. Once the printer is chosen, the stores can be looked up to see if the specific printer is in stock.
Summing Up
In the beginning, it was difficult trying to figure out how to make my printer do what I wanted. But after a lot of practice and tinkering with the settings, I finally began to create some really cool things! It was so satisfying to see my hard work pay off and to be able to hold some really cool objects that I had made myself.
As time went on, I became more and more skilled at using my 3D printer. I began experimenting with different materials and colors, and started making increasingly complex objects. I even began designing and printing my own 3D models! It was so much fun to be able to create whatever I wanted, and the possibilities seemed endless.
I am now a skilled 3D printer user, and I absolutely love it! Every day I find new and exciting ways to use this amazing technology, and I can't wait to see what the future holds for 3D printing. So I know how it feels when you don't know how to use a 3D printer. But trust me, with a little practice you can create some really amazing things! Just keep at it and have fun!