When I was at the Nuremberg Maker Faire, a number of people asked me if I thought I would ever get a 3D printer.
I had been researching them, and figured I just needed to find the right one. As it turns out, the right printer is a big decision. I had my mind set on the Anycubic Photon Mono X since it is small enough to fit in the space I was using it (eventually I upgraded to a garage set up).
I am a big fan of 3D printing, but I have to admit it is not always the easiest of things to do.
While the machines can be pricey, software hard to navigate, and the hardware sometimes temperamental, I still love 3D printing because of the things I can make with it:
If I want to make something, I can, and it is not too difficult to learn how to do it. I can usually find a tutorial somewhere on the internet, or a quick video that shows me how to use a program or get it to work.
Plus, 3D printers are so useful around the house- particularly small 3D printers, which are easier to use in your home if you don't have a lot of space.
Some people set them up in closets, but especially if you're using resin, beware of toxicity issues in a cramped area. You'll want to get yourself a 3D printer table– it helps keep your work area organized, particularly if you get a rolling cart option.
The 5 Best 3D Printers For Small Spaces
1. Anycubic Photon Mono X Resin 3d Printer
Pros:
Ease of operation since there's no need for assembling
Produces high-quality prints
Has an exquisite detail level for information
Very fast at printing compared to many printers
Cons:
Possible problems with bed leveling
It is built flimsily.
Video overview
Design And Performance
The Anycubic Photon Mono X cures liquid resin using laser through a process known as photopolymerization in which it melts the plastic one layer after another.
For stable printing and performance, the Anycubic Photon Mono X Resin has a built-in cooling device whose purpose is to control temperatures. That feature also enables the device to have a longer lifespan.
Since it is larger than most small 3d printers, it has double rails that support its z-axis. Combining that with an anti-backlash clearance nut and stepper screw motor reduces layer lifting risks while increasing motion precision.
Beginning by moving to the upper limits of resolutions of approximately 10 microns or 0.01mm, the layers will come out visible. Also, it takes a long print or post-processing to achieve this, even though FDM printing can accomplish it.
Wireless concavity is gradually becoming common with 3d printers, and the Anycubic Photon Mono X isn't left behind. If you're not familiar with the setup, consider using other online resources like YouTube. Even if you're familiar with 3d printers, this one might prove challenging to set up. There are many things that you can do with the app it comes with, including;
You can start the printing process and pause it.
Remote controlling the printing. You can change the Z-lift distances or exposure time key settings.
Letting you the past printed objects to figure out what works best for you.
Monitoring the printing process to know how long it takes to complete printing and the actual periods it finishes the process
As a Wi-Fi-enabled 3d printer, it operates optimally without inconvenience. You can use a webcam to monitor whether the bottom plates adhere to remote commands by pausing the print process.
Due to its favorable size, you can either create one large high-quality print or several miniatures at once. Note that the Anycubic Photon Mono X Resin is suitable for splitting larger models.
2. LulzBot Mini 2 Desktop 3D Printer
Pros:
Supports a wide range of filament types
Easy to use and set up
It has a powerful software
You can use it both with iOS and Android OS
Ease of removing finished prints from the print bed
It is durable since its frames are made of long-lasting aluminum metals
Cons:
It has open frames which increase burn risk from its hot extruder
Inconsistent print quality
Video overview
Design And Performance
Compared to many 3d printers currently available in the market, the LulzBot Mini2 Desktop 3d printer is one of the high performances 3d printers. It's because its design employs current technological innovations and architecture.
Additionally, this 3d printer has earned a significant reputation in terms of creativity. That's why even architecture uses them to model their building construction design. Because of its changing flexibility of filaments, the 3d printer allows you to use a wide range of materials for your models. Innovators and architectures can significantly benefit from its open-source desktop facility.
With the LulzBot Mini2 Cura software, you can easily customize the settings according to how you prefer printing your model. Note that you're not limited to the Cura software only. Other compatible software includes; BotQueue, MatterControl, Slic3r, and OctoPrint.
The LulzBot Mini2 has a PEI print surface that ensures accurate printing processes. It's because the printer provides the features of meticulous documentation. Most 3d printers will require high maintenance of the print surface but the LulzBot Mini2 desktop 3d printer requires low maintenance.
Even though it's a small printer with a small build volume, it provides reliable results to the consumers. Surprisingly, it also has an autocleaning to its nozzle. With this feature, you can allow the 3d printer to run for long periods. As a customer, we will provide you with variations of the nozzles to give you the desired results.
Note that the LulzBot Mini2 desktop 3d printer has a power button and a USB port. Having this 3d printer is advantageous if you want to protect your computers from viruses and other related harm. Also, the LulzBot Mini2 has a bearable temperature of approximately 300 degrees Celsius. The printer's frame is made of aluminum metal for durability.
3. Monoprice Delta Mini V2 3d printer
Pros:
It is fully featured and affordable
Meticulous print quality
Some of the materials it prints include ABS, PLA, and PETG
It is made of durable materials
Cons:
Non-functional with flexible materials
The software possesses rough edges
Video overview
Design And Performance
The Monoprice Delta Mini V2 3d printer is unique since it uses three arachnid-like arms with a printhead at the center. Most 3d printers, unlike this one, use forward and back, left and right rails. With that and an estimated height of 14.5 inches, it's only fair to consider it a charming little printer.
The Monoprice Delta Mini V2 3d printer can move its printhead anywhere within the print region. Note that its print region has a cross distance of approximately 4.3 inches and a height of a little over 4.7 inches. Compared to the Polaroid Playsmart 3d printer, whose print region has a volume of over 107 cubic inches, this one sums up to approximately 81 cubic inches, which is considered a modest value.
A notable restriction for using the Monoprice Delta Mini V2 is a connection over the web. Also, you can't associate with anything else except sending records via a cutting application. The printer has an SD card opening alongside a Wi-Fi interface and a USB port. Bear in mind that Wi-Fi works via a destitute portable application.
As for the controls, you have three alternative methods. i.e., through a slicer application, e.g., Cura, on gadget control, and the PoloPrint application. You can use your fingertips or the plastic pointer the printer comes with on its control screen. You can use both Android and iOS to access the PoloPrint pro application conveniently.
The Monoprice Delta Mini V2 has quieter driver motors operating at 30bBA than its predecessor. The printer also has an industry-standard advanced G-code auto-leveling that makes the challenging setup of the first layer easy. The auto-calibration feature ensures you don't struggle with leveling the bed since the printer continuously self-calibrates.
The extrusion nozzle and the print bed can heat to wider temperature ranges, allowing you to heat with different types of filaments from any of your preferred manufacturers.
4. MakerBot Replicator Plus
Pros:
It is Wi-Fi-enabled
Compared to its predecessor, it has a larger build volume
It has a sleek appearance, so it's safe to use it in your house
You can remote monitor it via your phone or tablet
Ease of set up with the aid of instructions from the app
Cons:
Its open design renders it risky to handle near beginners and children
The USB connection may have issues at times
Video overview
Design And Performance
With a weight of around 18kg, it is heavy; that is why it's advisable to keep it on a table or a flat surface during operation. The MakerBot Replicator Plus can produce 1.7mm of PLA, i.e., polylactic acid in 2 pounds of spools both in custom and primary.
The 3d printer also has magnets that hold its extruder in place. It makes it easy for installation and uninstallation by snapping the extruder.
The primary advantage of the smart extruder plus is its capability of detecting if you've run out of filament. Doing so pauses the print process and notifies you in your Android or iOS device since it uses software compatible with both OS. So, you won't have to scrap the object.
As for the controls, you can control this printer from your devices. You can do this via a software application available for both mac and window and a mobile version available for Android and iOS. The choice is yours.
The good thing is that the MakerBot Replicator Plus has a big LCD transparent screen 3 inches wide with a combo and two other buttons. You can use the buttons to begin, pause and monitor the print process. Additionally, the buttons can help you in adjusting the perimeters of your object.
Note, there's a risk of getting burned when handling the hot extruder due to its open frame. But with the replicator plus, such risky situations are impossible. Located at the back of the extruder component is the extruder nozzle making it inaccessible from the sides or the back.
Compared to its predecessor, this machine produces little to no sound during operation. The replicator has a build volume of 555 cubic inches in 11.6 x 7.6 x 6.5 inches. The print bed has a plastic layer upon which print materials stick. Also, you can forward drag the bed component to remove large and complex prints efficiently.
5. Original Prusa i3 MK3S
Pros:
Has powerful software that is intuitive to use
Its user guide is professionally printed
Can support a wider range of filament types
Produces consistently high-quality prints
Cons:
Build volume might be smaller than you expect.
Video overview
Design And Performance
One of the significant features of the Original Prusa i3 MK3S is the calibration wizard. Some of the functions of the calibration wizard are;
Proper calibration of the x, y, and z axes
Proper adjustment of the z-height
Perfectly level the bed
You can adjust the printer's z-height to one-hundredth of a millimeter precision by turning the knob controller. Note that getting the first layer right is essential. To achieve this, ensure the z-height is right. Also, the nozzle must neither be too low nor too high. Otherwise, you'll most likely encounter problems with your print.
As for the build surface, note that it is also removable. The build surface of this 3d printer is coupled with a spring steel sheet, PEI powder coating, and other components.
Embedded at the heat bed are the magnets the hold the steel sheet in place. Once a print is finished, you can remove the steel sheets. If the print gets stuck on the surface of the steel sheet, just bend the steel sheet to remove it. There are print surfaces that are unidirectional. Meaning you can use either side. If there's damage on one side, you've got the other side.
Polyetherimide is deemed ideal for most build surfaces because of its adhesive and chemical stability properties (PEI). Plus, the PEI sheets don't require surface prep, i.e., the use of tape, glue, or hairspray, since it has PEI powder to do that.
Bed leveling for this 3d printer is crucial. The experience of the automatic leveling of the Original Prusa i3 MK3S is phenomenal. So, you don't have to trouble yourself with manual leveling.
The printer also uses Bondtech direct drive extruder. It means that the hotend connects directly to the extruder and moves along the x-axis. That leads to the production of high-quality prints for flexible materials. Its automatic filament sensor can detect if you've run out of filament and pause the printing process.
6. Formlabs Form 3 3d Printer
Pros:
Ease of use and setup
The software automates most processes
It is ideal for miniature printing
Compatible with a wide range of Formlabs' resin
Cons:
Affordable resin cartridges
Large prints require multiple parts
Video overview
Design and Performance
The Formlabs form 3 3d printer operates with advanced processes which surpass those of the previous models. Since it works with low-force stereolithography, the printer produces very consistent and detailed prints with little support.
Setting up this printer is relatively more straightforward though some assembly steps may not be easy as expected. For example, attaching the balance of the printer with the plastic tool it comes with. There's a built-in leveling sensor that detects whether or not your machine balances correctly. The function of the sensor is to help you set up the printer correctly.
The touchscreen display of the Formlabs form 3 3d printer is amazingly responsive for its price. The level of this screen display performance is better than most 3d printers. The printer is also Wi-Fi-enabled with speed file transfers via the Formalabs application known as PreForm.
Most of the products compatible with the Formlabs form 3 3d printer are primarily from Formlabs company. That way, you'll mostly be within the Formlabs ecosystem.
As for sizes, if you want to create larger prints, Formlabs has got you covered. That is if you prefer their products. Note that with this 3d printer, third-party components or products may decrease the printer's lifespan.
7. XYZ da Vinci Nano
Sale
Bestseller No. 1
Pros:
It is quiet when printing
It is affordable
Produces high-quality prints
Cons:
Filament replacement might be a bit expensive
The printing process takes a long time
Video overview
Design and Performance
The XYZ da Vinci Nano 3d printer is considerably a quitter machine. The only sounds you'll be hearing are the whirring of the fans and motors, some whining sound, and the printhead moving. You have to connect it to the computer to use the printer, but you can disconnect your PC once the printing process begins.
Even though the print process takes a long time, the outcome is a high-quality print with well-made edges. That is a typical phenomenon common with high-quality settings. Some of the notable features of the XYZ da Vinci Nano are the removable print bed, autocalibration, and auto-feeding filament system.
Similar to Formlabs, the XYZ da Vinci Nano only uses XYZ- provided filaments and the filaments have a chip that identifies them to the printer. So it might not work with 3rd party filaments. Note that the filament comes in 14 distinct colors. So, you don't have to worry about using multiple colors.
Ideally, it is favorable for beginners or simple enthusiasts because of its quietness and affordability. The XYZ da Vinci Nano makes it easier to create your models since you don't have to start from scratch due to the availability of countless printable models that you can download for free.
The XYZ da Vinci Nano has a glass print bed that is removable by releasing some latches, making it easier to remove the prints. If you're looking for a budget and beginner-friendly 3d printer, then this is an ideal choice.
Buyer's Guide: Small Setups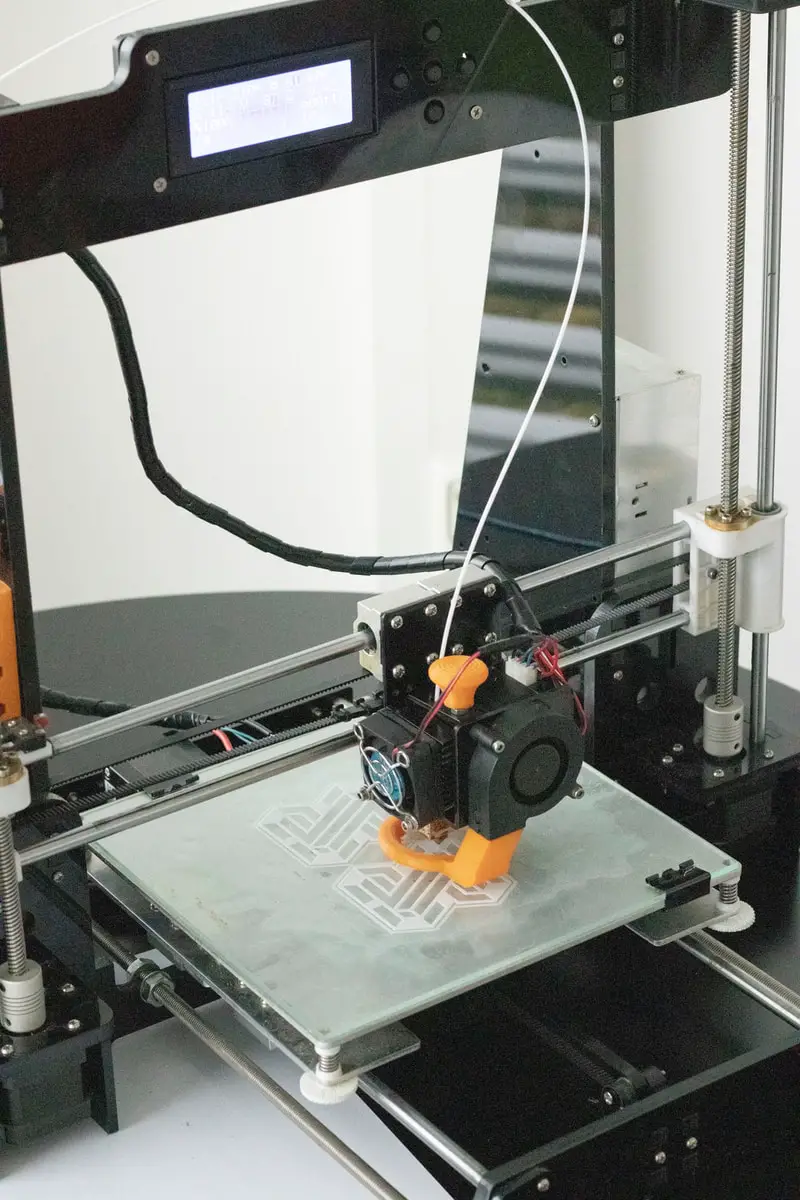 For you to buy the best 3d printer that suits your need depends on several factors. First of all, what do you consider yourself to be? Note that professional designers would be primarily looking for a printer that produces high-quality prints. Artists may be looking for those with a wider range of colors. It depends on the category you fall in. below are some factors to consider before buying one of these printers.
Materials you use for your objects
The FFF, i.e., fused filament fabrication technique, is common with most affordable 3d printers. The technique means that these printers can build 3d objects from layers of molten plastic. Here the spools of plastic filament melt, then you extrude, after which it solidifies to form the expected object.
The most common filaments types are polylactic acid (PLA) and acrylonitrile butadiene styrene (ABS). Bear in mind that each of these filaments has different properties.
Compared to PLA, ABS is more flexible and melts at higher temperatures. Notably, It also emits unpleasant fumes when melting and also, it needs a heated print bed. On the other hand, PLA prints are smooth, but it tends to be brittle. Other materials which employ the FFF technique include;
Conductive ABS and PLA
Polyvinyl alcohol
Plasticized copolyimide thermoplastic elastomer (PCTPE)
UV-luminescent filament
Polyethylene Terephthalate (PETT)
Bear in mind that these materials have different temperatures. You can only use exotic filaments on specific printers designed for them or those whose extruder temperature you can only control with software.
Size Of Objects You Want To Print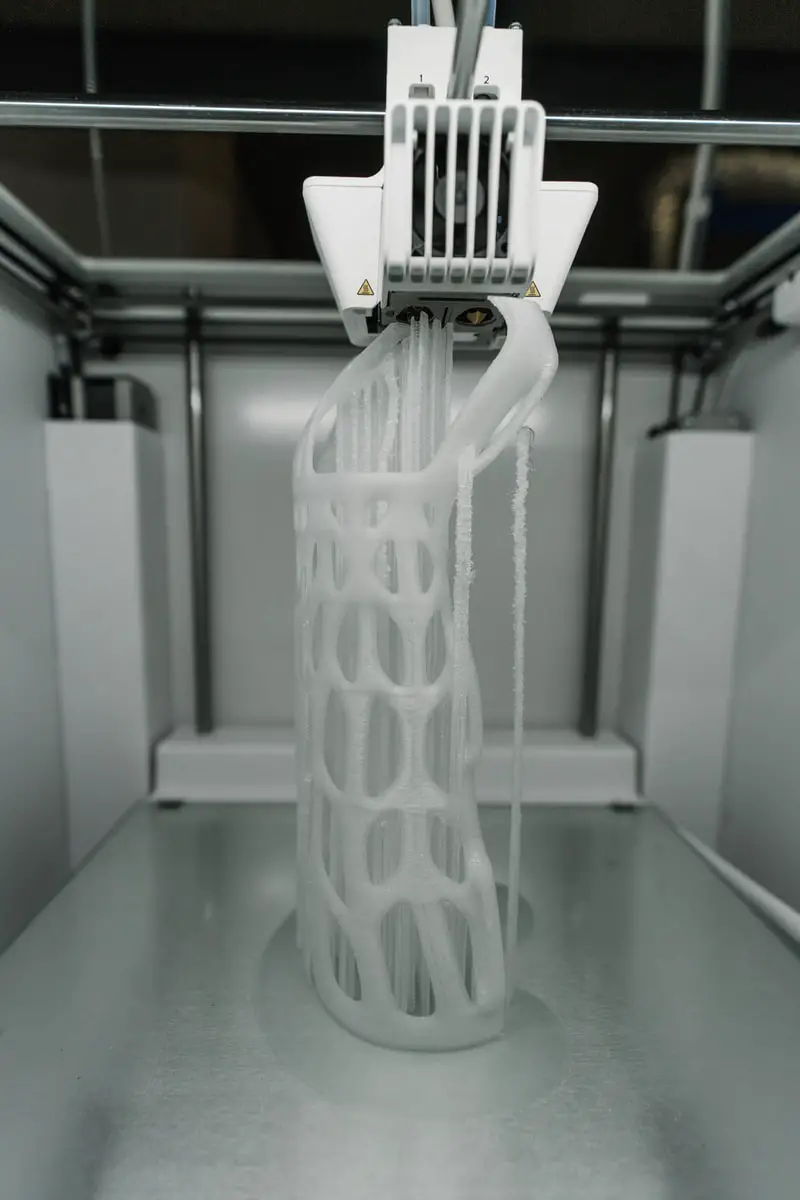 Depending on the size of the object you intend to print, you can go for a printer with a large build are if you want to create bigger objects. And those with small build areas for smaller objects. Note that a build area represents the largest size of an object that a 3d printer can make.
Typically, most build areas of 3d printers measure 6 to 9 square inches. Also, they can range up to more than 2 feet. You're free to make your choice based on your preference.
Mode Of Connection to The Printer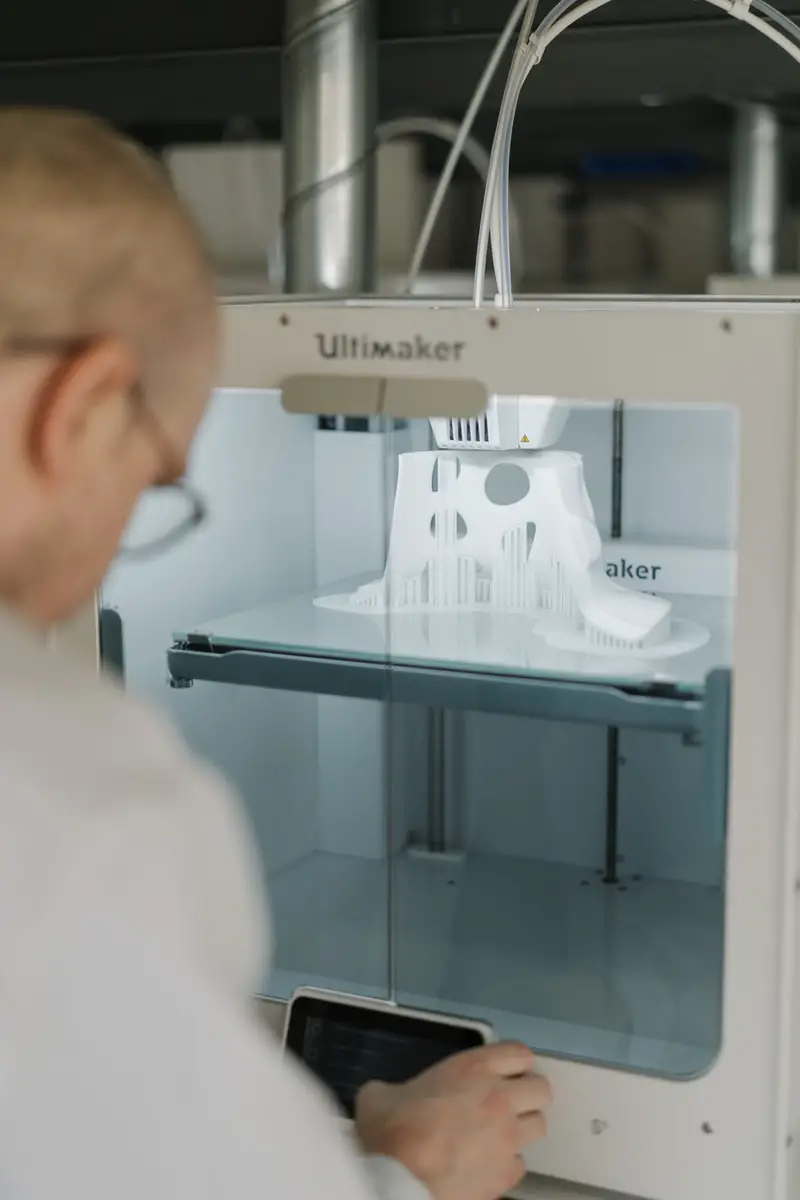 USB connection is the standard form of connection for most printers. Some 3d printers offer peer-to-peer wireless or Wi-Fi connectivity. The disadvantage of wireless connection is the slow file transfer since the file sizes can only be up to 10Mbs.
It is advantageous to have those printers with internal memory since they can hold the print's plan in the RAM and continue printing even if the computer shuts down or the USB cable disconnects from the printer. Another connection mode is over ethernet for local network sharing of data.
While some 3d printers may have USB ports, many printers possess microSD or an SD card slot through which you can load the object files. You can use the screen interface and the control panel to control the outcome.
A notable advantage of utilizing an SD, MicroSD card, and a USB drive is that you don't need a computer. The bad thing is that there's an additional step to the process that involves transferring the data files to the USB drive or the card. Note that SD card, thumb-drive, and wireless connectivity are additional options to the essential USB cable connection.
In Summary
3d printers are among the most advanced technologies in the modern era. With this technology, there's no need for traditional sculpting, molding, and forging. Instead, it employs additive manufacturing.
Since these machines seem to simplify work significantly, we've reviewed the 7 best small 3d printers currently available in the market. The article extensively highlights features, performance, pros, and cons, including a buyer's guide that will point you towards the 3d printer of your dreams.
Apart from the above options, there are many other best options in the market, so the seven best small 3D printers reviewed are among the top. Don't feel confined to the above products alone. You can explore other choices not included here.
With the buyer's guide, you should be in a position to decide on the best 3d printers of your preference. The guide should also sustain you in making choices not included in this article. Also, remember to keep an open mind for other brands yet to improve their 3d printers since the tech world is evolving rapidly.