3D Printer Pricing
Entry-Level 3D Printers (~$200-$400)
Hobbyist 3D Printers (~$300-$1500)

Enthusiast 3D Printers (~$1500-$3500)

Professional 3D Printers / Performance 3D Printers (~$3500-$10,000)

Industrial 3D Printers (~$20,000 – $100,000)
3D printers have many applications in different areas of life, from medicine to entertainment, to even fun DIY projects like this birdhouse:
Thankfully, the cost of 3D printers also dropped significantly in the last decade, which has led to an increase in accessibility for consumers and professionals alike.
It's an interesting way to produce things that are not readily available in the market. The community around 3D printing is also very supportive.
3D printers have been a phenomenal tool in the recent years. It has allowed people to create their own products in a faster and more efficient way. There are a variety of options- ranging from beginner devices to industrial options.
The cost of a 3D printer determines the print speed, quality of prints, and range of filaments it can use. Don't be mistaken; there are some low-cost 3D printers available as well!
In this article, there is everything that you need to know about printing costs as well as 3D printing material costs.
Average Price/Cost To Buy 3D Printers
All 3D printing newbies need to know that 3D printer costs vary a lot. A 3D printing technology is very much different from traditional printers, so the 3D printing cost is much more as it delivers a real-life 3D model.
Moreover, the 3D printing process is much more complicated, even for an entry-level 3D printer. If you don't care about the print quality or choice of materials, then the printer will cost much less. So the average 3D printer price range varies from $200 to $500. A very cheap printer can cost around $150 USD but don't expect much from it.
However, this cost of 3D printing can also increase dramatically. If you have a 3D printing business, you, of course, need a high-performance printer that can cost up to $1,500 to $6,000 USD.
Entry-level printers usually cost less than printers for professionals as they have a slight difference in printing technology. There is an additional cost of 3D printing filaments, but more on that later on.
You can also get a second-hand 3D printing solution, which will produce the same 3D objects but can be a little more affordable. So, here is the price of 3D printing, and you better start collecting money!
Maintenance Costs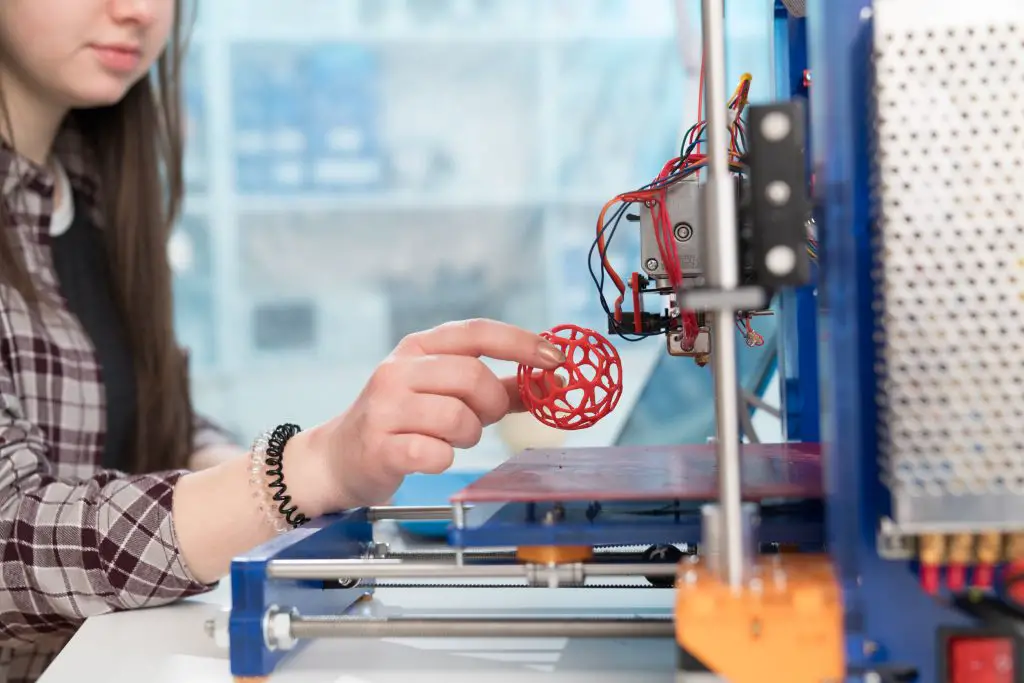 3D printing technology is very technically advanced so it requires some maintenance as well. Routine maintenance helps the 3D print quality to stay up to par as well as make the printer last longer. So to get above-par overall print quality as well as make the printer last longer and work better, here are some costs that you need to keep in mind before dedicating your money and time to 3-D printing.
Since all printers use 3D printer filaments, electricity, and many moving parts, all of this requires maintenance.
Electricity: To produce a 3D model from a printer, you need the use of electricity. Let's say that a printer uses around 70 watts of energy and is used every day, what will be the cost of electricity? Well, don't worry because the electricity cost of a 3D printer is about $8 USD to $10 USD only. An industrial 3D printer will have a higher electricity cost, but it will not be too much either.
Nozzle: One of the most important parts of printing a 3D model is its nozzle, as this does all the work. Making the nozzle work overtime, especially with a variety of filament types with different colors and melting temperatures, can make the nozzle dirty and clog it. To clean it, you can either use a wire brush or a cleaning filament; both will cost around $10 USD. A nozzle can last at least for 6 months, and a good quality one can even last for a year.
Light cleaning: Most people ignore this step entirely. The build-up of dust and oil can increase the chance of part failure significantly. So lubrication of axis and rods as well as a light dusting of your 3D printing at least once a week. For this, using cotton clothes, tweezers, and lubricants of your choice is okay, but the cost of a 3D printing cleaning kit is around $15 USD, and it can last for years.
Printing bed and adhesives: All types of printing beds and adhesives have a shelf life, and soon they stop being effective. A glass surface, BuildTalk, and all other surfaces cost around $11 USD per sheet and can last for 100 hours of work. Some surfaces need added adhesives, while some have built-in adhesives. In total, you can expect to spend around $50 USD on these things.
Other costs: Despite the cost of 3D printing mentioned above, you have the cost of filaments and several part replacements. Of course, this can't be estimated as you can't predict when you will need a new part. If used correctly, all moving parts can last for years, but you can still keep $50 USD aside for any failure.
Basically, for replacement and maintenance, you will not have to spend a lot of money like $200 USD per year will be more than enough. So, don't worry about the additional costs that come with a 3D printer as they are pretty small!
Material Costs
There are a variety of materials to choose from. Some of them are cheaper while others are expensive, just like everything else in life. So what will be the 3D printing materials cost? This depends a lot on the type of printer that you and the type of material that you want as well. The only material that a 3D printer actually needs is the filaments used for printing an object.
Firstly, what is your 3D printer technology? There are mainly three types of technologies available, which are listed below.
All of them need filaments; there are a variety of filament types, like PLA, ABS, Metal, PETG, Wood-filled, Glass fiber, and even a mixture of PLA and ABS. Naturally, they all cost differently, with PLA and ABS being the most common and cheap. However, if you want an estimate, then expect to spend $20 USD to $70 USD per kg of filaments. Of course, there are rare filaments that can cost up to $100 USD per kg of filament as well. REsins have the most variation in price as you can find them at a cost as low as $30 USD to as high as $600 USD per kg!
Some printers, like SLS, use polymer in the form of powder instead of filaments. The most common type of powder used is Nylon. Just like powders, there is a huge difference in the prices of these powders. Depending on availability, quality, and whatnot. Usually, you can expect to spend around $40 USD to $80 per kg of powder. Make sure to do research to find cheap and good-quality powders as well as filaments.
Entry-Level 3D Printers (~$200-$400)
About: These are printers that are best suited for beginners. They usually have small to medium print sizes and can be bought at a more affordable price. If you are just getting started and don't want to spend too much money on 3D printers, then buying entry-level 3D printers is the best for you.
Pros:
They usually come at an affordable price
Easy to use and have everything you need
Can teach you the basics about 3D printing
Cons:
Can't use a huge variety of filaments
Usually will be very noisy
Will most probably have a small build volume
Hobbyist 3D Printers (~$300-$1500)
About: These are reasonably priced for people who know that they like 3D printers but not for work. You can use them to build things you like for your friends and family, as they work well but might not be that reliable for big projects. Best if you already know how to build a 3D printer and use it properly.
Pros:
These printers are usually small so don't take up huge space
Let's you explore your creativity in an environmentally safe way
Usually don't require a lot of adjustment
Since they are moderately priced, not prone to breaking
Cons:
Again may produce a high level of noise
Can't make large batches of things
MIght require additional parts to work best for certain filaments
Enthusiast 3D Printers (~$1500-$3500)
About: These are expensive 3D printers for those who either love 3D printing or use it for actual work. The person buying these might have extensive knowledge about 3D printers and is ready to buy one that costs more! Basically, they are pretty good quality ones that not everyone will know how to operate.
Pros:
Has a medium print size
The expected precision is between 50 to 100 macrons which is pretty good
Saves time and decrease stress as has automated technical aspects
THey usually have both WiFi as well as USB portability
Compatible with many different types of filaments, including resin
Cons:
Might take a large amount of space
More parts so more cleaning and maintenance required
A huge commitment as once you buy it you have to use it
Professional 3D Printers / Performance 3D Printers (~$3500-$10,000)
About: The 3D printer in this price range is used by professionals. They are usually used for making jewelry, figurines, magnets, and other such small things to usually sell. The printer is reliable for real functional prototypes. It is used for serious work instead of just as a simple hobby.
Pros:
It can print parts for the whole day
Makes your work easy and less costly than other traditional means
Have a pretty big print size so it can be used to make larger things
Have pretty high precision of 20 to 100 macrons for finer details
Cons:
It costs a lot for one printer
Mostly will require post-processing
Printing one object will require time
Industrial 3D Printers (~$20,000 – $100,000)
About: The best quality printers that are available in the market right now are industrial 3D printers. However, these are not usually used by only one person and make things for a large company. They are used for prototypes as well as material production for cars and even in construction.
Pros:
Will last long as they are very durable
They are pretty fast and can print multiple parts at once
They can print huge things as they have a large expected print size
Uses a lot of high-end technologies and are compatible with many filaments and powders
Cons:
They will replace jobs of normal people
Require high maintenance of each part
Can only be used by huge companies
In conclusion, there are a variety of 3D printers available in the market. If you are buying one, make sure to know all the available options so that you can get the printer that does what you want.