3D printers have revolutionized the manufacturing industry, making it possible for people to design and print out their own toys, furniture, and other fun objects. It's a great feeling to get something from your imagination into the physical world for all to see.
SLS 3D printing is employed for both prototyping of functional polymer components and for small production runs, as it provides tremendous design freedom, great accuracy and manufactures parts with solid and relatively uniform mechanical properties, unlike other printing technologies like FDM or SLA.
3D printers can print nearly any design imaginable, from toys to jewelry, clothes to prosthetics. They are even used by scientists when they need to create human tissue for medical research or 3-D models for architectural designs.
There are many ways that you can use your SLS 3d printer at home, but here are some ideas:
Decorate your living space with your own personalized art piece
Create custom engineering projects
Design your own jewelry or accessories
Make toys, games, or other fun items
Check out this cute octopus made with an SLS printer:
and this maze puzzle:
If you're in the market for an SLS 3D printer but are unsure which one you should invest in, we rank some of the best types of 3d printers– both desktop and industrial.
What is SLS 3D Printing?
Selective laser sintering (SLS) is an additive manufacturing (AM) technology. It uses a high-powered laser to sinter small polymer powder particles into a solid structure based on a 3D model. SLS 3D printing has been a popular choice for engineers and manufacturers for decades.
Due to the high productivity, low cost per part, and established materials – the technology is perfect for a wide range of applications, from rapid photocopying to small-batch, bridge, or custom manufacturing.
As a result of recent advances to materials, software, and machinery – SLS printing has become accessible to a more extensive range of businesses, allowing more and more companies to use tools that in the past were only limited to a few high-tech industries.
How does Selective Laser Sintering work?
SLS 3D printers function by using a laser to sinter powdered material. A powerful laser beam selectively melts and fuses tiny powder particles together. Once one layer is complete, more powder is rolled and spread onto the print bed. This process repeats layer after layer
. Any excess powder remains in the powder bed, automatically supporting the object and its intricacies. Once the 3D printing process is done and the powder bed has cooled off, the objects can be removed. Finally, the excess powder material is brushed away to reveal the final part. Apart from removing the powder, the parts require very little post-processing.
Pros & Cons of SLS Printing
Pros
SLS 3D printing is one of the best methods for rapid prototyping, specifically for batch production of custom parts. When it comes to industrial-scale applications, it is a precise, fast, and reliable method that has withstood the test of time.
Fast
No need for support structures
Incredible layer adhesion
Perfect for dyeing
Cons
The downside to SLS 3D printing is that it is not the ideal solution for all rapid prototyping needs. On a desktop scale, it is even more troublesome, as the complexities and costs associated with SLS 3D printing are worrying for the casual 3D printing enthusiast.
Prone to shrinkage and warping
Porous and brittle
Generates a lot of waste
Messy
Types of SLS 3D Printers: Desktop vs. Industrial
There are two types of SLS 3D printers – desktop and industrial machines. Higher-quality mid-range desktop printers are generally affordable for hobbyists, while industrial systems are generally only purchased by business users. Recently, the SLS 3D printing market has been revolutionized by the emergence of desktop machines.
Compared to their industrial counterparts, these compact 3D printers have a more affordable price tag and are more accessible.
The Best SLS 3D Printers
Desktop Options
Sintratec Kit
From the Swiss-based company Sintratec, the Sintratec Kit remains the world's only build-it-yourself SLS 3D printer kit and most affordable SLS 3D printer on the market. This printer uses anthracite Nylon (PA12) powder as its 3D printing material.
The printer comes with Sintratec Central software. The Sintratec Kit is an ideal option for small businesses that want to explore the benefits of SLS 3D printing without a lofty price tag. The Sintratec Kit is capable of freeform 3D printing, which means that it is possible to 3D print without the need for support structures. This permits users to 3D print complex objects and functional parts.
The Sintratec Kit offers a 110 x 110 x 110 mm build volume and a minimum layer height of 100 microns, which means that it is capable of producing complex geometries at a high resolution. While the price is relatively low compared to other SLS machines, it is important to note that the Sintratec Kit can take up to four days to build and install.
Video Preview
Pros
Excellent print speed
Good quality 3D printing
Compatible with nylon
Cons
No touchscreen for user interface
Requires a laptop with an internet connection
No built-in camera to view the printing process
Long set-up time
Sinterit Lisa
From a Polish company, the Sinterit Lisa is an easy-to-use compact, easy-to-use, and affordable SLS 3D printer. This unit is a trendsetter and ideal for professional use and remains a front runner in this growing market segment.
This device features a 150 x 200 x 150mm build volume and a minimum layer resolution of 0.075 microns. It uses both PA12 and TPU powders for printing. It also contains a built-in camera to allow you to keep track of the printing process.
Video Preview
Pros
Affordable for small businesses
Delivers industrial-grade performance
Compact
Cons
Small build volume
Requires preparation and cleaning
Formlabs Fuse 1
For producing high-quality, large 3D prints, the Formlab Fuse 1 is definitely one of the best options because of the large build volume and low price.
Additionally, the printer has a removable chamber, allowing for easy removal of the prints from the print bed without damaging them, resulting in less downtime.
Finally, it is an environmentally friendly machine as you can recycle 50% of unused metal powder. The Formlabs Fuse 1 has a 165 x 165 x 300 mm build volume and a layer thickness of 110 microns. In combination with the Fuse Sift, it is capable of providing a 30% powder refresh rate, reducing material costs.
Video Preview
Pros
Large print space
Removable chamber
Minimal layer thickness
High-quality prints
Affordable
Cons
Red Rock 3D
This Russian manufactured desktop 3D printer with SLS additive manufacturing technology was produced in 2017. The printer has a compact design with a print space of 180 x 180 x 180 mm. It has a print speed of 20 cm3 per hour and a layer thickness of 100 microns.
At the moment, you will only be able to print with black Nylon PA 12, but fortunately, the company plans to extend its product range in the upcoming months.
It provides a print bed, heated chamber, and feed bed for better quality 3D printing. It is also worth noting that this machine is made from high-precision CNC machine parts.
Video Preview
Pros
High print speed
Easy to use
Excellent print quality
Can produce complex geometric patterns
No support structure required
Lightweight
Cons
No material options; compatible only with PA12 black
Sharebot SnowWhite 3D Printer
This printer is ideal for small or medium-sized businesses requiring an SLS 3D printer with industrial applications. The Sharebot SnowWhite is a plug-and-play device, making it easy to install the printer.
It only takes 10 minutes to start printing (including loading the material to creating the first layer).
The unit has preset profiles for usual powders and does not require constant calibration for effortless printing. Its build space is 100 x 100 x100 mm, and the print speed is 3500 mm/sec. You'll find that this option is quite expensive for home use.
Video Preview
Pros
Reliable
Great print quality
Comparatively fast print speed
Preset profiles
No frequent calibration required
No support structure
Cons
Not for commercial use
Bulky machine
Expensive
Industrial Options
XYZprinting MfgPro230 xS
Manufactured in China, XYZprinting is known for its desktop FDM and FFF 3D printers.
The MfgPro230 xS is their very first industrial SLS 3D printer with a build volume of 230 x 230 x 230 mm and a layer resolution of 0.1 mm, with a speed of 1 liter per hour. This unit is compatible with SLS software and the SLS ware for remote controlling and managing the machine.
It comes with a 10.4-inch color touchscreen and a removable print tray allowing users to remove the printer parts and clean them off for the next print with ease. The starting price point of this 3D SLS printer is fairly high- so you'll need to factor that in to your selection process.
Video Preview
Pros
Large build volume
Removable print tray
Color touchscreen
Precise 3D prints
Batch production
Reliable
Cons
Huge
Not suitable for commercial use
Expensive
Nexa3D QLS350
This device produces up to 4X the print speed of traditional SLS technologies. With a build volume of 350 x 350 x 400 mm, the Nexa3D QLS350 Prints up to 8 liters per hour, making it the world's fastest SLS system on the market, taking thermoplastic 3D printing to a whole other level.
It has an open platform that is fully compatible with materials such as PA11 and PA12. This machine has a lower cost of ownership compared to other SLS systems on the market.
Video Preview
Pros
Unmatched printing speed
Exceptional surface finish
Dimensionally precise outputs with excellent mechanical and psychical properties
Large build volume
Sleek and modern design
Many connectivity options
Powerful slicing software
Zero calibration required
Incredible productivity gains
Cons
Small companies may not be able to buy it as a one-time purchase. However, there are favorable lease terms with reasonable monthly payments
Non-stop production requires a lot of printable material
Protective equipment is mandatory when working with the printables
Prodways Promaker P1000 X
The Promaker P1000X is the result of the success of the Promaker P1000 with the additional benefit of having a 2X faster building speed as well as a larger build volume, making it a more production focussed machine but at a fantastic price.
With a platform size of 300 x 300 x 360mm, it offers increased capacity. The device also has an all-new 24 point thermal grid control, giving it higher levels of accuracy and repeatability.
The P1000X is able to easily transition between builds from the flexible rubber TPU, the classic PA12 and PA11 (natural and glass-reinforced grades), and the new PolyPropylene PP1200 and back with no costly delays or issues.
Video Preview
Pros
Open materials strategy
High-precision 3D printed parts
Best price/volume ratio on the market
Cons
Shining 3D EP-P3850
This printer is a nylon 3D printer, which adopts SLS technology that uses a laser as the power source to sinter nylon powder. Pilot product of parts for function test can be manufactured by EP-P3850 directly.
The Shining 3D EP-P3850 has a build volume of 380 x 380 x 500 mm. The forming cylinder of EP-P3850 is detachable, which increases the manufacturing and sintering efficiency and reduces the standby time of the machine. The forming cylinder is detachable, which increases the sintering efficiency and reduces the standby time of the machine.
The nylon printer can be widely applied in applications like automotive, domestic appliances, and mold making.
Video Preview
Pros
High manufacturing efficiency
Wide application
Cons
Potentially too expensive for small businesses
A Brief History of SLS 3D Printing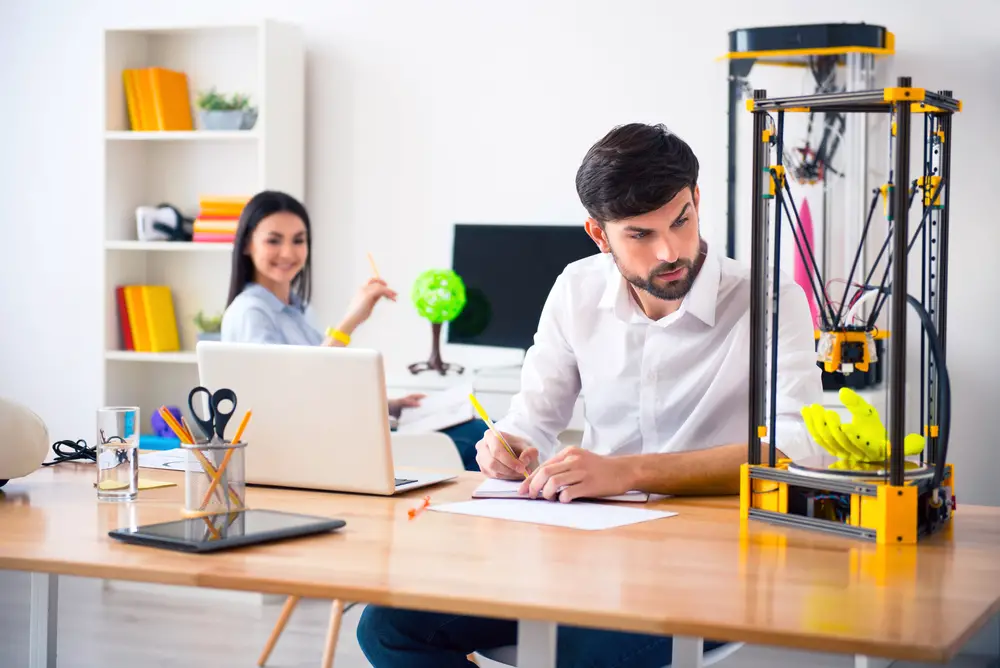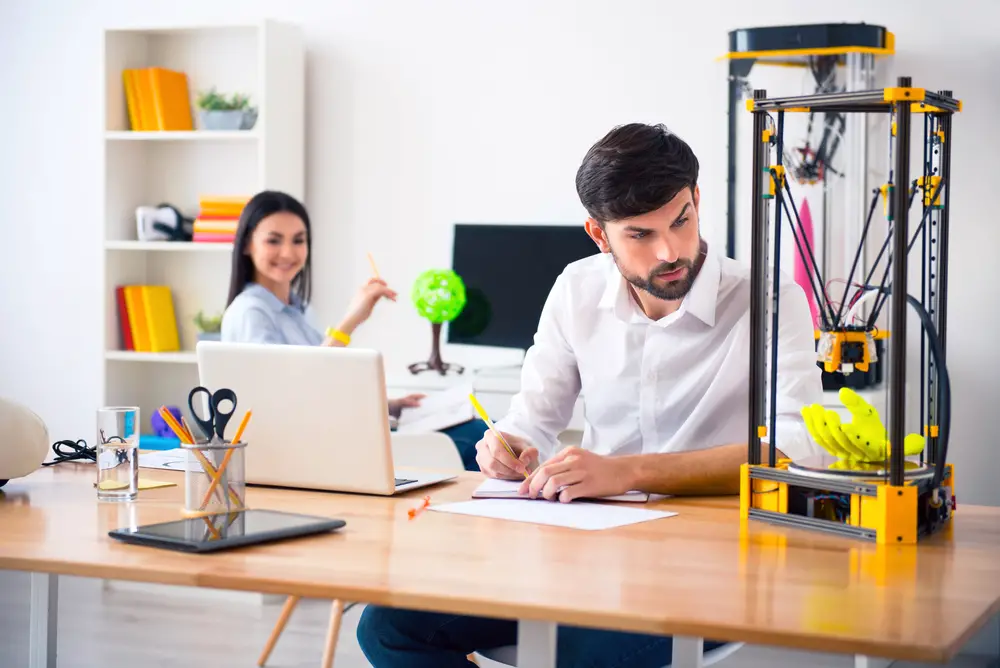 In 1988, Carl Deckard at the University of Texas bought a patent for a 3D printing technique in which powder grains are fused together locally by a laser called SLS technology. It was one of the first additive manufacturing techniques.
Since then, the method has been adapted to work with a range of materials, including metals, glass, ceramics, and various composite material powders.
These technologies are collectively categorized as powder bed fusion—additive manufacturing processes by which thermal energy fuses regions of a powder bed.
Up until recently, both metal and plastic powder bed fusion systems have been complex and expensive, limiting their use to small quantities of high value or custom parts.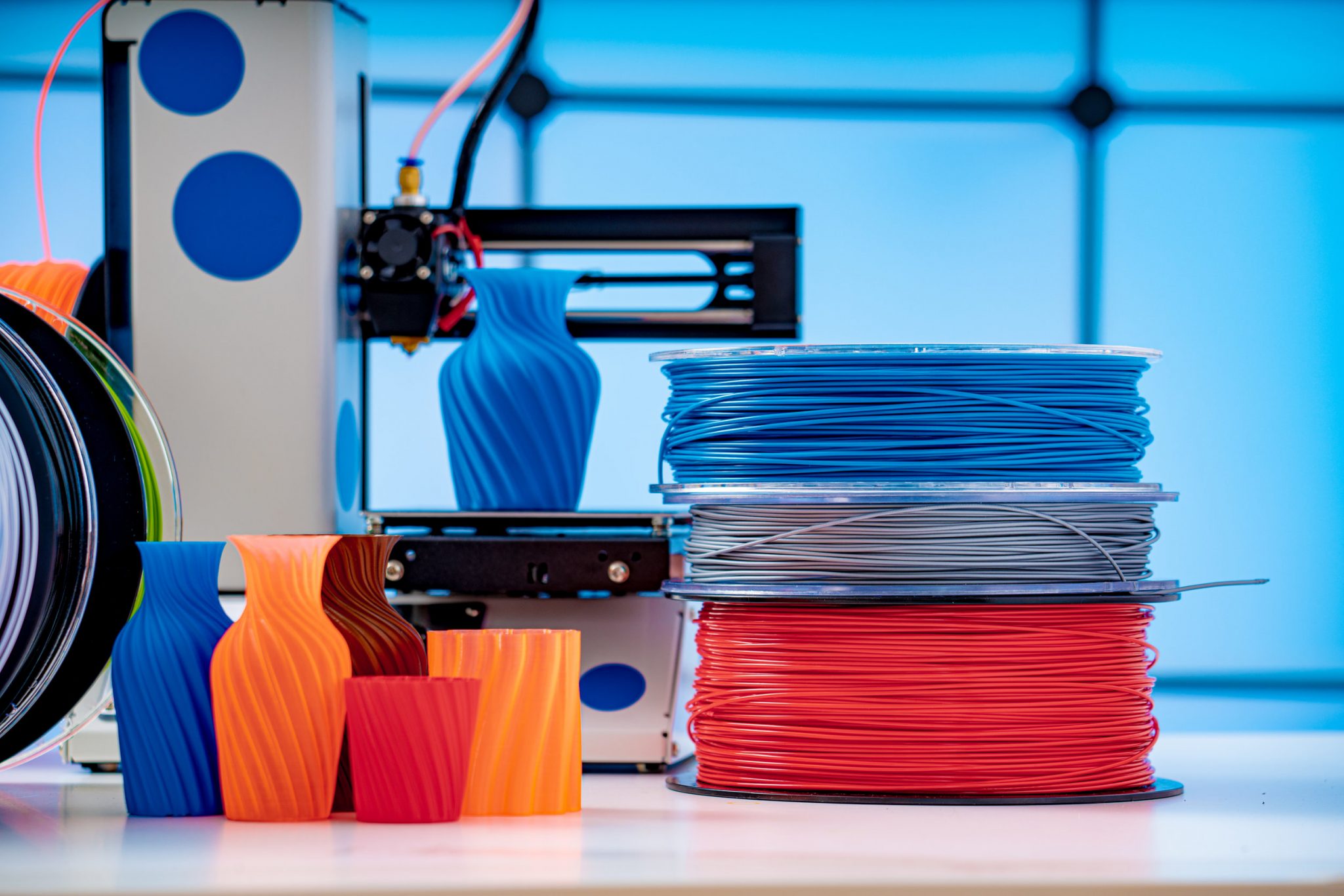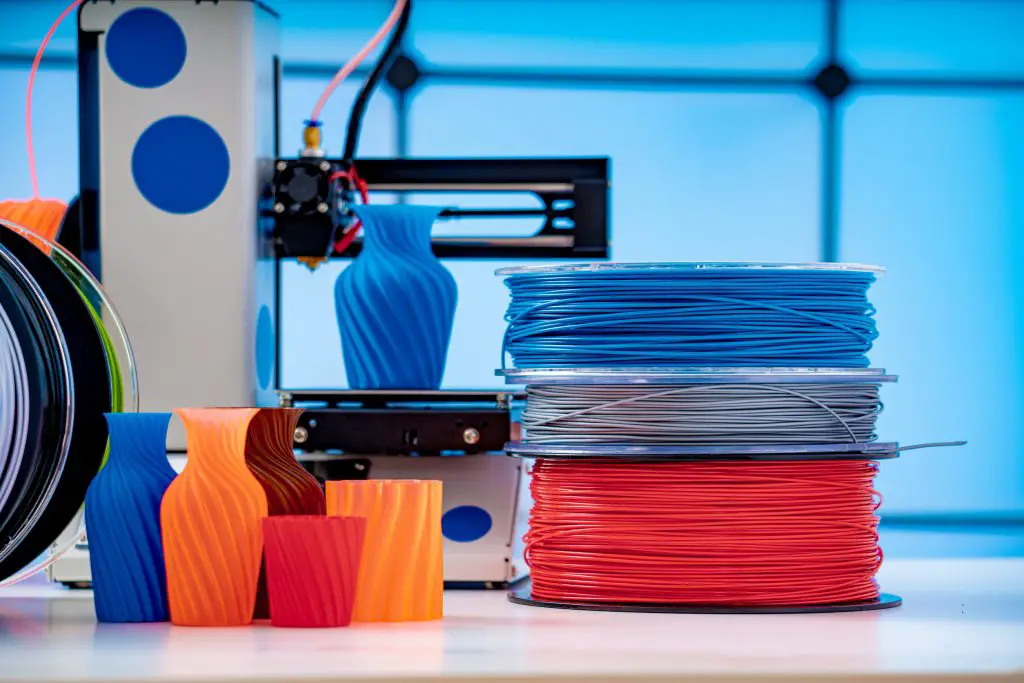 Lately, innovation in the field has surged, and plastic-based SLS is now on course to follow other 3D printing technologies like stereolithography (SLA) and fused deposition modeling to gain mainstream adoption with compact, accessible systems.
SLS 3D Printer Materials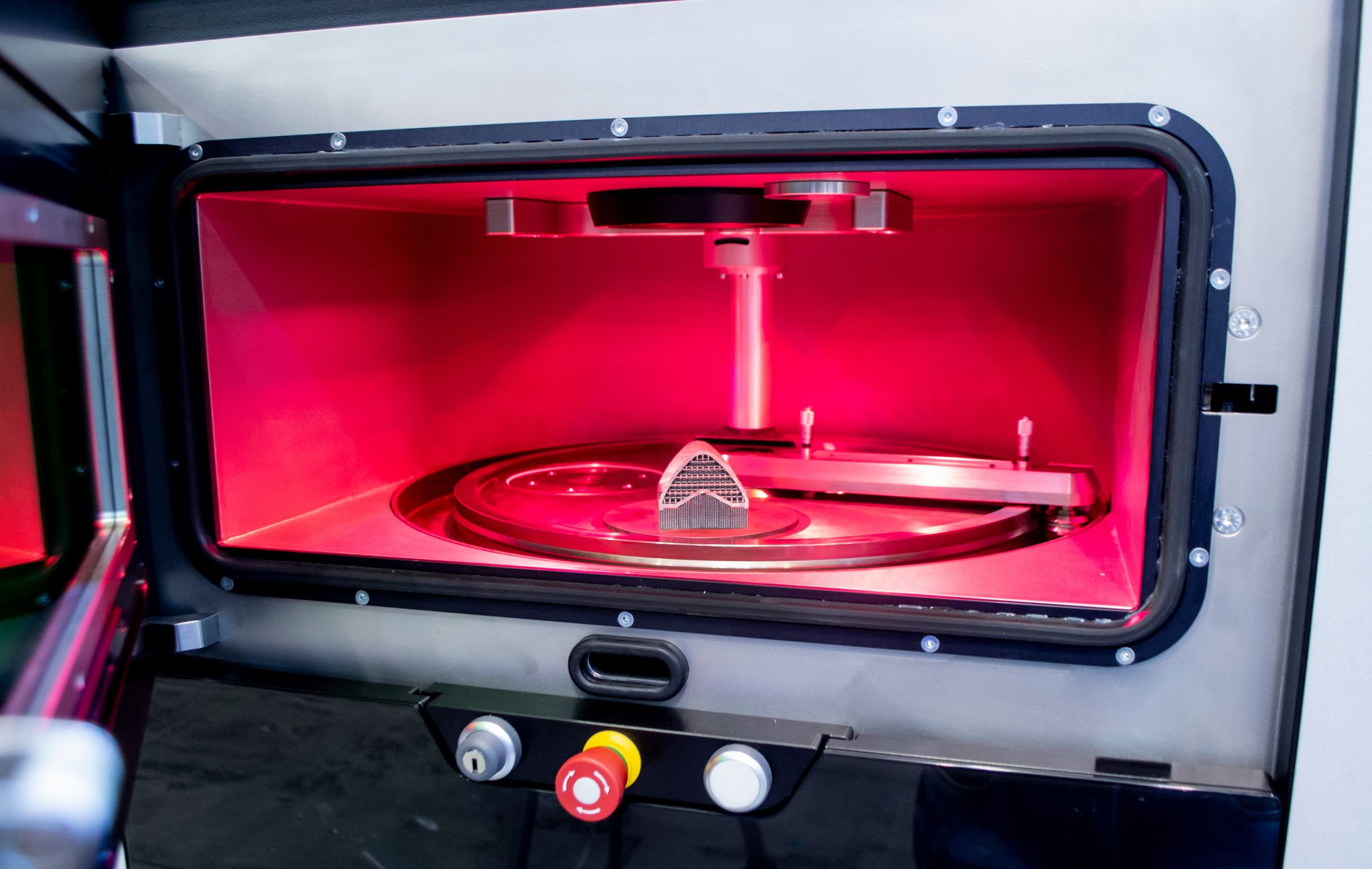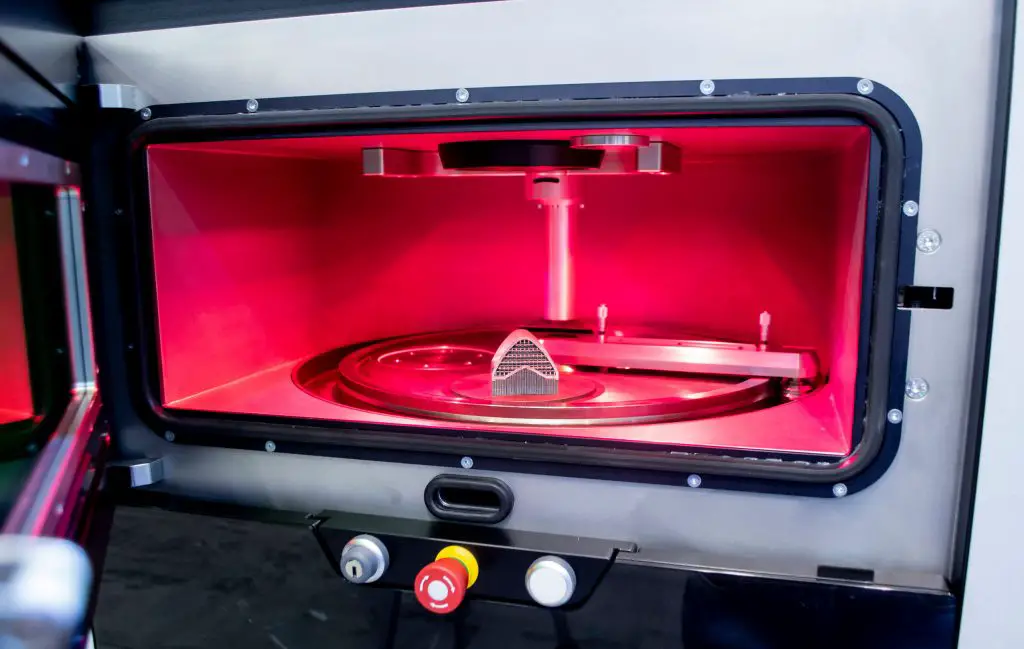 Nylon is the most common material for SLS because it is a highly capable engineering thermoplastic for both end-use production and functional prototyping. Nylon is the perfect material for complex assemblies and durable parts and is highly environmentally stable.
Nylon is a synthetic thermoplastic polymer belonging to the family of polyamides. Nylon 12 ensures a wide range of applications and is a general-use powder for SLS 3D printing.
Nylon 12 is used for end-use applications and prototyping that require higher impact resistance, higher ductility, and the capacity to withstand wear and tear without failure. Other common materials include aluminum-filled nylon (Alumide), glass-filled nylon (PA-GF), and carbon-fiber-filled nylon (PA-FR).
3D printing has been a revolutionary technology in recent years with the introduction of affordable 3D printers. It is an amazing tool to explore and learn about the possibilities of design and engineering in a hands-on way.