3D printing is an additive manufacturing process that creates 3-dimensional objects from computer-generated 3D models. The models are sliced into layers and then sent to the printer, which builds them up in a sequence of thin layers until they have created the object.
The benefits of this process are endless, as it provides a number of advantages over traditional methods for producing prototypes and models. They can be used to create intricate shapes and parts with many small details, which would have been impossible by other means, as well as being able to produce metal objects with no design limitations.
With the advent of 3D printers, the possibilities for creating miniatures are now endless. From game pieces to specific sculptures, you can create whatever you can think of on your desktop or on-the-go, like this gorgeous example:
The 5 Best 3D Printers For Miniatures
1. The Monoprice Select Mini
The Monoprice Select Mini is a fully assembled 3D printer that comes at a very affordable price, which is almost half the cost of other 3D printers in its range. This printer has a sleek minimalist design and weighs only 5 pounds compared to the usual 20lbs to 30lbs for most printers.
This printer comes with an unheated build plate but this can sometimes be fixed by replacing it with glass.
The printer is equipped with a 0.4mm nozzle and has a maximum resolution of 100 microns, which means that you cannot expect fine details from the prints. In summary, this printer does not fail to deliver at its price point and should be seen as an entry-level 3D printer for beginners who are willing to learn more about the technology.
Example Print
Pros:
Affordable price
Sleek design and low weight
Plug and play, requires little to no tinkering
Can be used to print more than just miniatures with the right settings, i.e. PLA, ABS, PVA
Cons:
Only 100 microns of resolution
Heated build plate is not included and must be bought separately
Video overview
Verdict: The Monoprice Select Mini is a great entry-level 3D printer that showcases the best value for money. It's hard to go wrong with this printer.
2. The Monoprice Maker Select 3D Printer
If you're looking for a cheap and easy-to-use 3D printer, check out the Monoprice Maker Select 3D Printer which is fairly priced and comes with many features that are usually found in more expensive printers.
The 3D printer has a build volume of 8 x 6 x 6 inches which is large enough for most miniatures on the market. This printer comes with an aluminum heated bed and allows you to print at different resolutions including 100 microns, 200 microns, 300 microns, etc.
The printer also comes with 1.75mm filament compatibility and has an automatic bed leveling feature which makes it easy for beginners to get started.
Example Print
Pros:
Affordable price point
8 x 6 x 6 inches build volume
Automatic bed leveling feature
Cons:
Noisy when printing; thin PLA will make more noise than ABS
Verdict: This is a great beginner's printer, especially for those who are short on cash. If you're just getting into 3D printing, this will be a good entry point for any printer.
Video overview
3. The XYZprinting da Vinci 1.0 3D Printer
One of the more cost-effective options available on the market today is the da Vinci 1.0 3D printer by XYZprinting. The printer comes with 200 microns resolution meaning that the prints will come out slightly rough depending on the settings used.
The da Vinci 1.0 has a build volume of 5 x 5 x 5 inches which can be said to be standard for entry-level 3D printers. What makes this printer worth considering is the fact that it comes with a dual extruder which means that you can print multiple color objects at once. Similar to most other low-cost 3D printers, the da Vinci 1.0 does not come with an automatic bed leveling feature but can be upgraded upon request by contacting customer service.
Example Print
Pros:
Dual extruder which means you can print more than one color at once
Has a heated bed for printing ABS filament
Very affordable price point for beginners who are not yet sure about 3D printing.
Cons:
Noisy when printing; thin PLA will make more noise than ABS
200 microns resolution which results in slightly rough prints
No automatic bed leveling feature
Verdict: If you're new to 3D printing and want something simple, the da Vinci 1.0 is a good entry-level printer.
Video overview
4. The FlashForge Creator Pro 3D Printer
The FlashForge Creator Pro is one of the more expensive printers available on the market. With that said, it's important to remember that you get what you pay for and this is a printer that comes with some fantastic features which are not found in some of the cheaper models on the market.
The build volume of this 3D printer is an impressive 8 x 10 x 8 inches which are slightly on the large size. The printer itself supports 1.75mm PLA filament and has a print resolution of 50 microns, allowing for some detailed prints to be made.
The best feature of the FlashForge Creator Pro is its dual extruder which allows you to print more than one color at once which greatly enhances the printing experience. The only major downside to this printer is that it does not come with a heated build plate which can make it difficult to print with ABS filament due to the warping issues.
Example Print
Pros:
Dual extruder for printing multiple colors at once
50 microns resolution, some of the best prints on the market
Cons:
More expensive than most other printers
No heated build plate which can make it difficult to print ABS filament
Verdict: If you're serious about 3D printing then the FlashForge Creator Pro is one of the best that you can find in its price range.
Video overview
5. The LulzBot Mini 3D Printer
Arguably one of the most well-known brands in the 3D printing industry is LulzBot and they produce some of the most high-quality printers on the market. The LulzBot Mini is one of the more expensive 3D printers available today.
The build volume is slightly small at 7.9 x 7.7 x 7.1 inches but the outstanding feature of this printer is its print resolution of 0.1mm giving it one of the best prints when compared to other low-cost printers.
This printer comes with a heated bed and supports both 1.75mm PLA and ABS filament which makes it incredibly versatile, allowing you to experiment with different materials to find the best one to suit your needs.
Example Print
Pros:
Outstanding print resolution
Versatile and can print both PLA and ABS filament
Heated build plate
Cons:
Verdict: If you're looking for a printer with exceptional print quality, it's difficult to look past the LulzBot Mini which is arguably one of the best printers.
Video overview
Buying Considerations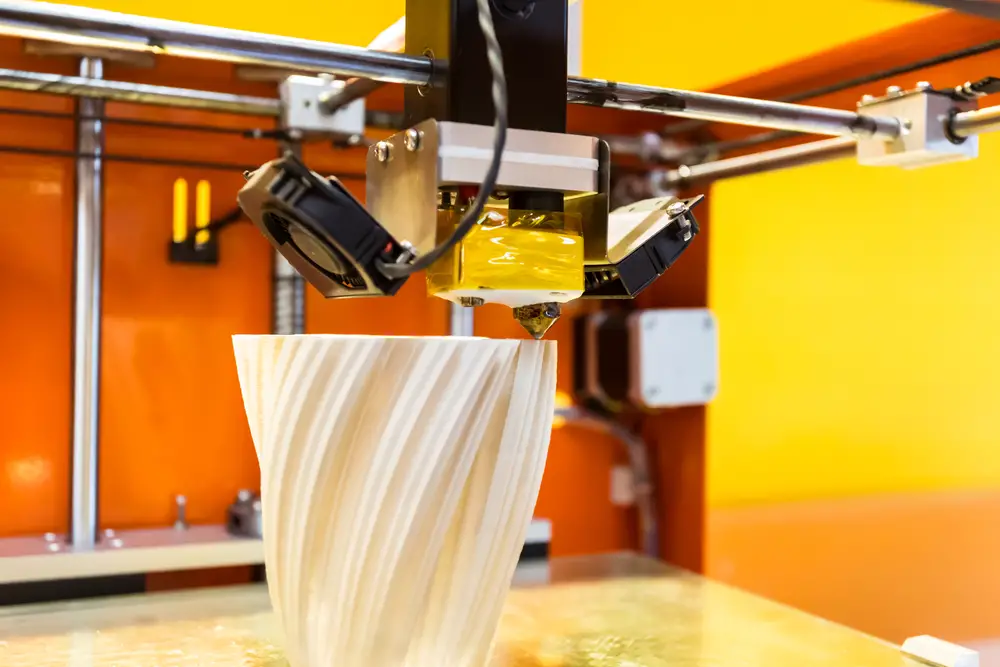 Support material vs No support material
When choosing a printer, one of the first questions anyone should ask is whether the printer has its support material or if it just prints directly on a platform/tape/etc. Some printers have the proprietary build surface that they print from, while others require some sort of external surface. Printing directly on a build surface is also known as "No Support Material". The benefit of having support material is that it's much easier to remove the object from the printer.
You can just simply separate the two layers and lift your model off of its platform. However, printing without any support material can be more challenging to accomplish well because you need to think through the orientation of your model and how it is going to print. There are a few things you can do to maximize your chance of getting a quality print though, such as rotating your model 90 degrees so the material doesn't fall over, using a raft (which will be discussed in more detail later), or printing directly on a surface that will not allow some pieces of material to fall off.
Open frame vs enclosed
An open frame printer means that there is no enclosure surrounding its many parts or mechanisms. A closed-box or "enclosed" printer gives the user protection from dust particles and other environmental elements which may interfere with prints and overall operation. Some printers have an enclosed box design where others allow direct access and views to its mechanisms. There are advantages and disadvantages to both designs, but generally enclosed printers can operate much quieter than open frame printers because they have their enclosure that filters out the noise, while printers without an enclosure can create lots of noise during operation.
Build area size
A building area is a maximum size in length, width, and height at which you can print on your machine. Some may be limited in one or more directions (length/width), while others may allow for unlimited height. This could limit the size of models you can print if it cannot accommodate larger objects or taller prints. Larger printers also use more material overall because there is more volume inside the printer itself where the filament is being deposited layer by layer until the print is complete.
Filament Diameter
The filament diameter is the width of the material you use to create your model. 3d printers use a variety of sizes, so you want to make sure that whatever printer you choose uses the same sized filament as what you already own and plan on using. If they do not match, then it will be much harder and more expensive to find and buy the type of filament your printer requires which may end up becoming frustrating for those who do not want to deal with any extra hassle when printing.
Layer Resolution
Layer resolution refers to how detailed/accurate each layer is concerning its height (thickness). It generally goes hand in hand with how well the printer can produce smooth curves and edges. Some printers may have better resolution than others, but machines with lower quality resolution can be less expensive to get your hands on.
Price vs print quality
In general, you typically get what you pay for when it comes to 3d printing technology. Higher-end printers will cost more upfront, but they do offer much higher print resolutions and overall better prints compared to the cheaper alternatives that cannot deliver consistent results. If you are planning on using a printer frequently or plan on upgrading in a few years to a machine that produces even higher quality prints, then it may be worth spending more money now so you don't have to buy another one later.
FAQs
What is a 3d printer?
The best 3D printers produce accurate physical objects from a digital file. Such printers are already common in the industry, where they are often used to produce prototypes of new designs or products before introducing them into mass production. The technology is becoming more affordable for consumers, who can now buy their own at home and print models of almost anything using plastic filaments which come in spools.
What about miniatures?
The question isn't whether miniature figures can be produced with the help of 3d printing but which scale to use as an original. For those interested in creating larger figurines with this technology you will need either a resin-based unit such as the Zcorp 650 (which prints using full color) or you will need to print your models in small sections and then re-assemble them. For smaller scales such as 28mm it is possible to use an FDM (Fused Deposition Modeling) unit like the Makerbot 2 or the Cube though these units can fail if you demand too much of them by printing at a very high resolution.
Where do I find 3d files?
Several sources provide free 3d models for different scales of figurines. The simplest way is either to get someone else to design the model for you (which might cost money) or get someone with modeling experience to make something from your specifications after receiving measurements of the miniature figure that needs to be modeled.
You can also download free models which can then be modified and re-uploaded on the hobby website (just make sure that you don't use copyrighted work which is protected by trademarks). There are some 3d printing community websites where there are plenty of people who would gladly share their digital libraries with others provided they only do so if they get credit for their efforts.
What things can I print?
3d printers will generally accept anything from small figures of animals to large-scale structures such as buildings. There's no limit to what you print provided that you have a suitable file and sufficient technical understanding to create adequate support structures.
Where can I get help?
Their many resources online are dedicated to 3d printing, including hobby websites that have active communities where you can ask any questions that you might have with regards to this new technology. You will also find plenty of videos with people showing off their latest creations, along with tips on how to improve your print quality or find that elusive design.
What are the limitations of 3d printers?
One of the biggest problems facing hobbyists who wish to use the technology is finding materials that can take advantage of this kind of rapid prototyping. The vast majority of products that are available online will only be produced using ABS plastic (the same material used by Lego). There are methods out there that purport to allow the production of FDM objects from other types but this remains an experimental field at present.
Another issue is that the machines are only really effective in printing objects which have relatively few overhanging sections. This means you will only be able to create items with flat bases and vertical sides, though several workarounds are depending on what sort of object you want to make.
Things To Avoid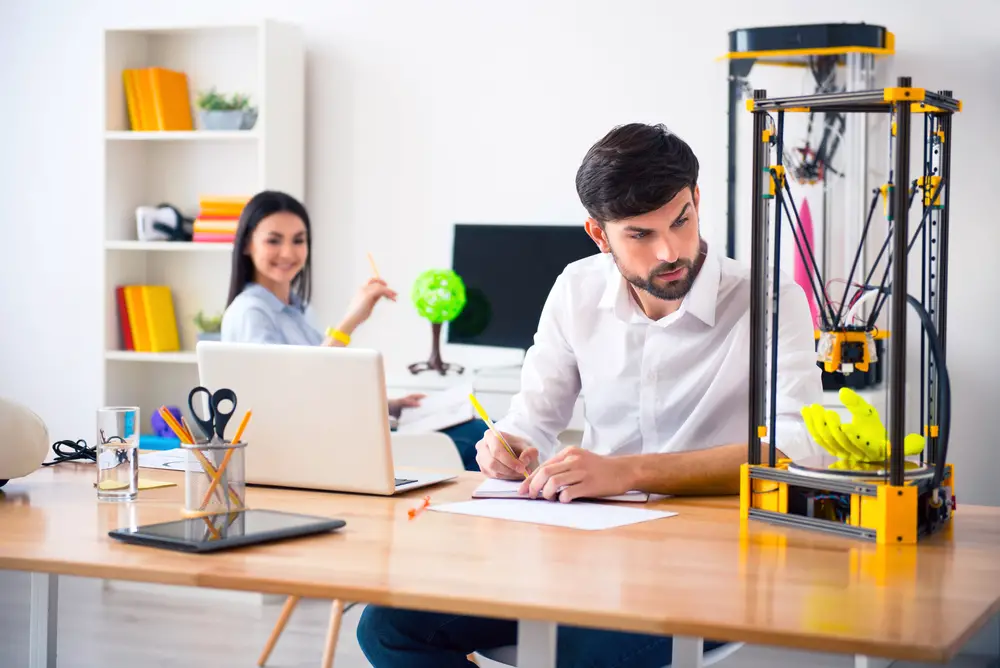 eBay & Aliexpress
Do not buy from eBay or Aliexpress unless the seller is known to be good; eBay and Aliexpress are not shops but platforms where random people can sell you printers at random prices with no warranty or even decency to help if anything goes wrong. Do you want to be in a situation where you paid a lot of money for a printer that does not work and the seller cannot help you?
Even when buying from an official reseller there is no warranty, so always check reviews. Many people have been scammed from eBay or Aliexpress sellers who do not send them their printers or who send them broken ones, sometimes even without the power supply.
The next advice is linked with the previous one; make sure you are buying from someone reputable and if possible go to their shop/factory yourself if it's not too far. If they are far away there are two possibilities: either they don't have a real shop/factory but are only traders who buy printers from one place and sell them at higher prices with no technical knowledge or service, which you do not want; or they are decent people who know their stuff and have good customer service.
Support
Make sure they offer support when you buy the printer, like assembling it or helping you learn how to use it or fix problems.
If when buying a 3d printer for miniatures from them you have to pay any shipping costs then avoid them, it means they are not confident with the quality of their printers.
Price sensitivity
Some people think that buying a cheap printer will save them money because they will be printing for free, this is wrong; it's almost impossible to make your filament at home, so you have to buy it anyway- so this is another price consideration.
So, you pay the printer and then the filament too; what you really should be comparing is the cost of filament from a cheap 3d printer with that from a proper one.
Patents
If they say something about patents or printers being tweaked to print better, avoid buying from them as this means they are trying to trick you into thinking that their printers are unique and better, when in fact they are not.
If they mention patents but do not explain why it means they likely don't even know what they mean; if they do explain them then it will be easy to understand if they are good or bad.
A patent can make sense for inexpensive professional printers, but not for cheap consumer ones.
Do not buy from sellers that have been involved with scams or from people who have done bad reviews about them.
The best thing you can do is to buy from people who are popular and known to give good service; if something goes wrong almost certainly they will help you.