3D printing has become increasingly popular in recent years, with more and more people using it to create all sorts of objects- from 3D printed eyes and 3D printed bookends, to 3D printed McDonald's burgers and 3D printed wood!
One use for 3D printing that may not be as well-known is creating ammunition boxes. These boxes can be customized to hold any type of ammo, making them perfect for both amateur and professional shooters alike.
In this post, we'll show you how to make your own 3D-printed ammo box using stl files. All you need is a 3D printer and some basic materials. So let's get started!
11 3D printing ammo box plans
This article will update you about the best 11 ammo boxes in 2022.
1. 5.56 / .223 Ammo Storage Box (20 rds.)
This is a paper version of a 3D printable version. It has a removable lid and not a foldable flap. Bear in mind that its lid comes in two versions.
The first lid is engraved with a text of 5.56/.223, while the second lid has absolutely no text on it. Choose this product today and protect your investment effectively.
https://www.thingiverse.com/thing:4629703
2. MODULAR AMMO BOX (.223)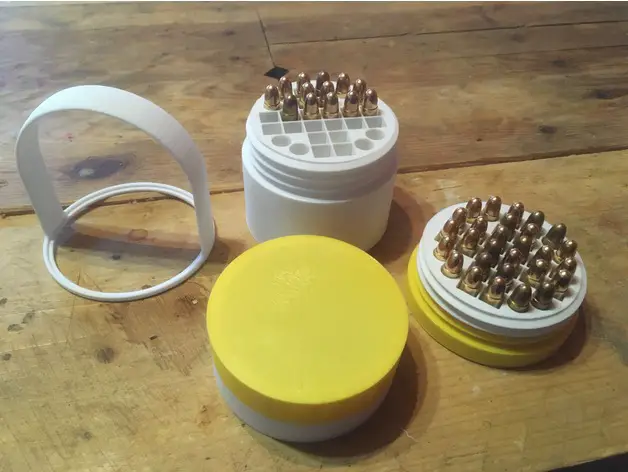 Are you searching for simple modular storage that perfectly suits your needs and allows you to transport your ammunition to a shooting range? Worry no more and consider this product. This case features 28 rounds when the upper and lower parts are assembled.
Suppose you add another central part. Then you will have added 28 rounds.
On the other hand, if you have screw systems, you can assemble more parts. However, this depends on your demand. Before you opt for one, you must know that it is excellent for ammunition, which measures below 10 x 60 cm.
https://www.thingiverse.com/thing:4088325
3. 30-30 Ammo Box Lockable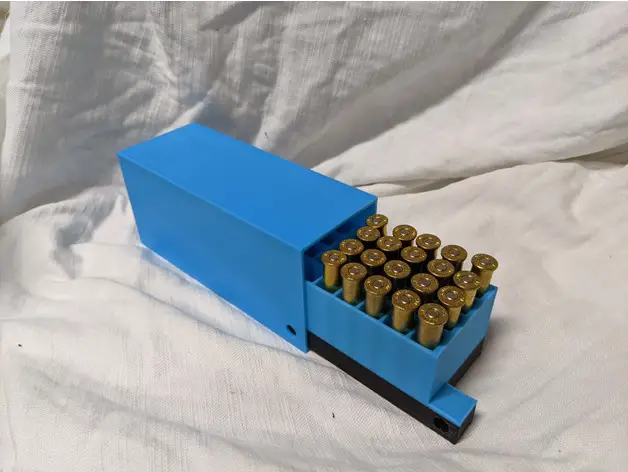 The 30-30 Ammo Box Lockable has the potential of holding 30 to 30 since it features the base that holds your ammunition into position together with the lid that the base slides into. Remember that in some states, transporting ammunition is illegal unless you store them in a separate box featuring a lock. Therefore, this box is designed with a lock hole to fit the padlock without needing any other box to support your storage.
https://www.thingiverse.com/thing:4969587
4. MODULAR AMMO BOX (45ACP)
This product is suitable for ammunitions measuring below 13 x 35mm and other ammunitions. Its case also incorporates at least 28 rounds when the lower and the upper parts are assembled. Using the screw system, you can successfully assemble multiple parts that perfectly suit your needs and demands.
Furthermore, 22LR and 45ACP screw boxes are compatible. This also applies to 30M1 and 223 screw boxes.
https://www.thingiverse.com/thing:4088574
5.45ACP 100 Round Ammo Box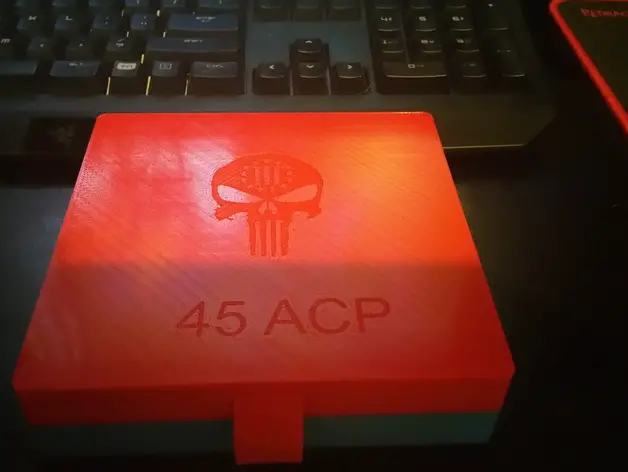 Most people love this product because it has a lid that features a Punisher logo accompanied by a couple of improvements to its former design. This enhancement makes this product deliver excellent performance. Therefore, choose this product today and watch it protect your ammunition effectively.
https://www.thingiverse.com/thing:1741434
6. Lipo Charger Ammo Box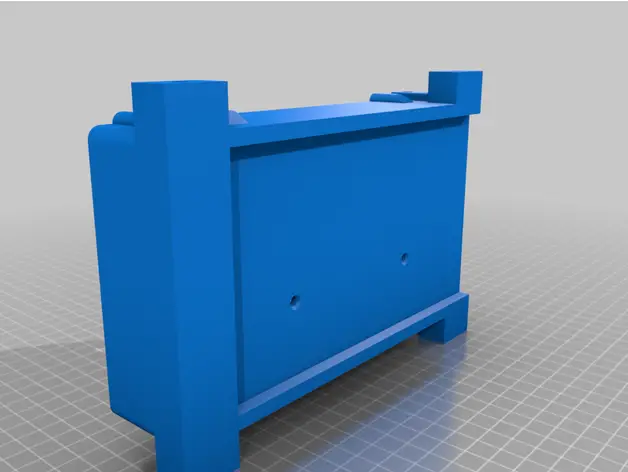 You must understand that this ammo box is designed to function with 3S and 2S, which you are likely to use. It has a 3D printed chassis, which offers PS protection and its connections of 120VAC. On the other hand, it has two fans that pull air from the punched holes in front of your ammo box under your LIPO bag.
It proceeds down via the chassis, covering the chassis vent opening then into the energy supply. After that, it exits this product via the openings of the cord. Consider this product over others and have an awesome experience when it comes to storing your ammunition.
https://www.thingiverse.com/thing:5096306
7. 1/3 ammo box for ball joint doll BJD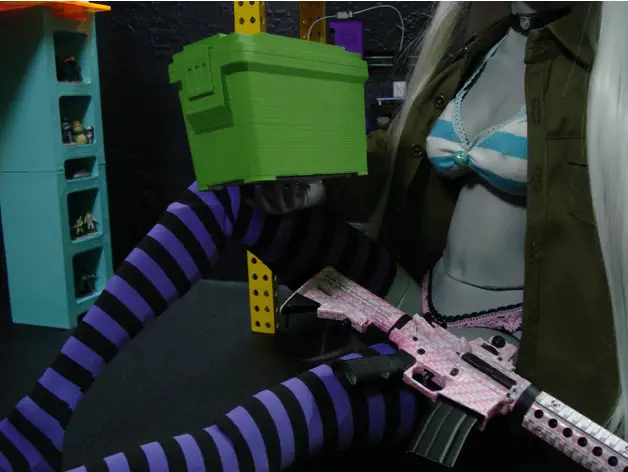 This product is perfect for all your joint doll's armory. It only needs you to support it at the base. Many people prefer it over other ammo boxes because it is stackable.
Besides, it is designed to allow you to feel free to add hinges and to remix. Thanks for its features for making it exceptional in the market.
https://www.thingiverse.com/thing:2953113
8. WWII US AMMO BOX – AMMO BOX 1/32 1/18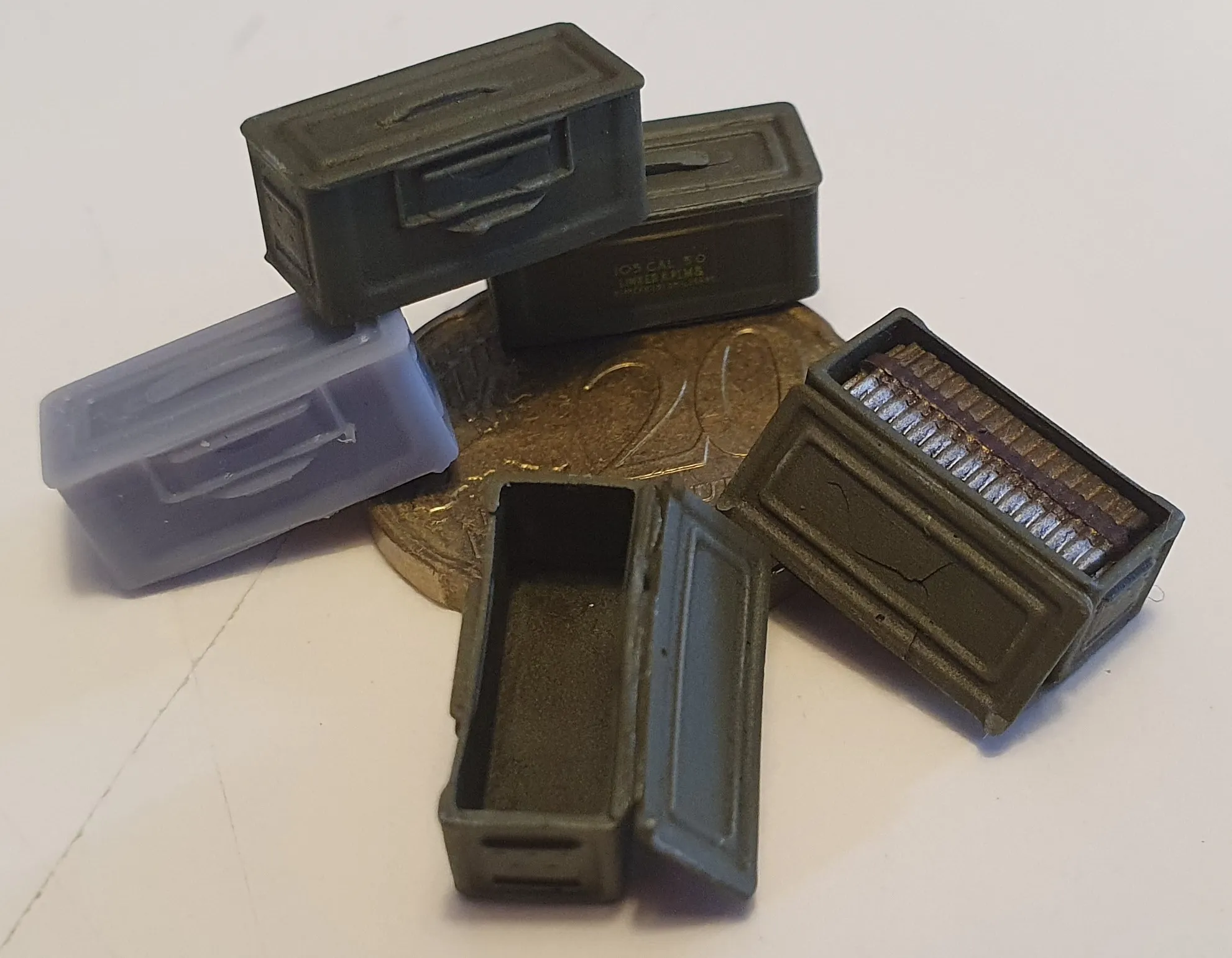 The WWII US AMMO BOX – AMMO BOX 1/32 1/18 comes in three versions: open full, open empty, and close. It comes with a cover, enabling you to close it safely without any challenges. This product guarantees your ammunition sufficient protection, and it is worth it when it comes to safeguarding your investments.
https://cults3d.com/en/3d-model/various/ammo-box-caisse-de-munition-1-32
9. .22 Long Rifle Stackable Ammo Box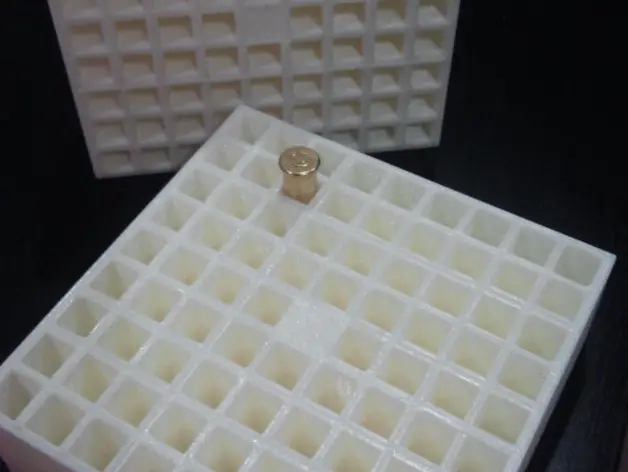 Bear in mind that this product is manufactured from a .45 Caliber Stackable Ammo box. It has a design that enables it to store .22 long rifle Caliber ammo with a potential of holding 80 rounds. Ideally, it is also excellent for storing unused ammo safely within a safe gun.
Investments are more than precious. Therefore, choose this product to protect your ammunition.
https://www.thingiverse.com/thing:59377
10. MAX'S 50 ROUND 9MM CALIBER AMMO BOX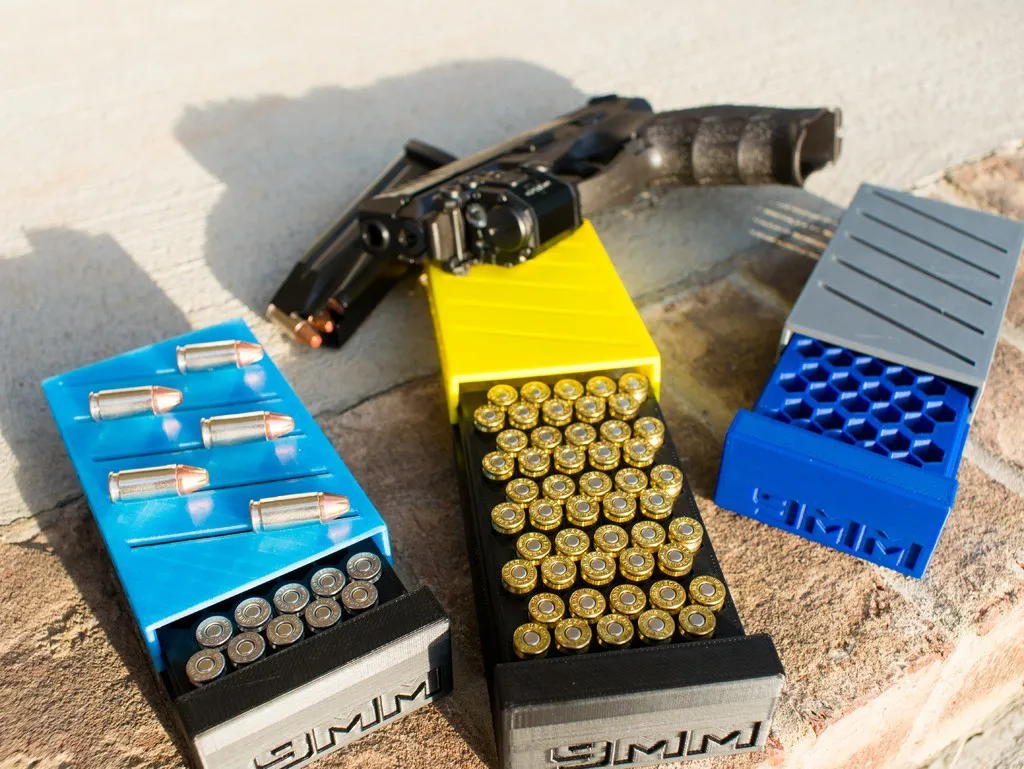 This product is designed to match your wall thickness and particular printing settings. Regardless of what brand you print with, your ammunition will fit incredibly. However, it is recommended that you fit within a scale of 3% to examine how well your ammunitions fit, especially if you are using the PLA brand.
Similarly, other materials might require less or more scaling. This product comes packaged with a durable lid. Consider it on your list.
https://cults3d.com/en/3d-model/various/max-s-50-round-9mm-caliber-ammo-box
11. Ammo box for S&B 9mm Luger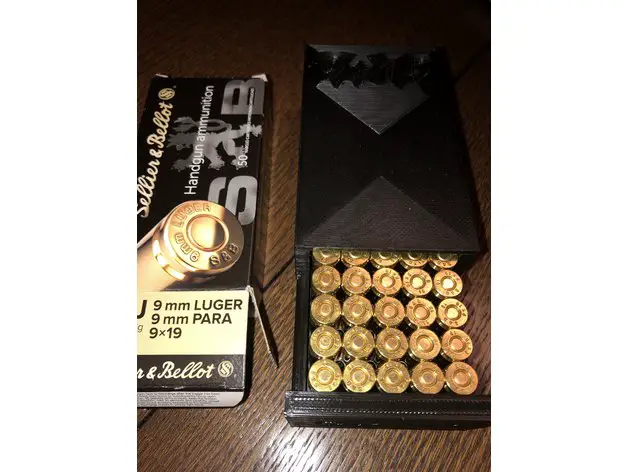 The ammo box for S&B 9mm Luger does not require any support. It is designed for ammunition featuring a width of 0.2mm with an infill of 10 to 15%. Furthermore, it can accommodate a plastic tray, found in S and B 9 x 19mm.
The tray is incorporated into the ammo box. You can remove it out, place it in its lower printout and experience an awesome performance. It has a latch that holds two closed halves tightly.
Ensure you lubricate it before using it.
I remember the first time I ever saw an ammo box. It was in my grandpa's garage, and I was immediately intrigued. He told me it was used to store bullets, and I was fascinated. Ever since then, I've been a big fan of ammo boxes.
https://www.thingiverse.com/thing:4168563
Final thoughts
Are you an ammunition owner, and you probably do not know how to store and organize it properly? If so, worry less because the ammo box guarantees you storage. An ammo box is a small box that keeps your ammunition safe and dry.
Most people find it suitable for large caliber ammo because it is moisture-proof. 3D printing ammo box increases the shelf life of your ammo because its storage is efficient.
Nowadays, there are many ammo boxes in the industry. Therefore, to efficiently protect your investment, choose proper ammo storage. In addition, your objective and plans determine the kind of ammo box you are likely to choose.
Ammo boxes have proven to be worth an investment because it offers your ammunition efficient storage. Furthermore, these boxes have the potential of serving you years before you think of obtaining another one. If you have found this article valuable, grab a 3D ammo box from the nearest shop or online and protect your investment.