3D printing redefines the expression "art knows no borders", proving that creativity and new technologies are compatible. The use of additive production allows artists the opportunity to take their creativity one step further.
The best 3D printers can get you printing some pretty advanced stuff- whether you're an artist or a small business with a 3D printer trying to run your 3D printing business,or just someone trying to get your 3D printer set up in your garage.
Here are 11 fascinatingly beautiful 3D printed sculptures from artists experimenting with this new, additive medium.
11 Cool 3D Printed Sculptures
Newly redesigned G70 3D Printed Sculpture by Grif
Latest commission for the ever-trusting @GenesisUSA reimagining their newly designed G70 as chrome sculptures pic.twitter.com/nz7um62AdH

— Grif (@Mr_Grif) July 24, 2021
This is some fine work by Grif. They have recreated a model that reinterprets the new Luxury Sport Sedan vertically, highly colorful sculptural form.
They used the latest additive 3D printing technology to create this high resolution with actual surface details and outstanding material properties by the looks of things.
The work was for @Genesis_USA. The vertical presentation gives it an exceptional, jaw-dropping appearance.
Caged Angel 3D Printed Sculpture by Eric van Straaten
This is a fantastic piece by sculptor Eric van Straaten. He has been creating realistic, life-sized sculptures for years. He sculptured this caged angel in full color with the most delicate details captured in every layer of photopolymer powder material. These works are generally used as photographic props.
Still, this one stands alone as a bold statement about the power of art today where you can create anything your mind can imagine through CAD design on a computer screen first then achieve that vision on a physical scale model.
The art consists of multicolor composite prints works in full-color printing realized through computer modeling and printing the artist is a digital sculptor he's a Danish artist.
Diasurak 3D Printed Sculpture by Nick Ervinck
This is a fascinating embodiment of the future in this sculpture by Nick Ervinck. He has chosen to portray an abstract cyborg-like figure, with dramatic effects on its face and hands through post-processing.
The cyborg looks like it's peering out into space while standing on Mars or some other planet!
It appears that he uses fragments from his past combined with futuristic imagery. The finished sculpture is somewhat like a robotic skeleton with glowing red eyes. It's an abstract composition created by Ervinck because he was fascinated by space construction, which he explores through his divergent practice.
Lying Women 3D Printed Sculpture by Julian Voss-Andreae
This is an exceptional sculpture by Julian Voss-Andreae. He created Lying Women, which echoes the female body in repose, creating an emotional response to its sensual curves.
There are two unique things about this piece: first, it captures what appears motionless but simultaneously tells us there's life here; secondly, he has done something with his artistry and talent that not many other sculptors could do or have attempted before – blending science and creativity seamlessly through Unity!
"Lying Woman" was inspired by the idea of using multiple materials (plastic/metal) at once to create depth within the design which would be impossible if only one material were used.
Token Homes 3D Printed Sculpture by Fluxaxis
The Token Homes 3D model is a lighthearted statement on the growing housing crisis.
This stunning monument was designed and built by Fluxaxis in collaboration with Matt Plummer Fernandez. There is a housing shortage in growing cities, which has fueled property investment schemes and resulted in no aesthetic appeal and insufficient living space.
It consists of 400 micro-properties, and each home is for sale and can be invested in.
Bloom Aspire 3D Printed Sculpture by John Edmark
This is a fantastic sculpture by John Edmark. It's called "Bloom: Aspire." The first thing you'll notice about this piece of art is that it appears to be some mechanical or robotic plant from outer space. Instead, the blooms are just three-dimensional printed sculptures designed to animate when spun under a strobe light.
Unlike a traditional zoetrope, which animates as a sequence of small changes to objects as they spin on an axis, Bloom animates as one self-contained unit spinning in place on its base—the Bloom itself rotates and pulses with each flash of your strobe lights.
Describe HORTUS XL Axatabthin. g 3D Printed Sculpture by ecoLogicStudio
H.O.R.T.U.S. XL Astaxanthin .g is a large-scale, high-resolution printed bio-sculpture receptive to both human and non-human life that was first commissioned by the Centre Pompidou in Paris, which was conceived by Claudia Pasquero and Marco Poletto (ecoLogicStudio) with collaboration from the Synthetic Landscape Lab at the University of Innsbruck.
The design has been created using computer modeling for complex geometries and physical prototyping before printing the final pieces.
AGRIEBORZ 3D Printed Sculpture by Nick Ervinck
This is a fantastic structure that was created using various organic forms. He used the imagery of human organs and then combined them with futuristic and science fiction images to create an abstract composition that taught him about space construction through his divergent practice.
The image becomes ungraspable, hovering in a virtual world where it retains some familiarity due to its visual connection to human organs, muscles, etc. It lacks any coherent organization or structure and the potential for real-life situations such as standing on Mars.
Bubblegum Pink 3D Printed Sculpture by Fluxaxis
The large-scale bubble gum pink David & Goliath statue stands on its own, but it also serves as a gateway to the second piece: Collisions, commissioned especially for this space.
The immersive work explores how we can communicate across cultures using 21st-century technology such as virtual reality headsets.
It focuses our attention upon different forms of communication between people from different backgrounds and how these can be both complementary and potentially dangerous.
Monroe Pop Art Edition 3D Printed Sculpture by Daniel Warnecke.
For the second year in a row, Warnecke has designed and printed a life-size sculpture of Marilyn Monroe. He depicts her as she appears on the cover of Andy Warhol's "Campbells Soup Cans" from 1962, one of the artist's most celebrated works. This piece is called "Monroe Pop Art Edition."
It looks fantastic because it shows an updated version that represents today's culture by showing her wearing ripped jeans while smoking a cigarette with sunglasses on.
3D Europa Sculpture by Leonel Moura
Leonardo Moura created a unique and fantastic sculpture called "Europa," displayed at Lisbon's I.C.T. (Innovate; Connect; Transform) event. The design is based on Europa from Greek mythology, Zeus' daughter and his lover because she attracted him as an artificial flower would. It has about 300 parts with fittings that are almost five meters tall.
Conclusion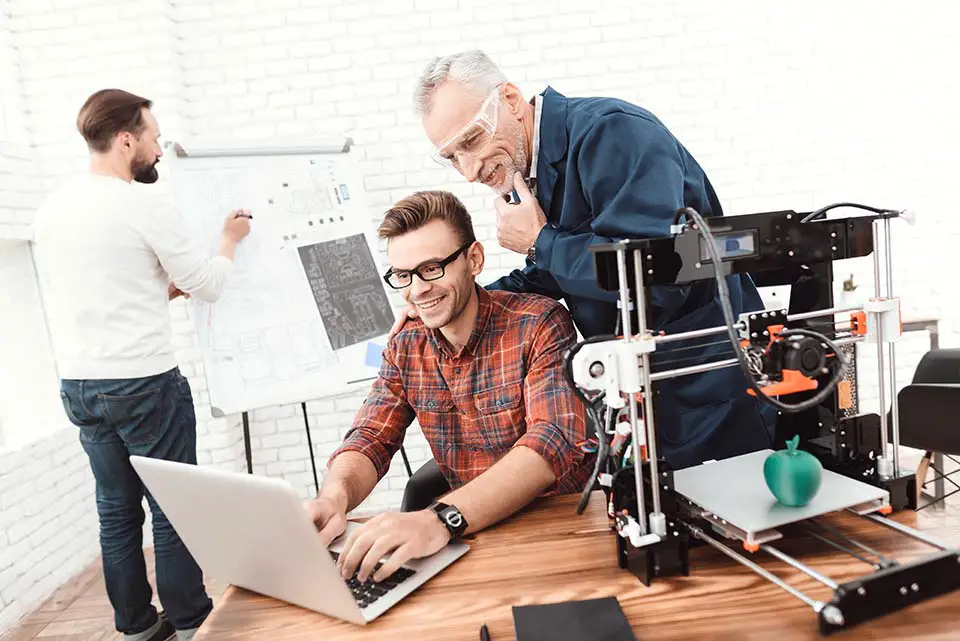 There are many different forms of art being used today with the advancement of technology. These sculptures have been created using various materials and techniques that cover modern-day design with ancient philosophy and human organs.
There is also an immersive experience that allows you to communicate across cultures through virtual reality headsets, in addition to examining how we can use 21st-century technology to communicate.
As technology advances, the quality of products and designs improve as well. Achieving such high quality is particularly prevalent in many areas that we haven't even thought about yet.
This can be seen with robotics and its recent advancements in various fields, including medicine, military applications, and others. Another field that has already been using these improvements but is not widely known for it: sculptures.