3D printing has opened up new possibilities for the furniture manufacturing industry. It has created an infinite supply of options for furniture designs, multi-material production, and customization.
The use of 3D printing for furniture production is not new- especially with 3D printers capable of printing fabric. A Norwegian company called Norske Skog started using this process in the 1980s to create prototypes and parts for their wood-pulp machines. This gave them an edge over their competitors in terms of speed and accuracy while also saving time on their investments.
The technology has grown exponentially since then with more companies adopting it in order to create more complex designs with less time, money, and effort spent on development. We're even seeing homes, bicycles and bongs getting 3D printed!
How 3D Printing Furniture Works
While some beginner 3D printers might be able to manufacture simple designs, you'll need a business-quality 3D printer to really begin producing heavy-duty furniture projects.
14 Cool 3D Printed Furniture Projects
1. Avant-Garde Chairs From Nagami.
Last year, the Spanish design studio, Nagami, presented a collection of chairs known as AVANT-GARDE. The chairs have been 3D printed from different materials. Two of the chairs have been made from biodegradable plastic materials, which means they were very environmentally conservative when making them.
They have a very beautiful floral design, and the best part is they come in amazing colors. They demonstrate the possibilities and power that are in Three -dimension printing when it comes to architecture and furniture.
2. 3d Printed Benches By Xteee
For those very familiar with Three-dimension printing, XtreeE is among the well-known companies that deal in large-scale Three-dimension printing technology that uses architectural designs. Engineering deals with the construction sector. In 2018 among their many projects was woven concrete benches.
In collaboration with Berlin Design Studio, the three series benches had a breathtaking woven pattern that gave them a stunning structure and added an aesthetic value to them. It is not easy to obtain such structures under normal conditions, but through 3D printing, we have a classic geometrically designed bench made with minimal amount of concrete
3. The Modular Wall System by Simplus
The modular wall system fluctuates in size to accommodate your storage needs. It is a very colorful piece, thus bringing more life and light to any room it's placed in. Simplus, a New York City-based design studio, made the wall system so that the opaque white and the translucent red Three dimension printed materials allow light to come through in some modules and give it's surrounding a glowing effect.
4. Ocke Series by Big Rep
Imagine sitting on a chair and a sofa simultaneously, no, not side by side as two different objects but one, mind bowing. Working with Big Rep, the chair was made by Beatrice Muller, who put 3D Printing to good use, saying it gave her more freedom of creativity.
5. Street Benches by Print Your City
Made from plastic waste, recycled, and transformed into a Three-dimension printing masterpiece, it is clear that 3D printing can be environmentally friendly and beautifully decorate our streets. Along with Thessaloniki in Amsterdam, one can find these amazing street benches.
6. Seats and Coffee tables by Drawn Furniture
When it comes to outdoor activities, through drawn furniture, they made waterproof, UV resistant coffee tables and chairs using three-dimension printing through drawn future. They come in wonderful and very attractive colors. Even better, Drawn allows you to choose the design and color suitable for your preference and let 3D do the rest.
7. KARO Coffee Tables by Zortrax
In 3 kilos of plastic, KARO coffee tables have three dimensions printed in black, grey, and Ivory filaments. It takes them 263 hours which is eleven days, to print the diamond-shaped modules needed to assemble the table waterproof and perfect for both indoors and outdoors.
8. Gamers Chair from IKEA
As a gamer, now you can receive your own personal chair from IKEA. All they have to do is scan your body, and in two weeks, you will have a chair that perfectly fits your body size as a gamer. Since a comfortable chair is very essential for a gamer, IKEA has created a personalized ergonomic and interactive chair as part of gaming equipment.
9. Table studios by ALEKSA
These tables have been made from heavy walnut wood, but they become very easy to carry thanks to additive legs manufactured by 3D print in the United Kingdom using an SLS Printer. Giving it a very unique structure to it leaving it looking very classy and sleek, all thanks to Three-dimension printing
10. 3D Printed Lamps from LP Jacques Studio
Well known as the Di- Lamp project, Pierre Yves Jacques, C.E.O LP Jacques studios have made lamps completely customized to the user's preference and taste through Three-dimensional printing. You can choose a design, color and add decorative elements to your lamp according to your preference.
11. Designing Chair by Jon Christie
By bringing together manufacturing technologies with traditional furniture Manufacturing methods, Jon Christie made chairs with Scandinavian designs. Adding the 3D printed gaskets, it has given them greater creativity in terms of shape and color.
12. 3D Printed Tables from Steelcase in collaboration with MIT
Through rapid liquid printing, it draws inside a gel the structures that are to be printed. This method is unique because the manufacturing technique has no limitations, and the table is created in a very short time as compared to the traditional technology. The table is fully printed in 28 minutes.
13. RIO collection tables and Chairs by Integrate and Morgan
Rio is a collection of tables and chairs with Three dimension-printed elements in them. By combining craftsmanship and new technology, they have created a backrest chair, created from liquid resin and polyamide powder, and with a mathematical algorithm, three dimensions printed in 24hour. The same way the tables have been created
14. Vortex Bookshelf by Joris Larman Lab
Three-dimension printing also takes care of you when it comes to storage. With a very unique design, the Vortex bookshelf plays both decorative and storage roles in tour space. An amazing character with the vortex is that it plays the role of a shelving system, wall decor, and also storage unit.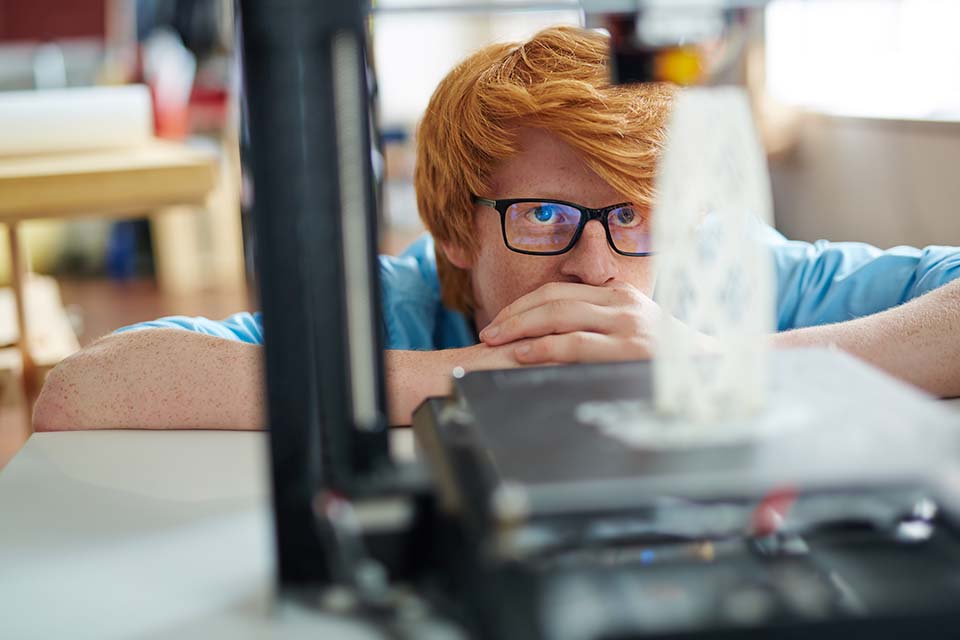 In conclusion, 3D printed furniture is very beautiful and unique. Hopefully, with time, the world will transform from using raw materials and considering Three-dimensional printing as a better and more environmentally friendly alternative. As we have seen most of these furniture is very environmental friendly and instead it saves a lot of raw material. If you want to learn more about the how and what of 3D printing check out our guide here.