A slug resembles a giant worm with two snail-like eyestalks which provide their vision. Beneath their eyestalks, they have two tiny tentacles that serve as taste buds and feelers.
People who are fascinated by this unique animal all around the globe can create or purchase meaningful 3D models which resemble the creature and use them as decorators in their living space.
This one took 8 hours on the Ender 3:
This listicle includes a list of such models successfully designed and modeled by numerous creative designers using the available 3D printers.
Check out some of our other fun 3D printed projects for inspiration- including these 3D printing fishing lure molds!
Our favorite 3D printed articulated slugs
1. Green Articulated Slug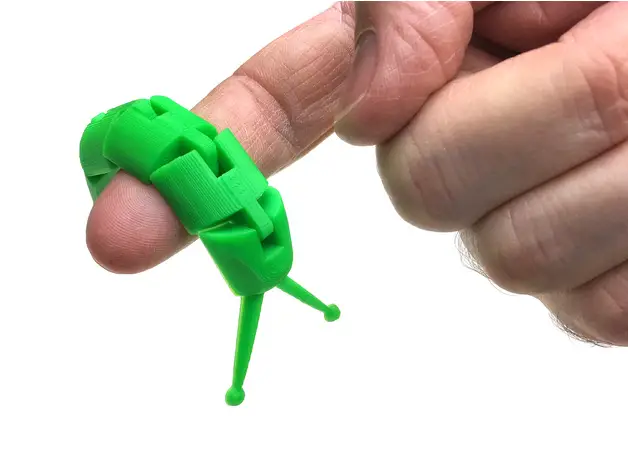 First on the list is the commonly known Articulated design which 8ran perfected.
His kids cut the legs off one of his articulated bugs, so he modded the bug into a slug! Insert a putty knife between two body segments and twist them together after removing them from your printer to loosen them.
The kids' safety comes first, so a model with a slightly rounded tail was designed. You can now access and download the file with the 3D model's instructions. 100% infill should give them a realistic weight.
2. Friendly Articulated Slug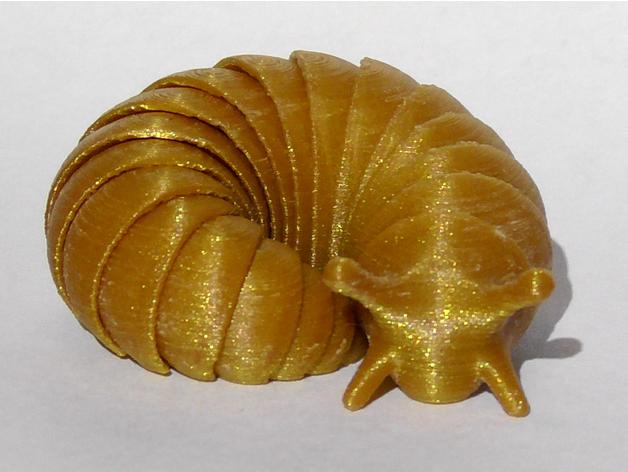 The main interest in this project lies in the joint design. You should print it carefully and slowly because this is a tricky design with many thin walls and high overhangs. Use a top print speed of 30 mm/sec and a layer height of 0.1mm.
The print probably should take eight hours with these settings. This model has thin walls which are 0.025-inches(0.635mm) thick. Single extrusion walls are not encouraged for this print since they are typically weaker and sloppier than dual perimeter walls.
It's nice to believe in the animal's freedom to bend, but when you initially remove the mold from the printer, the joints are held together unless you have a great printer which most do not.
Therefore, it is advisable to go through the post-processing instructions provided in detail by the designer to avoid breaking the joints or the whole model.
3. Enlarged Curled up Friendly Slug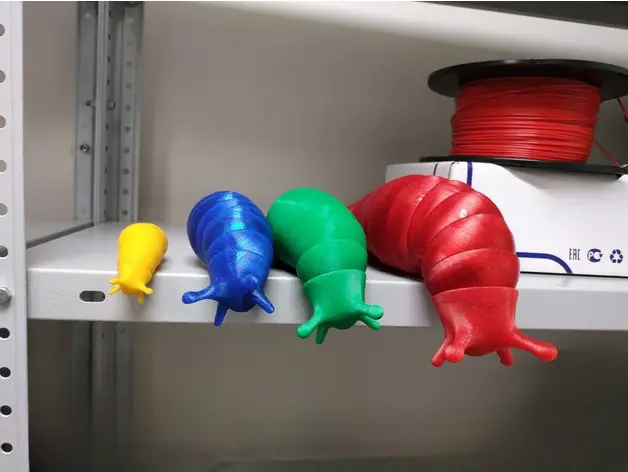 The above-described version can surprisingly be both enlarged and curled into a size large enough to sit on your neck comfortably! Using a printed curled-up version as a reference, you rotate each piece of the segment in Blender.
Because the curled-up model takes up less room on the print bed, you can now print a massive mold. A translucent substance gives the model a slimmer or realistic appearance.
4. Googly Mini Slug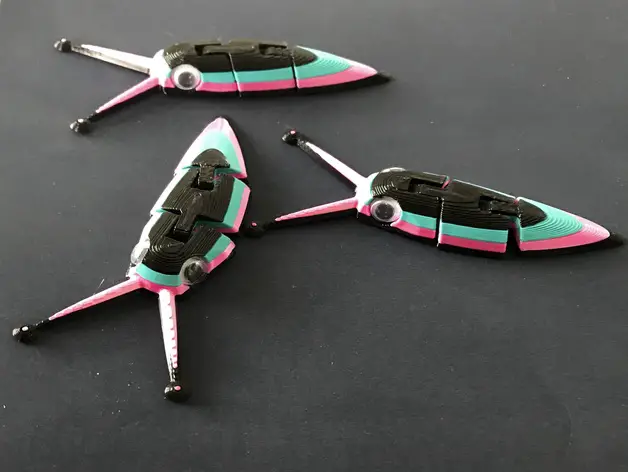 One of the best remixes of the Articulate design is the google-eyed one. You insert googly holes in the mold for the remix. For those who want a smaller version, a 6mm googly eye fits perfectly.
Add three filament change pauses to the gcode at layer heights 10,20,30 to get the finished print picture. It's a simple print; you can make 4 in around 2 hours using the Ender 3 Pro.
5. XXL Flexi Slug Remix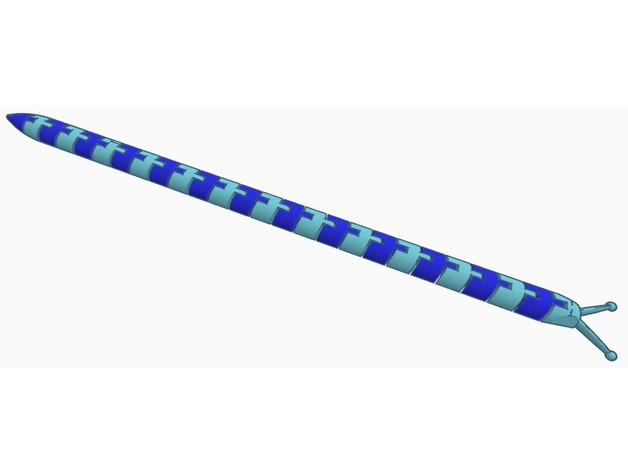 Faschi's Articulated Slug XXL 38cm can be remixed to this. You have to ensure that it is roughly 38cm long to fit on the Anycubic chiron's print bed. You basically cut, copy, paste, and merge the printed models to the original model to make it extra long.
With resolution 0,2mm and 60mm/s, it takes about 3 hours 15min to print and needs about 25g PLA (8,26m at 1,75mm).
6. Articulated Slug – 7 Segments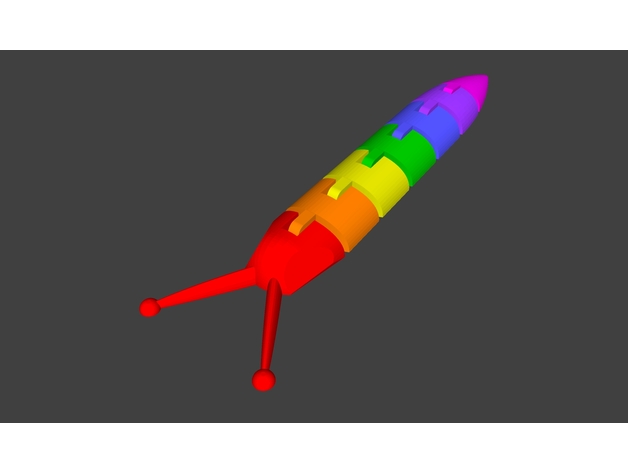 This model is a basic remix of 8ran's six-segmented design. When asked to make a model with rainbow colors by a friend, I was compelled to develop the seventh portion so that I don't leave any color behind.
7. Racing Jerseys for Articulated Slug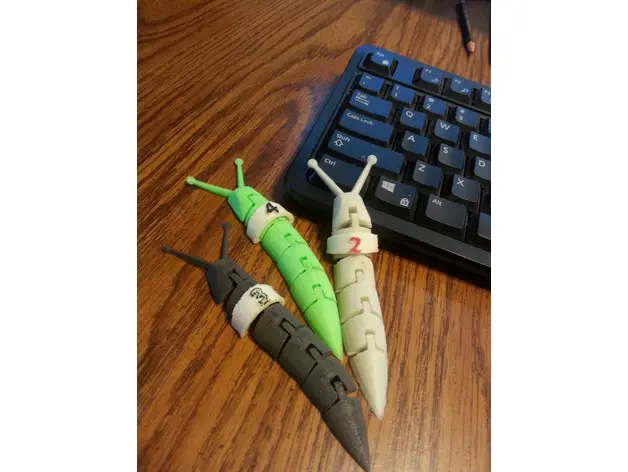 For those who loved the movie Turbo, you can race your models and can even be able to decide which one is winning the race. You fix the numbered jerseys over one segment of 8ran's awesome design.
The numbered jerseys should snap right on, but you can easily scale them up or down depending on your materials. There are short clips of models racing on Youtube to give you an idea of the thrills and action you might encounter.
8. Slug Saddle for Gnome Weebly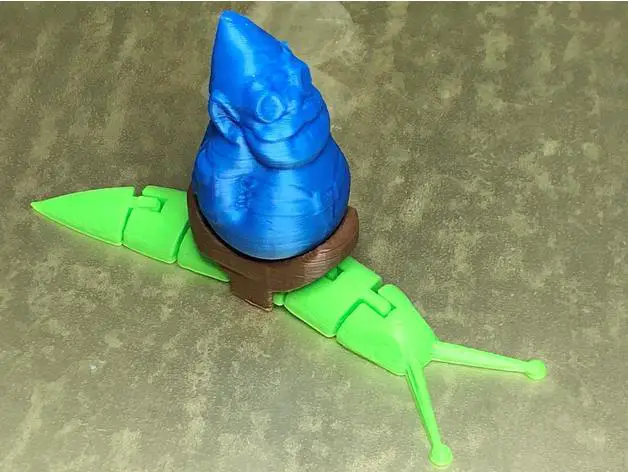 A clip-on saddle for the Articulated version by 8ran is added so that your Gnome Weeble by cerberus333 can go for a ride. A clip-on shell inspired this 3D model by WuffyUnikitty. The model was made using a Tronxy X3A printer using a resolution of 0.1 or 0.2.
9. Easier Articulated Slug with Shell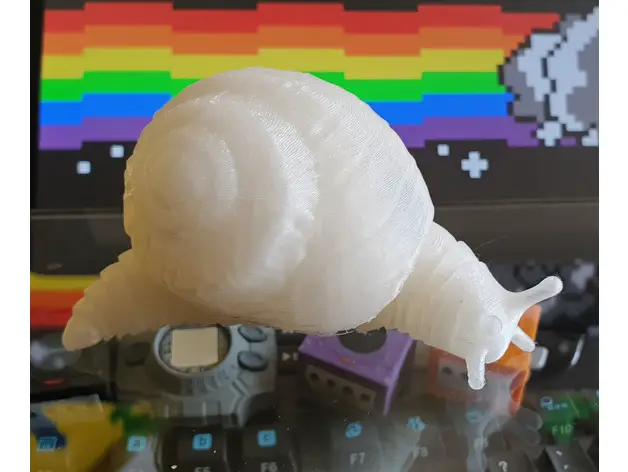 This is a remix of Isaiah's impressive Friendly Articulated model and one of netbet bastet's equally fantastic shells. The design is substantially bigger than the original, and the tolerances have been increased for better printing.
In terms of the shell, I fixed the mesh flaws, scaled it up, and remodeled the bottom to complement the model.
10. Short Articulated Slug (SAS) + Keychain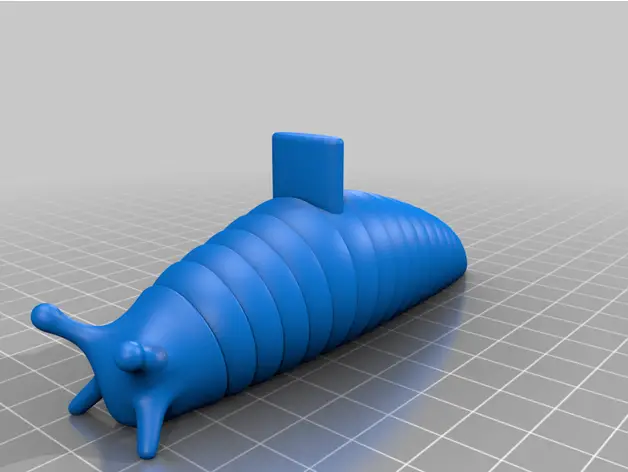 You can now design the renown mold by 8ran into a design that fits in your pocket! All you have to do is shorten the length of the mold and put a hole where you'll insert your keys.
It would be advisable you make that hole in the last segment and remember to disable supports.
11. Articulated Slug – Magnet 3 color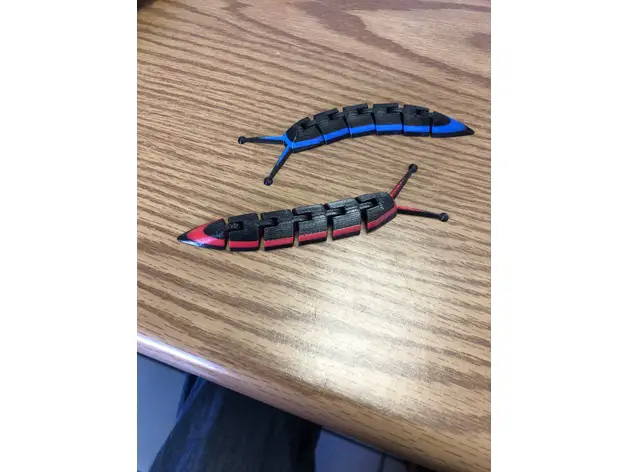 For those who like magnetic stuff, you can mold your magnetic design. This model is modified to share two 4mm x 2mm disc magnets for sticking to magnetic objects.
A 3 color gcode is uploaded and after you've sliced the gcode file with Simplify 3D, open it in a plain text editor like Notepad++. Printing from octoprint works; however, you must ensure that your octoprint pauses and resumes when molding.
12. Magnetic Flexi Slug (Dual Extrusion)
This is a remix of keepars' Articulated design – Magnet 3 color. The file is divided in order to optimize it for dual extrusion. It requires a resolution of 0.15 but doesn't require supports when molding.
13. Articulated Slug for pets
After printing it, this designer's cat immediately tried to steal the model. For increased catchability, he crafted an array of the main body segment with the last two as a cap to lengthen it.
He also squashed the tentacles so that they wouldn't be too sharp if they got inside someone's mouth.
Wrap Up
It still baffles me that a slug could give so many ideas printed into 3D models. We can also agree that the diverse uses of the mold inspire those different designs.
3D printing enables commercial suppliers to produce items available at cheaper unit cost, and if any experimental pieces are to be printed, it can be done in-house.