I love watching my aquarium and the glimmering fish in my living room fish tank.
I am so happy to see them swim around and explore their surroundings. They are so beautiful, and it is so calming to watch them swim around.
I am not a big fan of going out in public, but I love coming home to my aquarium and the fish that live there. It is such a calming experience for me, and I feel like it helps me decompress from the stresses of everyday life.
Did you know that 3D printers can actually print aquarium parts (and even 3D print fish!), whether it's a fun fishtank castle: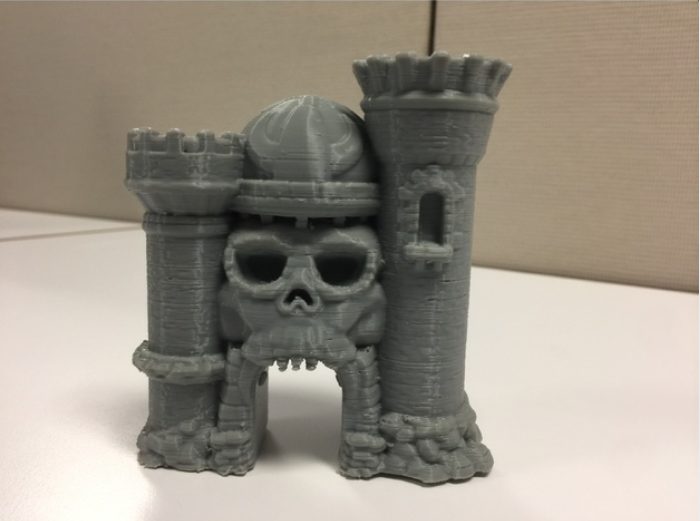 or these more technical fishtank flow generators: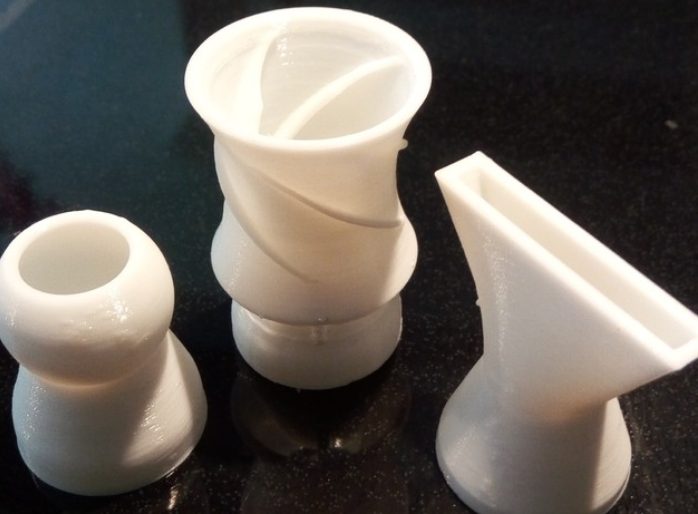 There are lot of things you can print for your fishtank- check out some of our favorite STL file projects below:
The recommended filaments for 3D printing aquarium parts are white ABS and food-grade PETG:
After a few months, PLA filaments degrade, and Nylon absorbs water and expands. Check for FDA-approved non-toxic 3D printing filaments because some colored filaments can leach dyes into the water. Read on.
3D Printed Aquarium Parts
*Run a search on Yeggi.com on Thingiverse for some of these aquarium parts– there are new ones being added every day.
1. Bulkhead grip tool
Tightening a bulkhead nut in a tight space calls for a handgrip like this one. Because of its textured and knurled surface, you can tighten the nut by hand without the need for a wrench in tight spaces.
There are no standard nut sizes for bulkheads, which is a pity. Measure the nut from flat to flat with a caliper, then add 1mm for clearance.
3/4″ bulkhead is 42mm
bulkhead 1 inch = 53mm
71 mm = 1.5″ bulkhead
Eighty-seven millimeters is the length of a 2″ bulkhead.
4″ bulkhead is 150mm
Overflow boxes with deep, skinny overflows can be extended with the help of the crossbar on end. When working in an overflow box, notch the end of a 1″ or 1.5″ pipe and use it to apply torque to the tool.
The shade of black is the only option. A few days are usually needed to get a custom color. Please get in touch with us if you have any questions.
2. Inlet screens
To be worn on top of a 1 "PVC hose. Silicon glue can be used for a long-term solution, while gravity can be used for overflow storage. Various sizes and shapes are available to accommodate a wide range of water flows.
Most tanks weighing more than 50 gallons should use a Medium inlet to get the best water flow. Small inlets best serve Low-flow applications.
In comparison to the 0.5 in2 of open space on a 1-inch screen, the standard "Medium 1-inch" screen has about 6.8 square inches (4400 mm2) "Polyvinyl Chloride pipe. For Nanos and other low-flow systems, "small" is the best choice.
Special long version for horizontal pump intakes that are close to the surface and you don't want to suck in air.
The open area is 22.9in2 and the medium size is 3inx5.12inx4.12in
It's a 2 "4.2" x 2.9″ (105mm x 74mm, 6,400mm2), 9.92″2 open surface area
4.2″ x 2.6″ x 1.5″ in size for the medium "It has an open area of 7.44in2 (105x65mm, 2,400 square millimeters).
1st Class "Long, half-holes: 7.2″ x 2.2", 8.86 in2 open area (184 mm x 55 mm, 5720 mm2).
5″ x 2.2″ for the medium 1″ "open surface area of 6.8 in2 (125 mm x 55 mm, or 4400 mm2)
One-Size-Fits-All (Size-One): 3.54″ x 1.75″, 3.51 in2 open area
3. Pod chest
There's a brand-new POD accessory called the Pod Chest. An area where Amphipods and Copepods can socialize freely without fear of being attacked by predators. There are 40 serpentine chambers in each chest, all connected to the central atrium. Approximately two feet of linear space, or 35.2 square inches (227 cm2), is provided for our little friends.
However, there is another purpose for the central atrium. Using a baster, squirt water into the chest's central hole while covering it with your thumb and moving it to the tank. All the slacker pods hanging around the chest will be blasted into the tank, where your fish will eat them! It's time for the new tenants to move into your sump.
A small amount of pellet or flake food works best if you put it back into the sump each time you remove it from the tank. It can be flushed with fresh water to clean it. Deep cleaning can be accomplished with a cap full of bleach and some water, but it is unnecessary.
There is more food for the pods when there are more residues. 3.14-inch by 3.14-inch (80mmx80mm)
4. Magnetic nori feeder
This magnetic Nori feeder is a stylish way to feed your algae eaters. The most substantial size possible: This feeder can hold up to 8-10 sheets (3.9″ x 10cm) or just a single sheet for your hungry critters. Internal and external magnets secure it to the glass.
Keep your fish's food intake to no more than what they can consume in half an hour or less. Do not use more than one half-strip for feeding a few fish. Place the sheets in the feeder, then in the tank, folded in half. Use the external magnet to keep it attached to the glass. 5.7″ x 3″ (145mm x 78mm)
It is made of PETG, completely safe for human consumption and marine life. Some imperfections may be visible in the printing process.
The magnet factory coats all N50 Neodymium Magnets (also known as NdFeB Rare Earth) in epoxy to make them resistant to rust. PETG plastic is used to protect them further. Their strength and jumping ability make them dangerous.
5. Magnetic square frag rack
Growing your reef tank requires a temporary or transportable location for frags. One-inch-by-one-inch to three-inch-by-three-inch square or round frag plugs can be held securely in these racks, which are commonly used for Caps and other plating coral species.
You can easily add this to the back or sides of any reef tank. Overflow boxes, filter chambers, and other areas where both sides are submerged can also benefit from this product. You can move the magnetic frag rack around to get better lighting or water flow. Tanks and overflow boxes up to 5/8″ thick can be magnetized.
6. Magnetic Frozen Food Feeder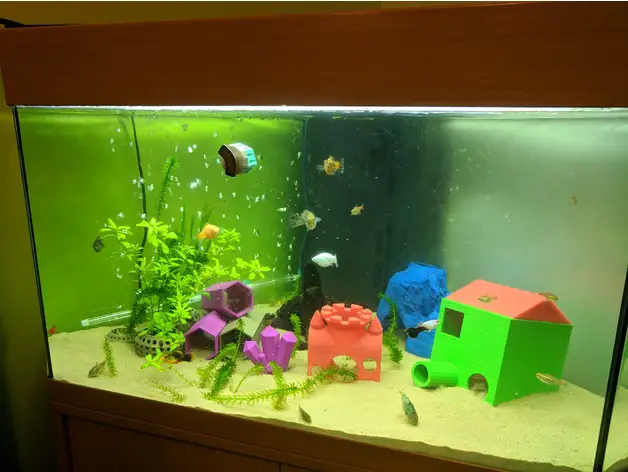 This clever idea allows you to feed one or more frozen food cubes without having the food race to the filter intake or having a large fish eat up an entire cube of frozen food. The food can be dropped into the water assembled with the included magnet set.
When the cube breaks down, the fish will get to the fish food inside of the holes. The standard magnet clamps up to a maximum of 12 inches (13 mm). Feeders should be removed after each feeding to ensure maximum longevity.
7. Magnetic Corner Frag Rack
Growing your reef tank requires a temporary or transportable location for frags. This rack was thoughtfully designed to safely store 3/8″, 12mm, or 1/2″ frag plugs—an easy addition to any reef tank corner.
Overflow boxes, filter chambers, and other areas where both sides are submerged can also benefit from this product. You can move the magnetic frag rack around to get better lighting or water flow.
8. Replacement magnets
They can be replaced directly for standard magnets in all BAS or other magnetic products- remember, 3D printed magnets are a thing!
Each plastic shell includes two 1″x1/8″ Super Strong Grade N50 Neodymium Magnets. A piece of epoxy-coated PETG plastic encased in PETG plastic can hold about 20 pounds of metal.
Stabilizes materials up to a thickness of half a millimeter. Additional holding power can be gained by stacking the containers. The colors shown in the images are available in sets of two. Size: approximately 2″ x 2″ x 0.4″ (50mm x 50mm x 10.5mm); up to 3″ x 3″ x 0.4″ (80mm x 80mm x 10.5mm).