If you want to print big at home, the original Prusa MK3 has a build volume that measures 250 X 220 X 210– a fantastic machine.
The Creality 3D CR-10 or CR10S are popular choices with a 12in x 12in x 15.5in build volume if you want to make it even bigger.
Large objects require a lot of filament and time. It is also time-consuming to modify 3D modeling software.
Printing large objects could be worthwhile if you don't mind buying the best filament.
3D printing/additive manufacturing vendors continue to push the boundaries of their technology, including the size of their products.
It's possible to choose from various possibilities for large parts- or use a large format 3D printing service to get what you really need!
What a 3D printer can do is well-known; it's in its name, after all. However, how large can a 3D printer print?
A 60-centimeter-tall item can be printed on an FDM printer of this size. A 30 x 33.5 x 20 cm construction volume may be printed using bigger stereolithography (SLA) printers.
The build volume of an industrial SLS printer, on the other hand, can be as large as 30 x 16.5 x 16.5 cm. Find out more information.
Factors that influence the size of 3D printing
Several factors may be considered when purchasing a 3D printer, and you need to know what products you will be printing the most and their dimensions to make a selection. It's also important to know why you're purchasing a 3D printer — are you doing it for fun, or are you doing it for profit?
Large-format 3D printers are a rapidly expanding market sector in the 3D printing industry. Even though some people assume that large-format 3D printing is out of their price range, it's far more inexpensive today than it was just a few years ago.
First of all, don't always accept the manufacturer's claims about how big your 3D printer can print. When selecting a 3D printer, the build area is one of the most significant aspects.
One constant in printer prices is that the bigger the build area is, the more money you'll spend. In the case of a maximum print area (also known as a build area), the printer can theoretically generate the largest possible item.
A 3D shape is not a cube but a convex polyhedron or a cuboid with six quadrilateral faces. The entire build area of a 3D printer may not appear to have an available build area, so don't let that trick you either.
It is common for architects and game designers to develop 3D models with infinite thickness. Additionally, each 3D model for 3D printing should be completely manifold to facilitate printing. As a result, the model should be free of gaps, with every edge connected to exactly two neighboring polygons.
This is partly due to a software error in the 3D printer slicer, which may misinterpret models that are not manifold. A non-manifold 3D model may result in inconsistent layers, holes, and other issues, making the item unprintable.
Non-manifold problems, on the other hand, are commonly missed during the modeling stage. Analyzer software can determine whether a model is suitable for 3D printing by identifying model aspects that may cause issues.
Large 3D printer sizes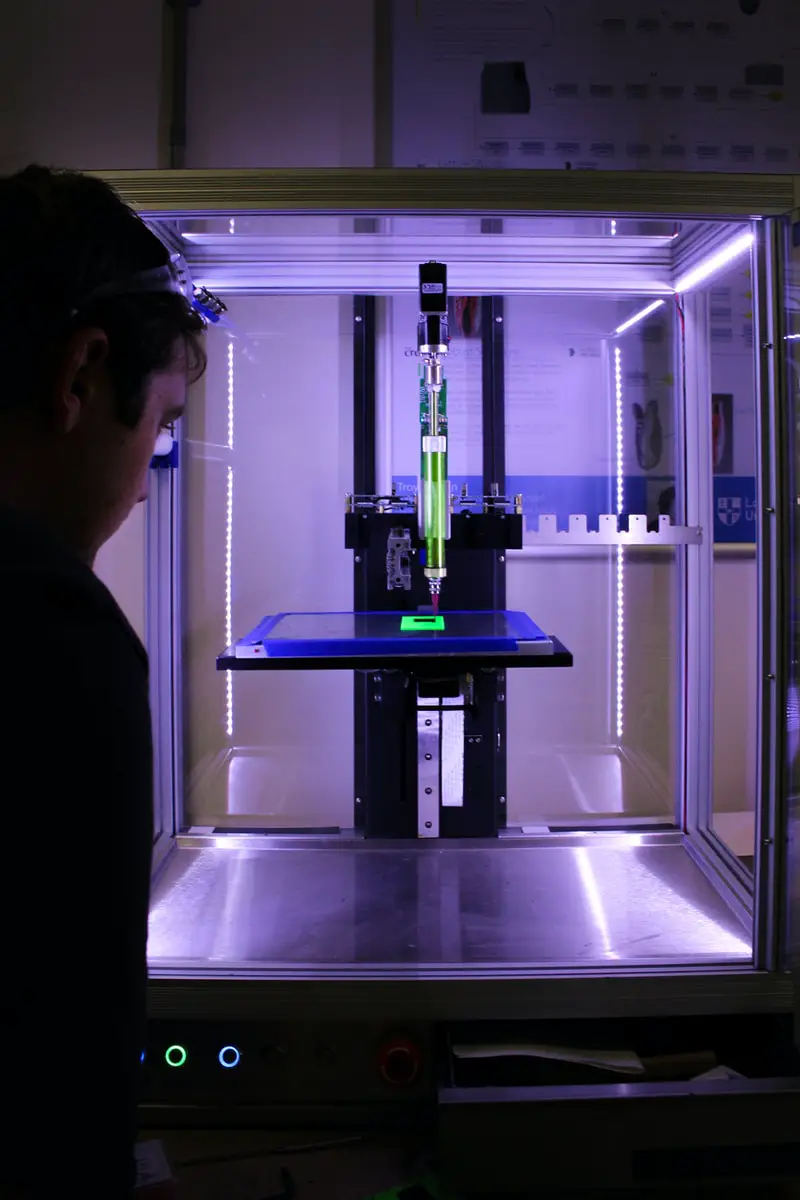 Below are popular 3D printer size constraints, so you know what you're getting into:
1800 x 1000 x 700 mm (70866.14 inches) of Binder Jetting
500 x 280 x 360 mm (19685 inches) in DMLS/SLM
900 x 600 x 900 mm ( inches)35433.1 in FDM
1000 x, 800 x 500 (39370.1 inches) mm in size for material jetting
Large format printing (SLA/DLP): up to 1500x750x500
750 x 550 x 550 mm (29527.6 inches) of SLS
Today's large-format 3D printers have print volumes greater than desktop 3D printers' typical 15-20 cm cube size (5.9-7.9 in). However, industrial 3D printers are typically the only ones capable of printing at these enormous scales.
Currently, most large 3D printers have a sweet spot of approximately 30 cm (11.8 in) in one dimension and approximately 15-30 cm (5.9-11.8 in) in the other two. Manufacturing full-scale prototypes, models, and production components for various industries, including consumer goods, healthcare, and manufacturing, can be accomplished with benchtop large-format 3D printing.
3D printers can produce parts with a length of 50-100cm (19.5-39in); however, this often restricts your options to industrial 3D printers, which are much more expensive.
Splitting in large 3D printing
While producing high-quality products, even though the full section can fit into one building, separating it can be the greatest alternative. Combining rigid and flexible 3D printed parts to simulate over-molding or create multi-material assemblies is the many advantages of 3D printing various components.
If you want to join numerous 3D printed parts together, you can use chemical fastening or a bonding agent. No high-impact tasks should be performed with this kind of bonding.
Another option is to add screw threads or pockets to functional engineering components that require a strong mechanical connection or may need to be removed periodically.
The current generation of big-format 3D printers has made it possible for virtually anyone to use 3D printing to boost production by making massive prototypes and components much more quickly and inexpensively. Even so, it's still important to select the correct 3D printer for the work and determine the proportions of each print.
Choosing a large-scale 3D printer
For some time now, large-scale 3D printers have been the subject of much discussion. Using these devices, you can 3D print objects larger than a square meter. With these machines, furniture, big prototypes, and multiple smaller objects can all be 3D printed.
MAMA
MAMA (Modular Additive Manufacturing Assembler) has been dubbed "Personal Car Factory" by Modix to convey the system's size quickly. It can 3D print with spools of the best filament and has a high-speed pellet extruder.
T3500
With the T3500, a gigantic delta 3D printer, you can print at 1:1 up to 2.1 meters in height. The large-scale Tractus3D T3500 has a hot-end extruder capable of reaching up to 300°C for 3D printing with exotic materials. A heated bed and an optional dual extruder are included in this 3D printer.
BIG-Meter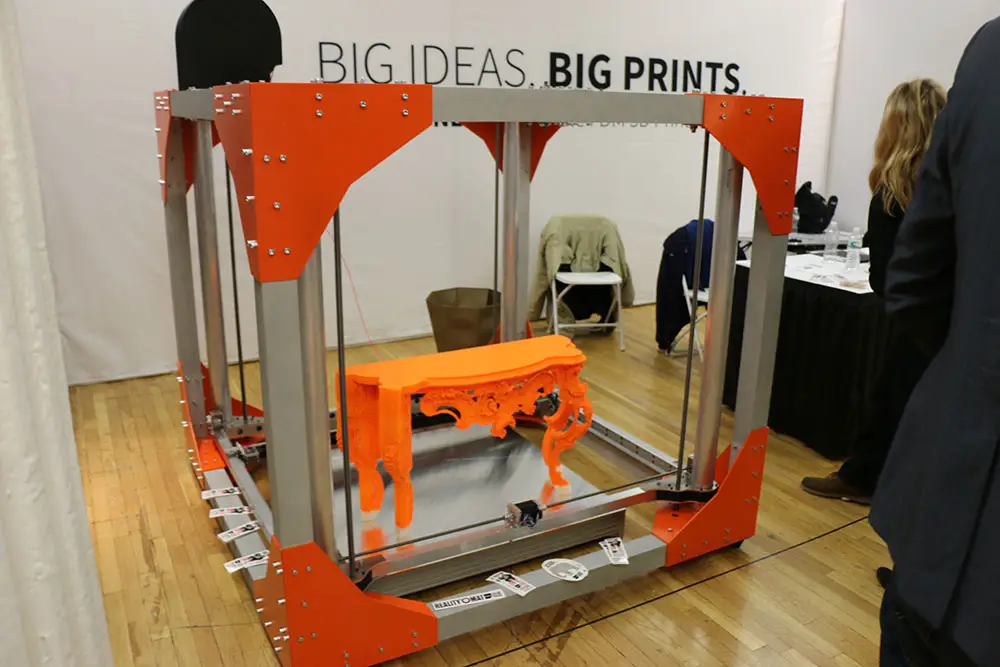 There is a total build volume of over one cubic meter with the Modix BIG-Meter. Like all Modix printers, the BIG-Meter comes as a self-assembly kit, which helps keep the printer's price low.
There are two extruders (E3D Aero and E3D Volcano print heads) in this large-scale 3D printer. It also has automatic bed leveling (bed tile and bed mapping). The print bed heated to 120°C.