If you're looking for a great place to start your next project, Perth is definitely worth considering.
The city is home to a number of businesses and startups, including AirTime3D, Global 3D, Parallax Studio, and many more.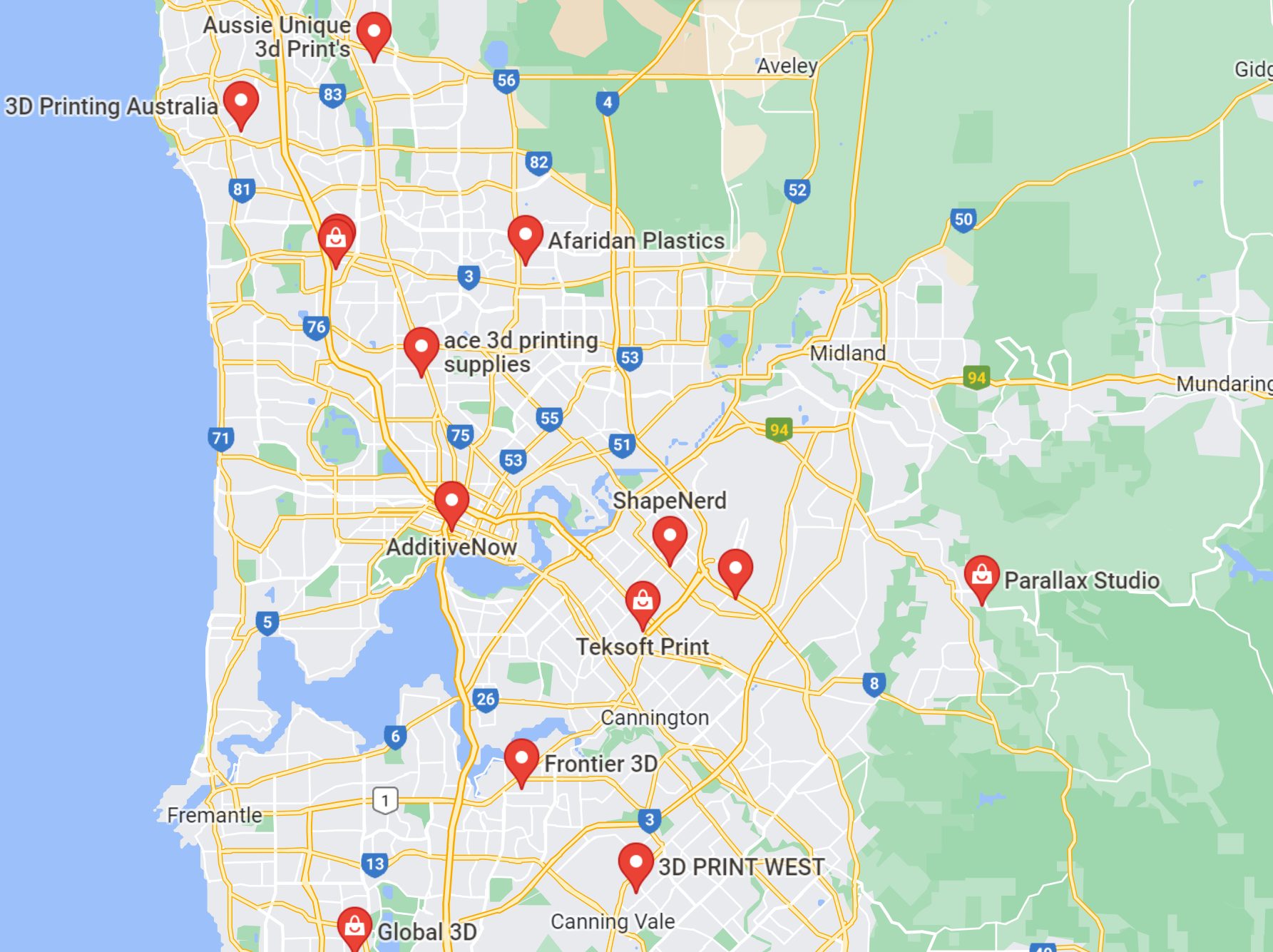 Perth is known for its stunning beaches, great weather, and friendly people. But for 3D printing, the city has a lot to offer.
The 5 Best 3D Printing Services in Perth, Australia
The following is a list of 3D Printing Service firms and providers in Perth and the surrounding areas.
1. E-Jet 3D Printing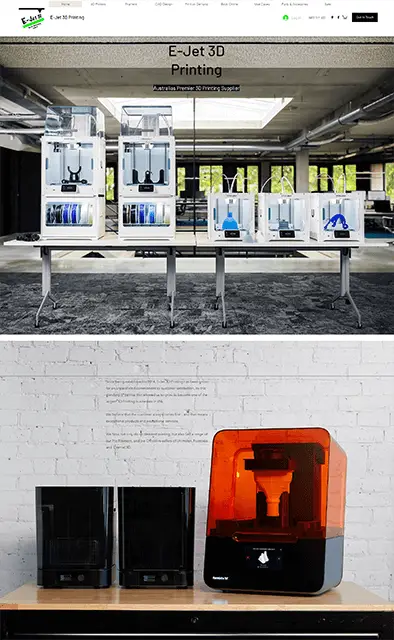 Since its inception in 2014, E-Jet 3D Printing has indeed been renowned for its unrivaled dedication to client satisfaction. This level of service has helped the firm to grow into one of Perth's largest 3D printing companies.
The firm provides 3D printing, scanning, and project management services.
They are open from 8 a.m. to 5 p.m. Monday through Friday.
2. Afaridan Plastics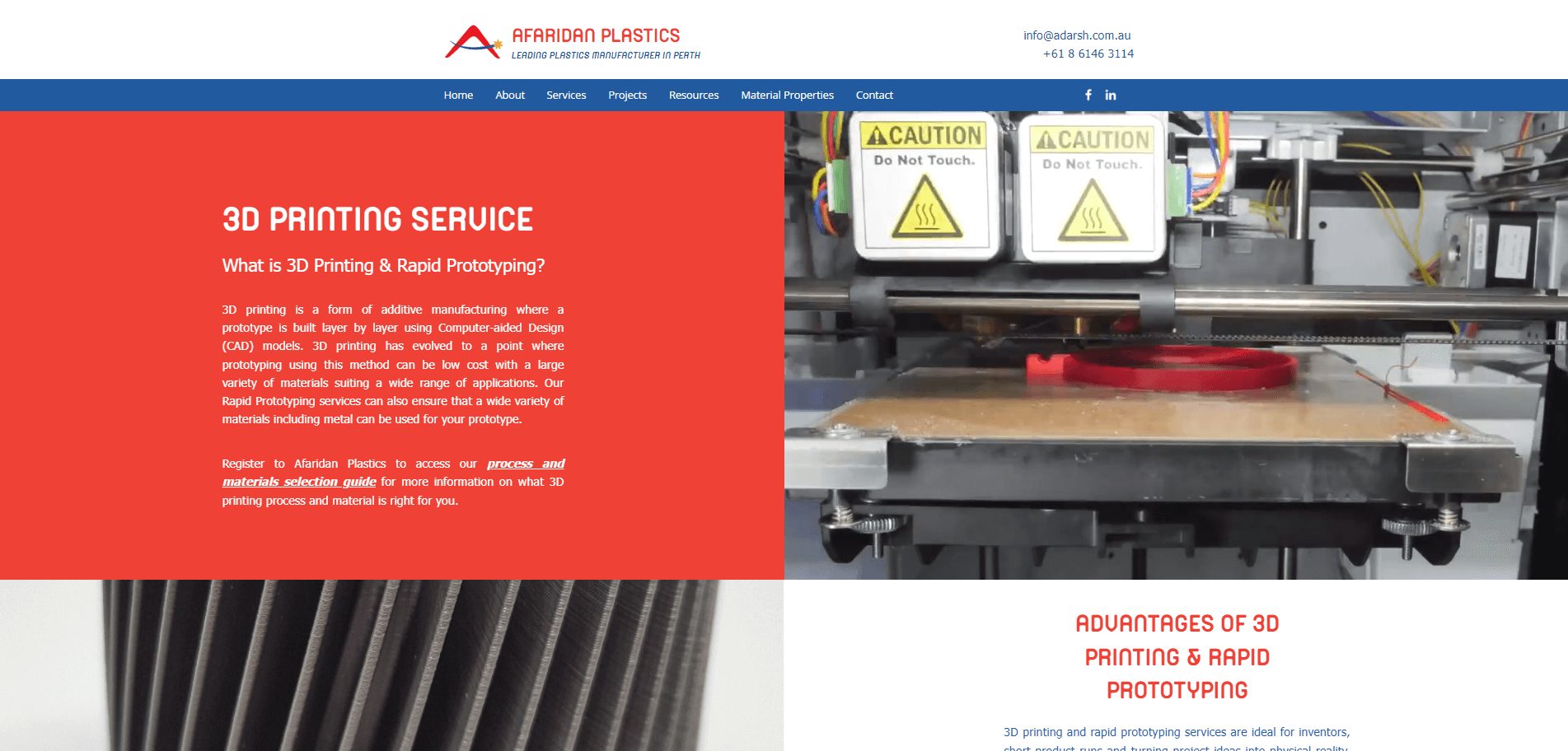 Afaridan Plastics has the skills and understanding to employ 3D printing and fast prototyping to get your discoveries and unique designs manufactured swiftly, properly, and suitable for mass production.
They understand how injector and bed temperatures, fan velocity, support structures, component orientation, and material selection may all impact product quality.
The company may help you optimize your idea by advising you on the best design or rapid prototyping process and material to use, resulting in a higher quality product and a speedier shift into manufacturing.
Afaridan Plastics offers complete plastic manufacture, so you can be confident that your design will result in the most economical tooling.
They employ the most advanced commercial prototyping techniques available, such as:
Stereolithography (SLA)
Selective Laser Sintering (SLS)
Multijet Printing (MJP)
Colourjet Printing (CJP)
Manufactured Plastic Prototypes
CNC Rapid Prototyping
3. AirTime3D 3D Printing Perth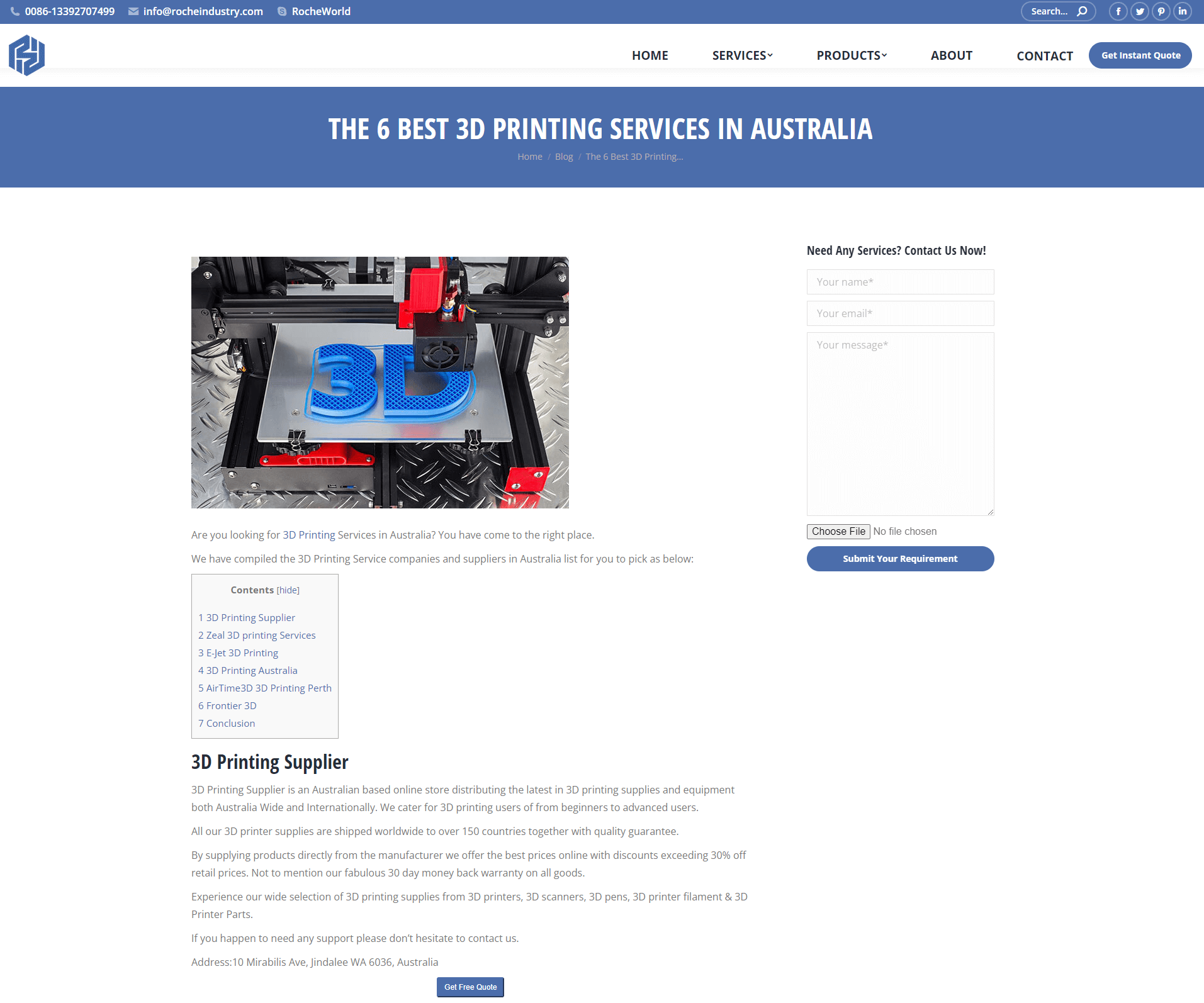 This is a tiny 3D printing and design company situated in Perth, Western Australia. Its employees have worked on several technical and industrial creative projects throughout the years, as well as cosplay accessories and other art works.
They are open from 9 a.m. to 5 p.m., Monday through Friday.
4. Global 3D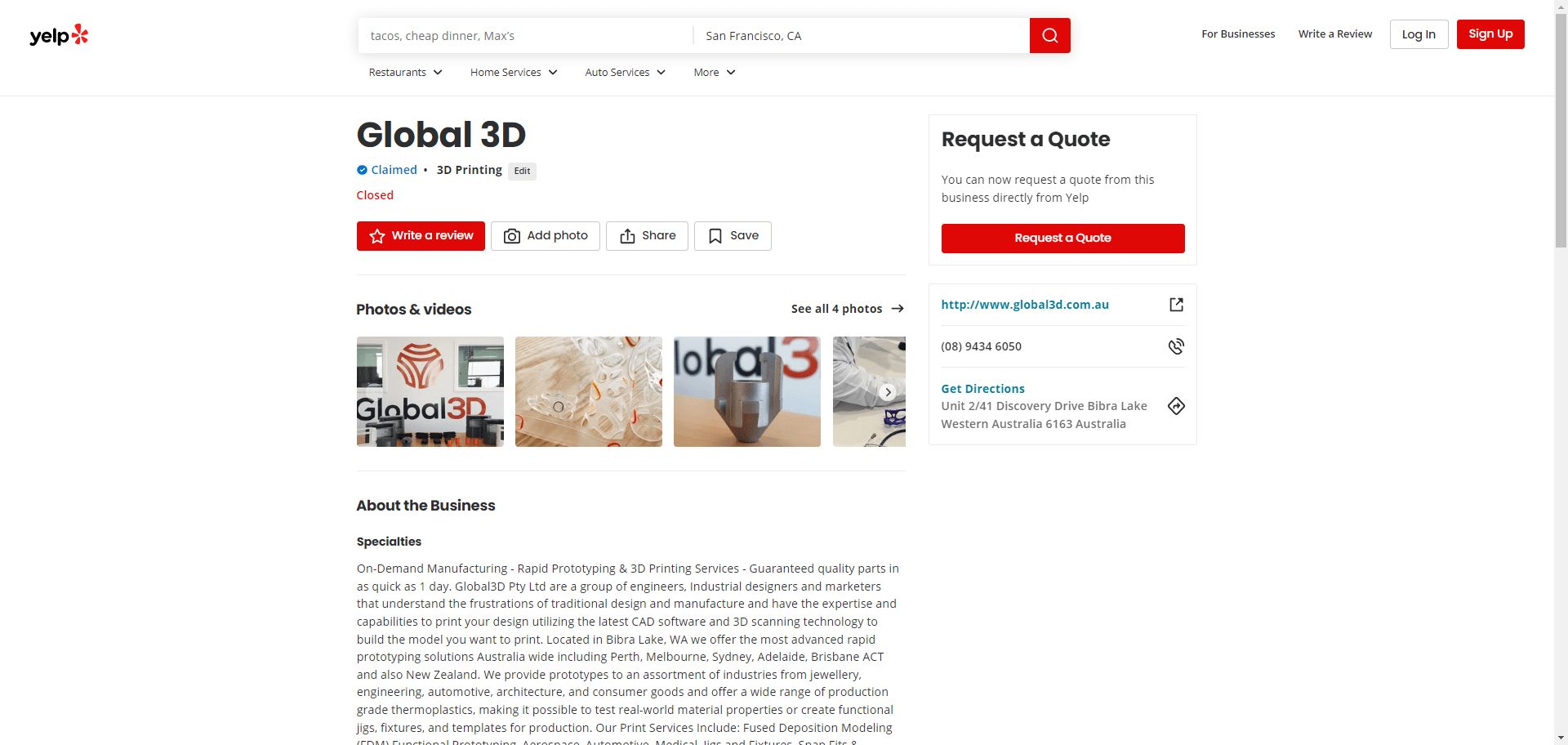 Global3D Pty Ltd is a collection of design engineers and marketers that understand the hassles of conventional design and production and have the ability and capabilities to create your design using the newest CAD models and 3D scanning technologies.
They create prototypes for a variety of sectors including architecture, jewelry, automotive, engineering, and consumer products.
The business open from 9 a.m. to 5 p.m., Monday through Friday.
5. Parallax Studio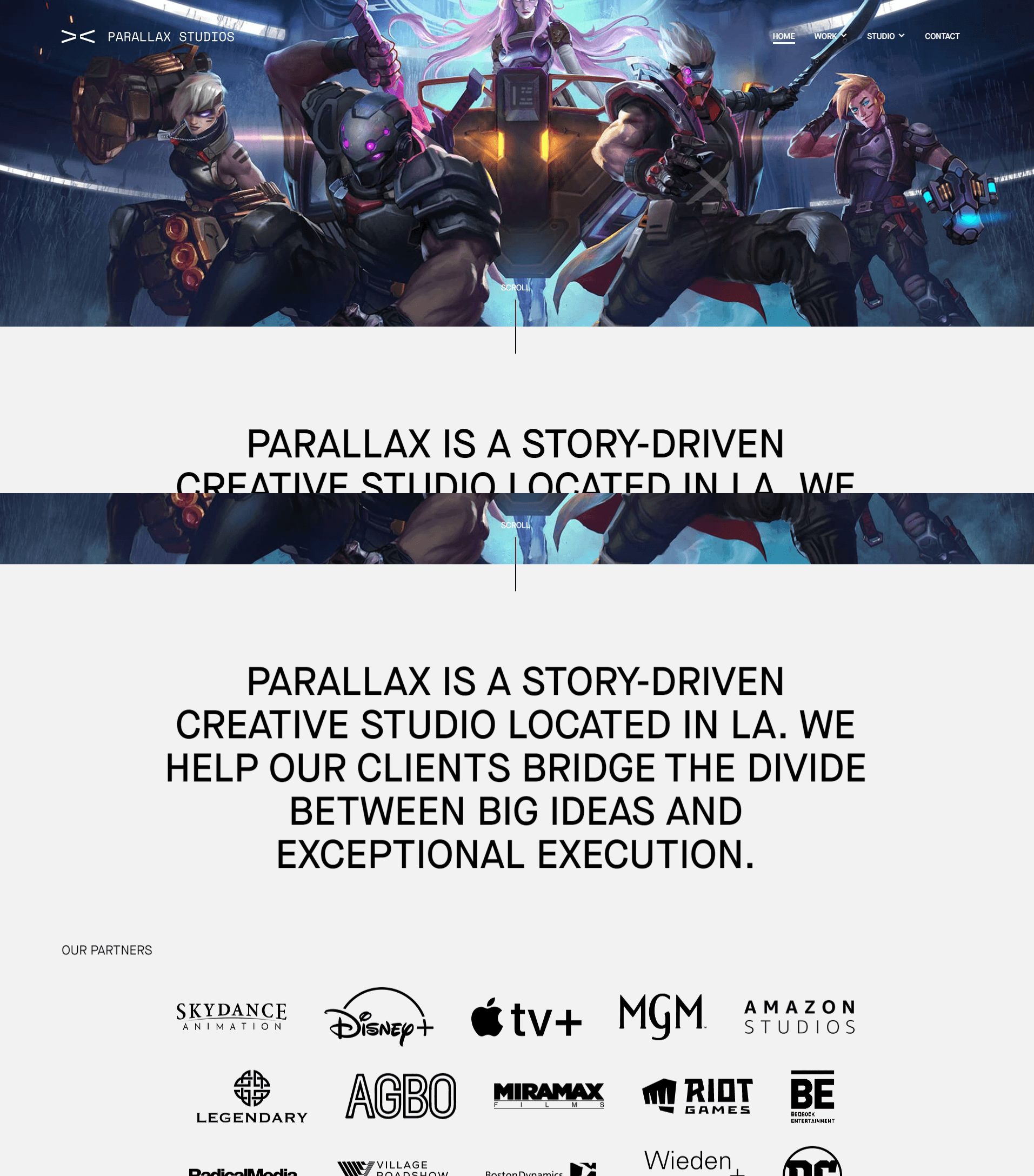 Parallax Studio is a 3D Visual business that provides a variety of high-quality services ranging from 3d modeling and animating to a top notch 3D printing. Its team has over 20 years of expertise in various sectors such as commercial, engineering, architectural, and oil and gas, and has a broad variety of knowledge in the area of computer visualization.
Parallax Studio has worked on projects such as prototyping, 3D model development, printing obsolete plastic car parts, workplace and marketing animations, modern architectural visualization, and a lot more.
They operate from 9 a.m. to 5 p.m., Monday through Friday.
3D printing, also known as additive manufacturing, is an emerging architectural technology that is altering the design and production disciplines for a happier future.
It is an effective tool for engineers, architects, enthusiasts, and academics to give their ideas a particular shape. 3D printing is a low-cost and environmentally friendly technique that can convert any CAD file into a 3D model.
3D Printing & Perth
As the capital of Western Australia, Perth is a city that is teeming with business opportunity. The vibrant economy and favorable business climate make it the perfect place to establish or expand a company. In addition to its many economic advantages, Perth also has a burgeoning 3D printing industry.
Home to some of the world's leading 3D printing companies, Perth is quickly becoming a global center for this innovative technology. If you're looking for an exciting and prosperous place to do business, Perth is the destination for you.
As the most populous city in Western Australia, Perth is a major hub for business and commerce. The city is home to a number of large businesses and corporations, as well as a thriving startup scene.
The Perth economy is diverse and robust, with sectors such as mining, agriculture, tourism, and manufacturing all playing a significant role. This diversity ensures that businesses in Perth have access to a wide range of customers and suppliers. The city's strategic location also allows businesses to tap into markets in Asia, Africa, and Europe.
The business climate in Perth is highly favorable for companies of all sizes. The city offers a number of incentives and support programs for businesses, including tax breaks, subsidies, and free trade zones.
In addition, the city has a low cost of doing business and a skilled workforce. These factors make Perth an attractive destination for businesses looking to establish or expand their operations.
The 3D printing industry is one of the fastest-growing sectors in Perth. Home to a number of world-leading 3D printing companies, the city is quickly becoming a global center for this innovative technology.
3D printing is used in a variety of industries, including healthcare, manufacturing, and construction. The technology offers a number of advantages over traditional manufacturing methods, including reduced lead times, improved accuracy, and increased flexibility.
Perth's 3D printing companies are at the forefront of this exciting industry, and are helping to drive the city's growth as a global center for innovation.
If you're looking for an exciting place to do business, Perth is the perfect destination. With its favorable business climate, diverse economy, and burgeoning 3D printing industry, the city offers endless opportunities for businesses of all sizes.
Conclusion
3D design and rapid prototyping solutions are perfect for innovators, small product lines, and bringing project ideas to life. Almost anything may be made using a variety of production processes, from biodegradable prototypes to conductive components.
3D printing and rapid prototyping and enable:
Geometries that are complex.
Rapid manufacturing means that your design will be completed in hours rather than weeks.
Realizing your design entails creating a demonstration of concept for your component or assembly.
Inexpensive one-off or limited quantity prints that would be considerably expensive using standard processes.
Material options to meet your specifications, whether your item requires flex, strength, or a vivid color.
Rapid solutions for difficult-to-find replacement parts.
Having new materials being developed on a regular basis in the field, many are ecologically benign and may degrade naturally when disposed of.