I love getting dressed up in outrageous costumes, whether it's trick or treat season or not. Halloween has always been my favorite holiday. It feels like it's the one time of year where adults can act like kids again, and it's also an opportunity to get creative with your costume- especially a 3D printed one.
Billowy dresses, flowing skirts, sequin top – I love them all. And I'm not alone! There are so many other people out there who feel the same way about dressing up in Halloween costumes.
Check out these 3D printed Samurai armor costumes if you want to look fuedal!
There are so many different ways to get creative with your Halloween costume this year. You could dress up as a pop culture icon or you could go for something more classic like a ghost or witch costume!
Some updated favorites
Storm trooper
Squid game
Alien vibes
Wizard
Evil Mummy
Spaceballs: virgin alarm
Wonder Woman
iRobot
3D Printing & Costumes
3D printing has proven itself to be a cost-effective way to manufacture costume pieces that are both durable and customizable. However, one of the problems with 3D printed costumes is that they are often lumped into two categories: cheap materials or expensive machines. In actuality, it is possible for anyone to 3D print their costumes by buying their printer or assembling a computer DIY kit.
3D printing technology has significantly advanced in recent years, allowing cosplayers to create more accurate replicas of their favorite characters' designs. The customizability of 3D printing perfectly lends itself to cosplay; if one can dream up an idea for a costume, they can bring it to life with ease at a minimal cost.
Impressive 3D Printed Costume Examples & Ideas
3D printed costume examples show us what is possible when it comes to creating wearable, screen-accurate costumes.
#1) Radiolaria Tutu by JULIA KÖRNER AL RAWI
Radiolaria is a collection of 3D printed costumes that enhances the wearer's silhouette. The designs were inspired by Radiolaria, microscopic organisms that contain intricate geometric shapes. The costume pieces are composed of biodegradable material and layered with silver. Made for dancers, the dresses create an optical illusion on stage, transforming the human body into delicate and ethereal silhouettes. The Radiolaria Tutu is worn with a matching headpiece that is 3D printed with flexible material.
#2) Moon Knight HELMET by Promethian Props
This 3D-printed Moon Knight Helmet is wearable, lightweight, and easy to assemble. The design was created by 3d-printing a base model that was then cut into layers for easier printing. Once the layers were complete, they were glued together and sanded for a smooth surface. Then, the inside of the helmet was hollowed out until it fit snugly on a cosplayer's head. The automotive primer and paint give it a shiny metallic look. It's an excellent conversation starter and a great way to start cosplaying as Moon Knight.
#3) Mummy tomb king costume by Tyler
This gorgeous Mummy, Tomb King costume is a Covid Halloween. It's sculpted, 3D printed, and carved EVA foam, super flexible and lightweight materials. The best part is, it still retains its durability because there are no hollow sections or moving parts.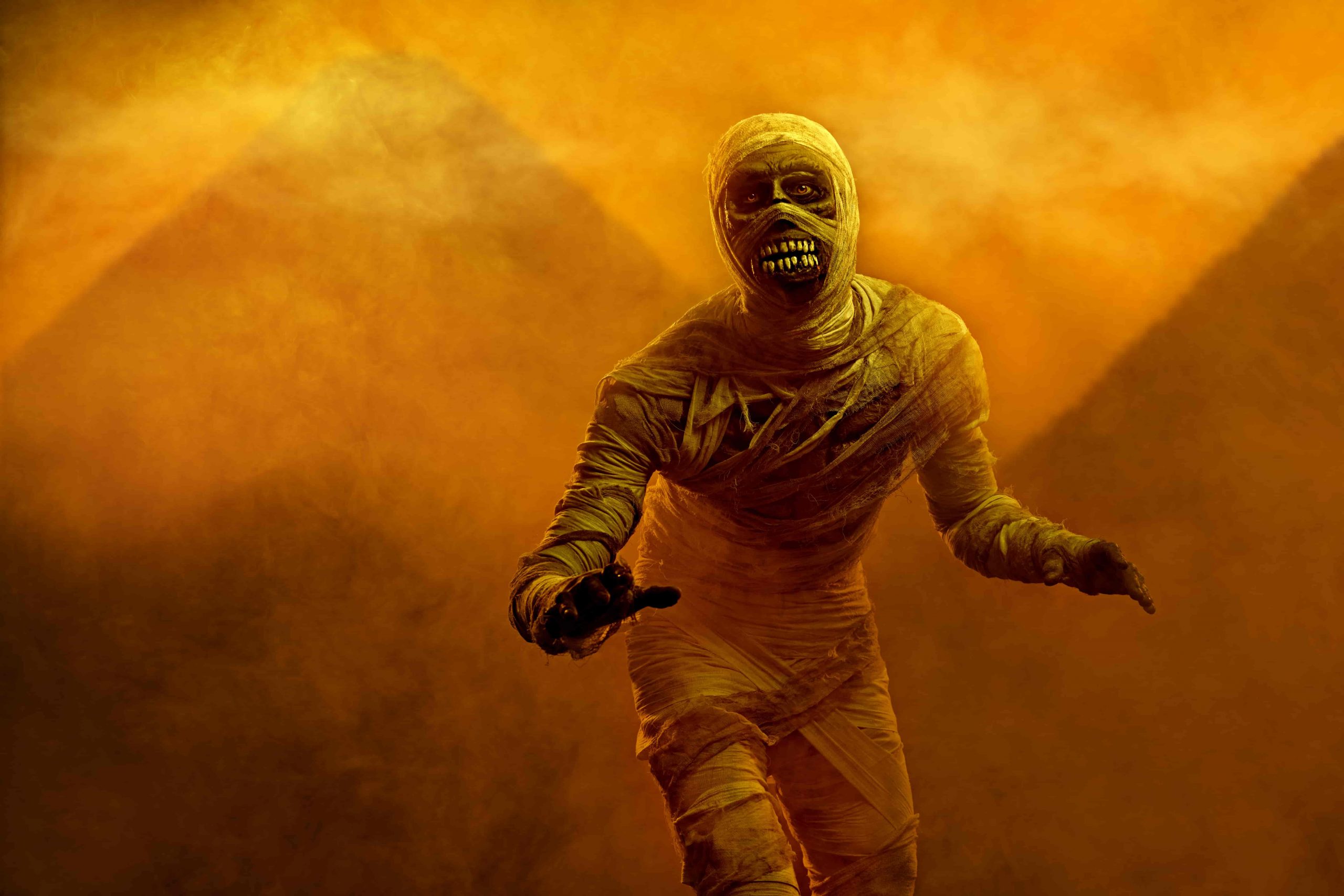 For added authenticity, the mummy's golden mask was 3D scanned from an actual mask in a museum, then processed in Photoshop to give it a more realistic appearance. Though it may look delicate because of its gold plating, the mask itself has been carefully engineered so that none of its details is lost when worn.
#4) Wolf skull by DragonArtist15
This 3D-printed wolf skull demonstrates what can be achieved with the latest technology. The designers used flexible materials for the fur, giving it a realistic appearance. A bit of post-processing work on the muzzle area lightened the base color and revealed more details. Check out this collection of STL costume downloads if you want to get started.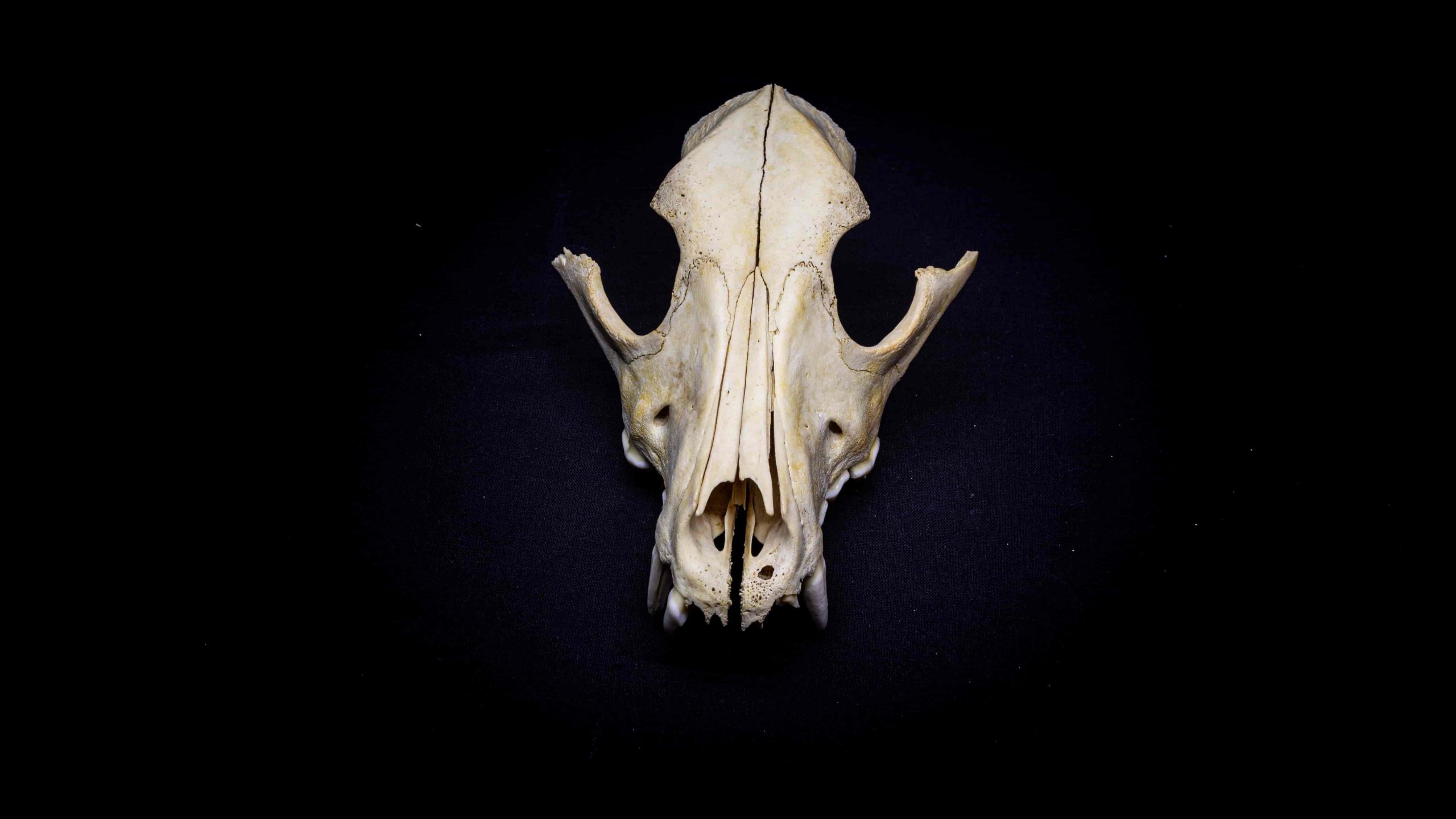 This wolf skull stands out because of its inverted jaw; instead of having one piece on top of another, the bottom piece is printed on top of the skull. This makes for a more accurate and detailed appearance.
#5) Wizard Wand by Ken
Ken's wand is a replica of Ollivander's wand, which Harry used to defeat Lord Voldemort. The 3D printed prop comes in various sizes and can be bought in different colors. Ken decided on gray and blue for his version. The 3D print is attached to a stick with sections and light rings in between. There is a LED light strip running from the handle to the top. The blue-white illumination makes it cool-looking and gives it a sense of superpower.
#6) Purge trooper by Esk
Esk's helmet is a replica of the mask worn by a soldier in "The Purge" movie. It features a breathing mechanism and LED lights on the eye sockets powered by batteries hidden inside the ear cavities.
The 3D print is made using PLA material, but you can also print it with ABS plastic for more flexibility. Esk's armor consists of plates made from 3D prints, modeled after different outfit parts as seen in the movie. The individual pieces include boot covers, upper arms and thighs, lower leg, and upper chest.
Each one is connected to a special base plate which holds them all together and keeps them at their place.
#7) Stark Tech Cap by Patrick
This fantastic piece is almost exactly like Tony Stark's iconic helmet with its red and gold shine that can even be seen in low light. Popp3D printing's design borrows from Iron Patriot, painting as it appears in the game and transforms it into an art form of its kind. The designer used Do3D's Iron Patriot and painting as it appears in the game.
It has an excellent shiny metallic paint job that you can see even when there are no lights on. The printing process was long but worth it. The entire helmet took around five days to print because of its size and the number of parts involved.
#8) Boba Fett
Boba Fett is one of the most interesting characters in Star Wars, mainly due to his past mystery.
And now, thanks to Marko Makaj/Mystery Makers, 3D printing also has a mystery to go along with it. The costume has two major features that make it work well in certain situations, whereas other outfits might not.
The first feature is that it can remain in place when pointed upwards—but only to the point where you want it to take pictures or have someone in your group wear it for their pictures. After that, you press down on one of the body segments, and they separate so the mask can move. (Check out these cool 3D printed COVID face masks!)
#9) LED Fire Rainbow Horns by Matt Lonardo
The fire rainbow horns by Matt Lonardo are a great new way to add some flair to any costume or just for looking cool. They're not only fun and functional but colorful and bright. These horns light up and flash with beautiful colors in a mesmerizing fire-like effect. You'll be turning heads left and right when you wear these. If you want some extra attention on the dance floor. Look no further than these amazing LED rainbow horns! The best part about it. It looks like a real fire.
Conclusion
It is always fun to dress up in costumes on Halloween. A lot of people love dressing up in costumes on Halloween- and now 3D printed costumes are really revolutionizing the game.
Halloween is usually great for kids because they get to dress up in their favorite costume and go trick-or-treating. But it can be just as fun for adults, too! One reason is that there are so many different costumes available these days. No matter what your age, you're bound to find a costume that suits your taste.
At its core, cosplay is all about respect for the characters being portrayed, so every effort should be made to have a wearable, screen-accurate costume. And the designs above say it all. Check out our 'how does 3D printing work article' if you want to figure out the basics.