While working with your 3D printer the quality of your work, convenience and comfort depend on workspace set up.
That's because during the printing process the quality of your work is affected by vibrations, workbench, and floor level and movement.
For that reason, when looking for a 3D printer table there are features you should consider for your 3D printer to work optimally.
Don't worry about that because this article will help you sift through and choose the table that will get you going with your work without any inconvenience.
Stability and Sturdiness
During the printing process, your printer is bound to vibration caused by the motion system that drives the printer bed and extruder. Aside from that, vibration can also be a result of the stability of the table, uneven floor, and accidental knocks.
You may also experience ghosting or ringing which is basically a waxy texture or form of repeated lines on the surface of your print as a result of wobbling of extruder during printing.
Therefore, before you choose a printing table, it is advisable to inspect the level of the floor and check the weight of your printer. That's because even if you purchase a sturdy table the evenness of the floor will interfere with its stability and thus inducing more vibration while working.
To minimize vibration, ghosting and keep your printing operation smooth and firm, here are features you should look into a sturdy table;
• The size and the quality of the working surface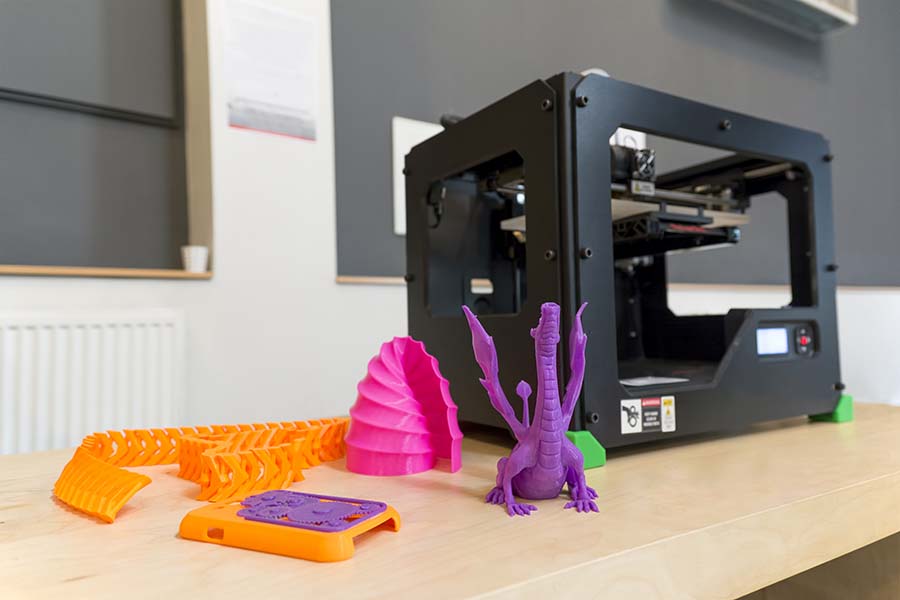 The surface of the table should be wide enough to accommodate your printer. That is, it should leave about 5-8 inches from all dimensions when placed at the center of the working surface to fit some accompanying accessories.
If the working space satisfies you, then the quality of material used to make the working surface is also vital. Since you will be working with a heavy printer, we strongly advise you to opt for a soft working surface, a thick-solid and treated hardwood surface.
This will help to minimize the wobbling or vibration by holding the 3D printer according to its weight. The significance of using treated or cured tabletop/surface is that they prevent damage by spilled chemicals, are easy to keep clean, and won't get too hot during those long-haul projects.
• The frame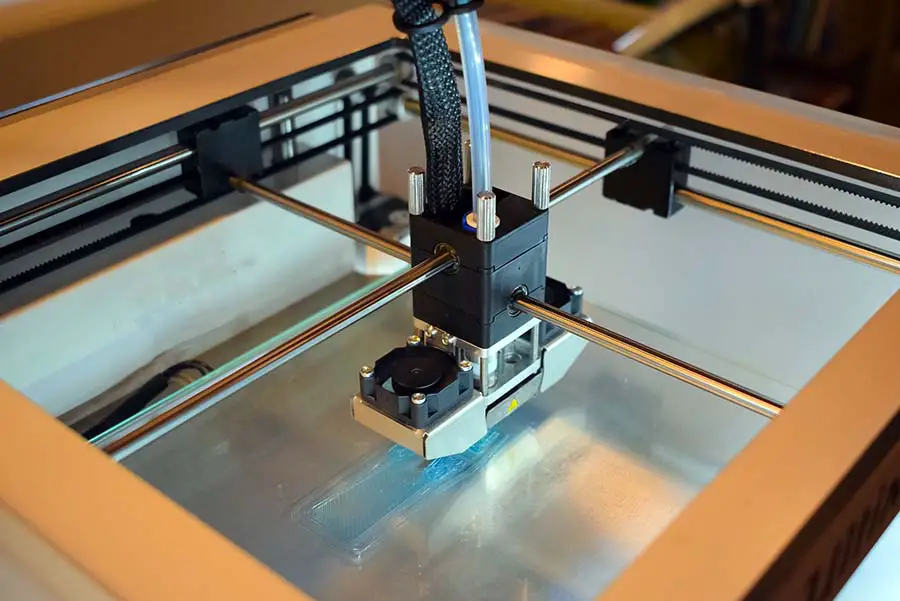 The frames of the table also play a vital role when it comes to the sturdiness and stability of the table because it provides support for the entire working surface. Since the moving parts of the printer induce vibration, the frames should be firm enough not to trigger a vibration.
Therefore, it would be best to settle for a table with metal frames because they provide maximum stability than wood. However, it depends on your budget because quality comes with a price, but that does not mean you can't settle for a table with wooden frames.
If your budget is for a pure wooden table, it is advisable to settle for a table incorporated with metal shock absorbers at the joints of each frame. Shock absorbers are meant to minimize the effect of vibration and prevent the screws from becoming loose with time because of the continuous vibration.
• Adjustable Legs
The evenness of the floor is also a vital factor you should carefully inspect and look into when choosing a printing table. Because it can either increase or minimize vibration and thus influence the quality of your work.
The excellence of the printing work model is influenced by the evenness of the working surface and the floor as it allows you to calibrate your print with precision. Even if the floor is not even, your printer will still work optimally and excellently if you consider settling for an adjustable printing table.
An adjustable printing table allows you to adjust the table until you achieve an excellent level that wouldn't induce wobbling, ringing, and vibration.
Furthermore, it also allows you to increase the length of the legs to achieve an ergonomic height that is comfortable for your lower back and upper limb.
Practicality
The practicability of the printing table refers to the additional features that would make your work more efficient to your needs.
For instance, if you want more space, a way to access your working tools easily or reduce risks of knocking the table, and many more. For practicability here are some of the features you may consider;
• Space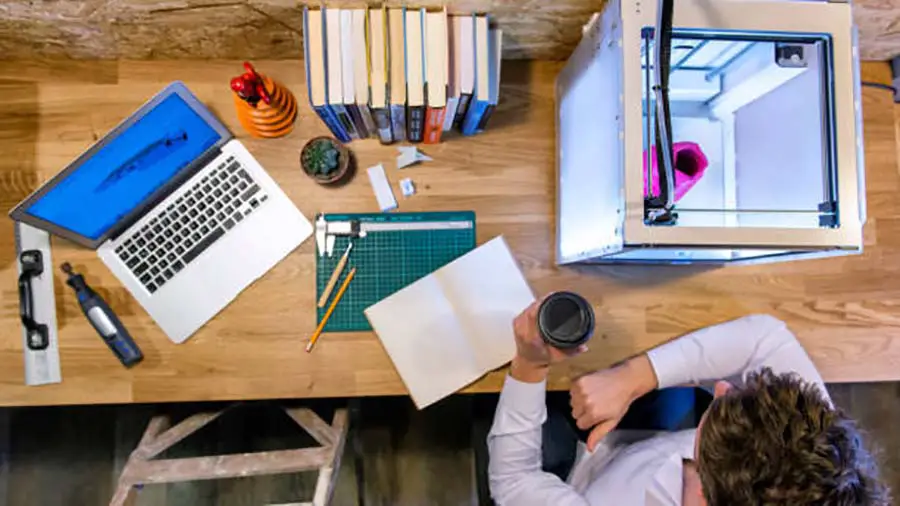 To improve the efficiency of your work you also need a table that provides sufficient space that will comfortably fit your printing accessories. Having your printing accessories within your working station/workbench helps to minimize frequent movement and confusion while working.
In fact, you will be more comfortable if the accessories are within your reach because you will have maximum concentration while monitoring the printing process. The significance of having sufficient storage is that it keeps the working surface look clean and well-organized and reduces the risk of tripping.
The disadvantage of placing or keeping your printing accessories on a separate cabinet is that you will have to shift your attention to access them. Secondly, you might knock the table thereby interfering with the printing process.
Lastly, the probability of tripping is high because printing accessories may fall off to the ground making your workstation hazardous. To minimize these shortcomings, settle for printing with drawers and in-built cabinets for keeping your computer, filaments, towels, and other accessories.
• In-built Pegboards
If you are using the computer to design your 3D printing work, you will need it to be close while working for your easy execution. Instead of installing hooks under the table to hold wires, filaments, towels, and many more, you can look for a table with an in-built pegboard.
A table with an in-built pegboard would be easier to work with because it allows you to hang all the accessories above instead of underneath the working surface. Having your accessories above the working surface on the in-built pegboard allows you to have an easy time accessing them than accessing them under the table.
That's because you will have to bend frequently to access them which can also hurt your lower back and even knock the table.
Summary
The quality of your printing work does not depend on your experience and design. But the quality of your working surface provides excellent accuracy to help you achieve the quality you want. Therefore;
• Do not use a feeble working surface. Instead, check the quality of the tabletop and its capability to hold your 3D printer weight.
• If you are not sure about the evenness of the floor, settle for a table that has adjustable legs.